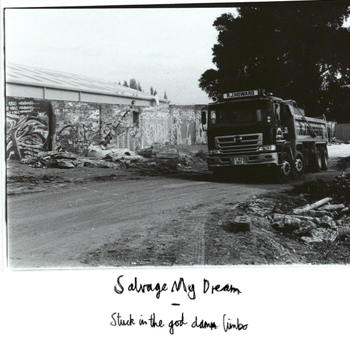 The first thing you'll probably notice in the music of Salvage My Dream is just how much seems to be going on in each track. Each one has energy and movement suggesting a band of four, maybe five members who have spent countless insomnia-riddled hours heading towards the same light at the end of the longest tunnel imaginable. You can almost imagine the casually vivid "Stuck in the Goddamn Limbo" coming about only because someone melted the door to the studio shut. No one was allowed to come out until some beautifully stated, quietly soulful lyrics could match up to a sound that brings to mind the best of Low or even some of Joy Division's lesser-appreciated tracks.
To keep them in there even longer, the same person who melted the door shut then demanded a couple more songs that sound almost nothing like the first one. But at the same time, they have to carve out their own interesting bit of sonic and lyrical territory.
The reality of Salvage My Dream is that it's not a group of four or five guys. It's writer/musician Robert Fisher in his bedroom in Scarborough, which can be found on the east coast of England. His brother also occasionally contributes some of the beautiful violin work you'll find in some of the material. Fisher, who also plays in a band called Nurale, has been working at this music for quite some time. You can tell. Besides "Stuck in the Goddamn Limbo," "The Cost of Living" stands out as a quick-witted shot of acoustic, almost emo-based conversation. It's the kind of thing you hear in a pretentious coffee shop and are taken aback by just how clever and well done it really is. "Three Years Walking through the Snow" then moves into a territory that stands as a strange combination of the first two tracks. It's a hell of a good closer, the opening along the lines of what you might hear in your head when it's three a.m. and there's nothing but the quiet street lights to keep you company.
Put together, all three songs suggest a strong musical maturity and a clear idea of what needs to be said. Fisher will probably polish them even further, but he'd be smart to just leave them as they are. They're a perfect introduction to what he wants to show us, and it would be a serious mistake not to stick around for whatever he does next. —GR
Salvage My Dream says: "My name is Robert Fisher. These are songs I've written and recorded over the years. I play guitar, bass, harmonica and vocals, with my brother occasionally playing violin. I live in a sea-side town called Scarborough on the east coast of England, the seagulls are a little loud. Back here I also play in a band called called Nuralé with a couple of friends. We're fusing bits of 80's/90's emo and screamo (the original music is virtually unknown now after the term was bastardized by major labels and terrible bands) with bits of shoegaze and space rock. Influences include Red House Painters, Kimya Dawson, Bright Eyes, Codeine, Duster, Cap'n Jazz etc. Apart from music, I also make films about people, more recently about my friend Liam who is utterly mad. He somehow managed to break out of a mental institute and travel 200 miles to London. Often I write, sometimes spending more time on lyrics than the music. The tracks included are some of my favourites. All recordings were done in my bedroom." Check out his MySpace page.
We are proud to present three songs by Salvage My Dream:
Stuck in the God Damn Limbo: 4.0 megs
The Cost of Living: 3.5 megs
Three Years Walking through the Snow: 4.9 megs