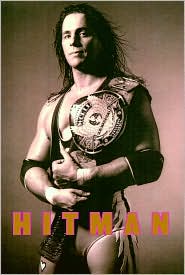 When I was a kid, I always wanted a pair of those Bret Hart sunglasses.
In his prime, the Canadian professional wrestling icon known as "The Hitman" wrestled some two hundred shows a year for Vince McMahon's World Wrestling Federation (now known as World Wrestling Entertainment). It was part of his pre-match ritual to step out of the ring and put his sunglasses over the eyes of some lucky young kid.  It was part of a gimmick that never really seemed like a gimmick. Bret Hart didn't play a prison guard, an insane dentist, a demonic undertaker or any one of the strange personas that have made up the business as people know it today. Bret Hart seemed to be playing Bret Hart, a stand-up guy who believed in himself, fought for justice and truly appeared to live and breathe his profession. His was an everyman kind of persona who wasn't too far removed from your friend at work or the hometown hero who made good on a much larger stage. It helped my idea of that image immensely that I was born close to Calgary, Alberta, Canada. That was the birthplace of not only Bret himself, but his large family of brothers and sisters, many of whom either became wrestlers or married wrestlers. It was also the foundation of his father's legendary Stampede Wrestling promotion.
As a kid, I considered Bret Hart to be the most famous Canadian in the world after Wayne Gretzky. He was much more of a hero and role model to me than anyone from the so-called "real" sports. More so, because it didn't seem like he was playing a character. He was just being Bret Hart.
I've been a wrestling fan for twenty years. Hart has been a part of that for roughly seventeen of those twenty years. In my time as a fan, I've been lucky enough to write about it, work in it and come to appreciate the whole thing for what it really is. It's a movie where the actors are performing their own stunts. The guys (or girls) in the ring might know who's going to win and lose. They probably have some of the moments in the match planned out well in advance (though some talents, like actors who prefer improv, like to wing everything but the last few moments). But that doesn't make what they do any less athletic, any less brutal or taxing to their physical and emotional well-being. Mickey Rourke's Oscar-nominated performance in The Wrestler has done a lot of good and bad towards changing the public's well-established perception of pro wrestling. It managed to show why some of these guys put themselves through the pain and tired jokes night after night. By the same token, it also showed what can happen to the ones who didn't make the best decisions, the ones who didn't know when it was time to leave gracefully.
Keeping that film in mind, Bret Hart was both lucky and smart.  When it was all over, he was able to leave with his bank account intact and his dignity in fighting shape. He makes that clear in his incredible, long-awaited autobiography, Hitman: My Real Life in the Cartoon World of Wrestling. The book is meant to be a farewell to the business he has given most of his life to. He makes certain we understand that he's leaving of his own choice and with his head held high. It just happened to be a hell of a struggle getting to that point.
There's a few recurring themes throughout those five hundred and fifty pages. One of the strongest themes is that until very recently, every chapter of his life included a battle of some kind. It didn't matter if the battle involved his career, his family or some other facet of his personal life. Although Hitman has many positive, even inspiring, elements in its anecdotes and recollections, chaos, rotten luck and the occasional bad decision also seem to trail much of Hart's story.  It starts with his childhood in Calgary, Alberta, as the middle child of the world-famous Hart family. It also moves through his relationship with his parents, his siblings, some of which were and remained strained. Eventually, it heads into his professional wrestling debut, which essentially came out of needing to help his father's struggling promotion. As a teenager, Bret was a standout amateur wrestler with no intention of ever getting into the family business. But it happened anyway, and it was a decision that brought both unparalleled success and tragedy to most of his life. It took him all over the world, from Japan to Germany to Puerto Rico and a dozen other wildly varying locales in between.
It eventually brought him to Vince McMahon and the World Wrestling Federation, a company Bret would call home for thirteen years. The World Wrestling Federation was where Bret established the persona that would dominate the rest of his career. He won nearly every championship in the company more than once and established a reputation as one of the most technically gifted and universally loved talents in modern wrestling history. Thirteen years obviously opens the door to a lot of stories, and Bret has no problem in laying them all out on the table in Hitman. Like his childhood, he gives equal time to the good stories, the bad ones and ones that could be considered quite humorous even to non-fans.
Wrestling fans know a good chunk is going to be devoted to the still infamous "Montreal Screwjob" incident. An event in which Bret, preparing to leave the WWF for Ted Turner's World Championship Wrestling, signed on for his final match in the WWF. He was to defend the WWF Championship against hated (both in the storylines and very much in real life) opponent Shawn Michaels at the November 1997 pay-per-view event "Survivor" Series. The original finish for the match was to be a draw between both wrestlers, but Vince McMahon, with his company sinking fast and desperately paranoid that Bret would take his company's most important title to the rival WCW, changed the match's conclusion and told everyone but Bret. The aftermath paved the way for nearly a decade of bitterness between Bret and the company, but it also allowed McMahon to bring the WWF to a level of success it had not seen since the mid-80's.
Even today, almost twelve years after the fact, fans continue to discuss and debate. In Hitman, Bret tells the story one more time and then seemingly leaves the whole mess behind him forever. For a man as bitter and vocal over the event as he once was, that's an impressive feat.
What he will probably never get over though are the deaths of his family members and friends in the business. The Chris Benoit murder-suicide scandal in the summer of 2007 brought a lot of negative light to professional wrestling. It forced fans, non-fans and everyone within the industry to take a long look at the death toll that has plagued professional wrestling mainly in the last ten years. It's a tragic phenomenon that cannot be found in any other sports-related enterprise. Bret Hart was particularly close to Benoit, who was trained by Bret's father and remained a friend of the Hart family for the rest of his life. But Bret was also close to many of the other names who have sadly passed on well before their time. Ray "Bossman" Traylor, Richard "Rick Rude" Rood, Curt "Mr. Perfect" Henning, are only a few of the names that are mentioned in the book. The most important names, however, in Bret's eyes would be the deaths of his brothers, Dean and most infamously, Owen, who was tragically killed in the ring following a stunt gone awry at a May 23rd 1999 WWF pay-per-view. It was an event that clearly wounded Bret beyond what any of the painful passages in his book describing Owen's accident and its terrible aftermath are capable of describing. And to his credit, Bret doesn't use the incident to take shots. He describes the misfortune for what it was, an unimaginable loss that is still being felt in his family to this day.
At last count, according to Hitman, at least twenty of the pro wrestlers to die under the age of fifty worked with Bret Hart on a regular basis. He doesn't use this knowledge to rant, to tear down the industry that made him an icon. For the most part, the book simply expresses an unfortunate combination of sadness at seeing so many friends die young and helplessness at not being able to do a thing about it.
But again, the book doesn't dwell on death and loss. It merely mentions them in the same breath as the truly brilliant times. A driving force throughout this book is to show every side of this very strange line of work.  That means the terrible gets equal time with the wonderful, and there's plenty of warmth to be found throughout the book. There's the idea of being a hero to millions of children. There's also the expected camaraderie of traveling around the world with the same group of guys night after night, with the expected legendary practical jokes and long nights drinking that go with something like that. It also functions quite brilliantly as a history of the last forty or so years of wrestling.
Most of all, perhaps, Hitman expresses the satisfaction at accomplishing what pro wrestling is meant to accomplish in the first place. At the end of the night, a pro wrestler's job is to blur the line between fantasy and reality by telling a story expressed in pre-scripted combat. Not surprisingly, a lot of guys have gotten hurt doing that. They can wind up in a wheelchair (Thomas "Dynamite Kid" Billington), with the battered knees of a ninety-year-old man (Mick "Cactus Jack" Foley) or they can suffer a serious stroke due to the effects of post-concussion syndrome (Bret himself). The history of pro wrestling is also a history of spending years on the road risking physical and emotional health on a daily basis. It can cause the uninitiated to wonder why anyone would do this for a living. Bret Hart understands that someone somewhere is going to ask this question. He doesn't try to drill an explanation or his own logic into anyone's head. He simply tells his story with an unflinching eye for every detail good and bad.
He leaves it up to the reader to decide what to make of not only his life and career, but professional wrestling in general. That's really the smartest approach anyone can take.
One of the interesting side effects of pro wrestling's explosion in popularity during the late 90's has been the advent of wrestlers writing biographies. A quick run to a decent-sized bookstore will reveal dozens of books by dozens of wrestlers from every level of success. Of all of them, Hitman may well be the best one since Mick Foley surprised the literary world and topped The New York Times bestseller list with his first of three autobiographies in 1999. If this is indeed Bret "The Hitman" Hart's final word on his life's work, then it's the kind of final word that most of us can only dream of. With his health, his money, his four children and a reputation that can never be equaled, he is walking away exactly as he intended to.
It's a little corny, but it works brilliantly.