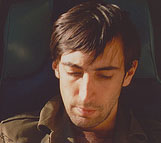 Dan Meth was born and raised in the suburbs of New York City. As a kid, he obsessively absorbed every form of cartoon he could lay his eyes on. Later he studied illustration at Syracuse University, where he first unleashed his cartoons on a mass audience; his comic strip ran in the school paper almost daily for four years.
After college, Meth became one of the Internet's better known go-to guys for funny viral web cartoons. His short films have received much attention, traffic, and press. Recently, Dan won a Streamy Award for best Animated Web Series.
Check out DanMeth.com.