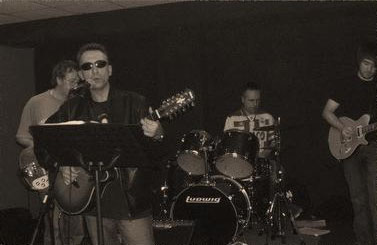 This month, we're thrilled to present some living kings of musical mood: The Jameson Raid. We became aware of The Raid when they adapted a poem by Unlikely regular Donna Snyder to music. The poem in question, "Sense Memories," is about El Paso, and the song "The Flats" gives a clear and real impression of that place, which is a significant accomplishment considering that The Raid is four Englishmen who have never been anywhere near west Texas. But listening to their various works, it becomes clear just how deep an understanding of mood and place The Raid has. Their lyrics are vivid in their surreality, and their music seems precisely created to inspire visions in the sober, allowing images of the countryside, the Atlantic, and the desert with intense clarity. Using the tools of post-grunge, electronic rock 'n' roll, they turn contemporary popular music into an immersive, fully sensuous experience.
The Jameson Raid features Harvey Brown on bass and guitar, and writing and arranging the music, John Hunter on twelve-string guitar and writing the lyrics, John Crenshaw on electric guitar and Steve Glumac on the drums. They've offered three of their songs for free download here at Unlikely. When you're done here, you can find a selection of streaming tunes at their MySpace page. —JP
Check out the tunes by The Jameson Raid:
The music of The Jameson Raid remained on Unlikely 2.0 for one year, then was removed for reasons of space.