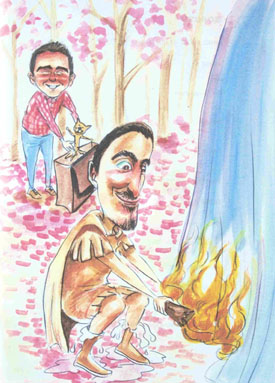 Like the best of The Talking Heads', The Folding Chairs have expertly found that rare, perfect marriage of content and eccentricity. Their work marks a clear interest in humor. It's an interest with an admirable dedication to crafting a very distinct storyteller-persona in their lyrics. What makes this even better is how breathlessly the songs refuse to stop there. The music wonderfully enhances the visual qualities of the songs themselves. This is done instead of simply leaving the music to act as something that only keeps the background moving along, as is often the case with lyrics as brilliant as these. An artist who knows how clever they are with the words often thinks this gives them a free pass on the music. Richard O'Donnell's mandolin figures prominently into the group's unique musical schemes. There are also some fascinating, satisfying contributions from the banjo, the bass guitar, drums and certainly in Brenton Rossow's unique vocal range. Never settling, it goes from cheerfully manic to casually reflective as the moment demands. All of these necessary elements occur in perfect rhythm to each other. They move together in not only the beautiful road-trip imagery of "Bullet n Rope" but also in "Wax Mummified Turkey in a Shopping Cart" and the viciously catchy, wildly odd "Boat Hotel."
Eccentricity is very much the dominant trait in these songs, but it's never a reckless thing. There's no doubt that Rossow and company are very much in control of what's going on with their music. A giddy kind of insanity exists in the words and music of these three charming tracks. The feeling never overwhelms you. One of the consistencies of these three songs is in knowing that you're in good hands with these guys. Rossow and his cohorts each in their own way manipulate their contributions with insight and a deep understanding of their work. They create something that sounds unique and as though it comes as naturally to them as breathing. It takes a good deal of skill to work like hell at something and then make it seem as though the whole production really wasn't that big a deal at all. If there's any secret to their success that's probably it.
There's really nothing out there that sounds quite like them. The group obviously knows this and has chosen to remain ambivalent about it. They're not trying to sound out of the ordinary. Nothing in this music suggests desperation to stand out in the crowd. It's just the result of four men who remained committed to making the kind of music they want to listen to. Their individual talents meet up in the middle so marvelously that it allows the other pieces of the puzzle to fall into a place that's both addicting and intelligent. This has unquestionably served them well so far. It should continue to do so when their debut album, Boat Hotel, finally comes out. These men have been working at their peculiar sonic vision for quite some time. The aftermath of Boat Hotel's release should find them a large audience of people ready for almost anything. The world will be quietly floored by a group that has managed to sound old-fashioned and accessibly modern at the same time.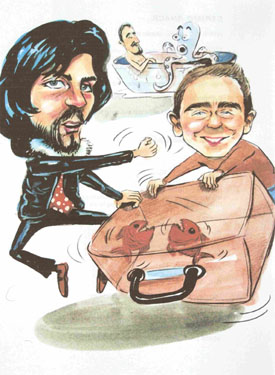 The Folding Chairs shouldn't have any trouble finding an appreciative audience. Many of these future fans will no doubt be youngsters eager for the next offbeat trip. Some of them will listen to these songs and wonder how they could have gone so long without realizing just how much ass one can kick with a banjo or a mandolin. —GR
A nineteen-year-old Thai bass player with an enormous fro from a fishing village at the foot of Monkey Mountain, a sixty-four-year-old Swedish boat builder; Gandalf beard, shaggy mop, guitar older than bass player, a forty-three-year-old, pintsized Scotsman capable of playing mandolin and drums simultaneously, a twenty-eight-year-old banjo demon from Wisconsin, a thirty-three-year-old Australian mushroom casualty who clutches the mike in soft knitted slacks and can scissor kick higher than David Lee Roth. The Folding Chairs are collection of curious sea shells washed up on the shores of Thailand who are currently edging towards the completion of their first real album, Boat Hotel. The bass player has already been fired; the boat builder is back in Sweden, so now it's just three chairs in the wind: Brenton Rossow; guitar, lyrics, vocals, Richard O Donnell; mandolin, drums, loafers and the newest shiniest chair Robert Austin Caswell; banjo biscuits, vocals, and whatever else he can clutch.
The Chairs are passionate about the music they make but don't take themselves too seriously. "We often get attacked by street dogs or accosted by ladyboys on our way to rehearsals. That's half the fun of making music in The Land of Smiles." With musical influences ranging from Leonard Cohen to AC/DC, The Chairs possess a captivating creative spark which flowers at each other's throats. When The Chairs start attacking each other onlookers are never quite sure if it's part of a carefully planned routine. Like Cato and Clouseau from The Pink Panther, resident Chairs; Brenton Rossow and Richard O'Donnell are constantly engaged in wily gambol that sends grandmothers reaching for their crockery and squid sellers disappearing beneath their grills. Experimentation is crucial. During some of studio sessions for Boat Hotel, vocalist Brenton Rossow demanded the rest of the band get the fuck out of the studio, then drew the curtains, turned off the lights and pretended he was inside Bono's womb. The results were an eerie wafer thin vocal, freckled with psilocybin spores that bought tears of laugher to the ears of The Chairs who didn't leave the studio but instead kept quiet and hid in the mixing room. A lot of tracks have been recorded but Boat Hotel still looms.
The Folding Chairs Say: "We are simple creatures who aspire to create music which climbs insides your skull and beguiles your coiffure. If you want to dance or balance your tootsies on the railing of your balcony, The Chairs will support you, no matter how you wish to bespangle your mind."
We are proud to present three songs by The Folding Chairs:
Boat Hotel: 2.4 megs
Bullet 'n' Rope: 3.3 megs
Wax Mummified Turkey in a Shopping Cart: 5.1 megs

Comments (closed)
Dom Di Lallo


2009-09-23 05:56:27



That's some kind of tasty cake music, people!
---
phillip banskstable ross


2009-09-23 21:11:05



when i listened to the tracks i felt like velvet was surging out of my nostrils. At one point all the flowers in my garden turned to the east. It reminded me of when i was little and my father used to sing to me on the toilet.
---
Laura


2009-09-24 04:04:19



It's amazing like a spider web!

I am going out to buy a mandolin.
---
Court Merrigan


2009-09-24 09:55:38



Hey, I knew The Folding Chairs in one of their original incarnations, using a toy drum kit and a Casio and a rarely sober Scots bass player. They've come a hell of a long way since then, I see. Great to hear. Stick with it, boys.
---
Win Po Yo Krapb Tu Long Shlong


2009-09-24 18:04:08



It's like wiping your ass with silk.
---
Tennille


2009-09-24 18:29:34



loved it! sweet, sweet music..lovely sounds, brightened my day!
---
Tahnya


2009-09-25 00:52:45



spurred silent appreciation through surprise and pleasure.
---
Dan Burke


2009-09-25 03:48:34



There are no conclusions to be gained here, only questions. Does a song really need to have an ending, or does anything really end? Is the postmodern globalised era melting up soups that are often hearty and at other times hard to swallow? Is this a re-write of the bible that has been long overdue? Many theosophical thoughts occurred in between pent up laughter that was held back only for the respect of the music. It had 2 year old Matilda bopping with her cloth penguin, and set friday evening ablaze with a thrilling spark. Thankyou.
---
Chris Falconer


2009-09-25 04:56:53



Eerily reminiscent of the early B-side work of the late Ron McGlade from the grossly underrated "Out where the bulls feed".
---
Win Po Yo Krapb Ty Long Shlong


2009-09-25 06:55:51



Hey Ronnie, that's my donkey and Yes.. you may glaze the cake.. provided it has peppermint features on the posterior.
---
Kevin Saunders


2009-09-25 18:40:46



It's like luxuriating on a silken mattress stuffed with piano wire and felt hammers... it hits all the right pressure points...
---
Dan Burke


2009-10-17 16:41:02



Cool baggies man...cool baggies.
---
Brian


2009-10-28 00:00:17



Folding Chairs! The one bright, pulsing beacon in the otherwise drab brick dust wasteland of the BangSaen music "scene". Be unto the moths, people - and get toasty in their gracious fire.
---
Sarah Dunne


2009-11-15 17:42:36



Sweet, Sweet, Love-making music!
---
Nung


2009-12-03 21:31:41



I like the sound of your banjo.
---
l


2009-12-03 21:51:53



Could I have a chance to listen a live banjo from you?

I like Bullet'n'Rope and Wax Mummified Turkey in a Shopping Cart.

Thank you.
---
cunto mcdirty


2010-02-13 06:58:23



I lived to tell the tale.
---
l


2010-03-08 19:40:027



I lived to listen that tale, please share :)

and I also would like to listen banjo all my life, the banjo man ;o)