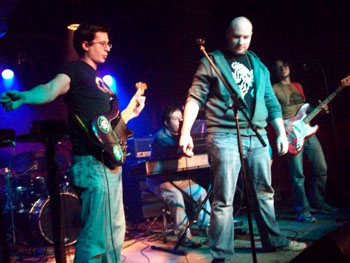 The track that best sums up Shael Riley & The Double Ice Backfire's wonderful contribution to pop music would have to be "The Other Side of Memphis." There's a lot to love about their new album, Songs from the Pit, but it can really all be neatly explained right there. It's everything a good pop song could ever aspire to be. It's confident but not smarmy, has a wonderfully low-key sense of humor and actually sounds like some work went into putting it together. The song certainly sounds like something that deserves to be doing well in the mainstream. You can say the same for the rest of the album as well. Songs like "Publishing Rights" and "Chinese Ninja Warrior" compete endlessly for the one song guaranteed to stick in your head for the rest of the week. Normally, that's not a good thing, but it never seems to be a problem with Songs from the Pit. Shael Riley has always been an artist whose work is defined and best understood by understanding his own interests as an artist. Above all else he is writing exactly the kind of music that he wants to hear.
The fact that the album is currently only available on a limited edition cassette is the least of it. Each track is infused with a love for archaic video games, a desire to hear songs that are lyrically and sonically engaging at the same time and a genuine interest in storytelling. "Publishing Rights" is a particularly fascinating narrative and may well be one of the most striking opinions on the subject in recent times. Riley seemingly has the secret to making his point without actually coming right out and saying so. The songs tend to sneak up you like that. "Hipster Hoax" is a wonderful example, a song that doesn't seem grandiose until it's actually over. Then you have to go back and listen to it again. It's there, but it's never obvious. "How to Fire a Gun," which we feature here, has a well-meaning wit and a visual punch that almost makes one wish there was a music video to go along with it. The visual strength of each song is evident throughout. Any one of them could do nothing but service the best interests of the right kind of film soundtrack. The unfortunate passing of John Hughes has had everyone paying homage via their own little film festivals. One aspect that has yet to come up with Hughes' films is the soundtracks. The best music of those films managed to be both very much the product of its era and oddly timeless in the same space. That's the quality Riley and his incredibly talented group accomplishes here.
You almost wish Hughes was alive and making films today. The world of Songs from the Pit would be quite welcome there. It's a potential classic all on its own, but it would be even better if there was a little something extra to give it that extra push into the consciousness of the universe of sound at large. It deserves that much. It certainly deserves some attention. If for nothing else than for accomplishing the incredibly rare feat of being guilt-free pop music with more than enough heart and personality to go around. —Gabriel Ricard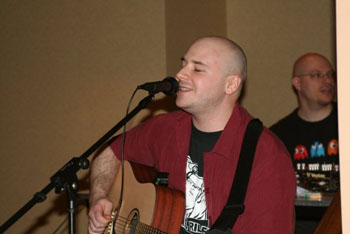 Shael Riley is a New York based vocalist, chiptune artist, and producer. In tandem with Seattle based rapper Beefy, he fronts the nerdcore hip-hop virtual band The Grammar Club, and his new project Shael Riley & The Double Ice Backfire features his vocal and chiptune work layered over grunge-influenced guitar, drums and bass. Drawing on years of experience as a video-game music remixer with OverClocked ReMix and indie pop sensibilities, Shael melds the lo-fi bleeps and bloops of video-game-inspired electronica with soulful, hard-edged pop-rock. His work has been featured in Super Street Fighter 2 Turbo: HD Remix for Xbox 360 and Playstation 3, and the feature-length documentaries Nerdcore for Life and Nerdcore Rising.
Shael Riley Says: "My terminal goal is making music I want to listen to, so I can listen to it. A song that doesn't exist gets stuck in my head, and I want to actually hear it, so I make it. That's primarily why I make music. Once it's out there, I'd certainly prefer that others hear and enjoy it than not, and the support and praise of fans is invaluable. I can't convey how good it feels to get letters from strangers who are so moved by something you created that they actually reach out to you even though you've never met, but when I'm writing I'm not thinking 'people are gonna love this;' I'm thinking 'I love this.' It's pretty masturbatory.
"If there's valuable subtext in my music, and I hope there is, it's because I want to listen to songs with valuable subtext. I like songs with a layer of text and then a layer or more of subtext you can mull over and get new ideas from with multiple listens, in different mindsets.  Even when lyrics sound like they're throw-away, there's often something more there, even if its just tonal congruence without a narrative. That's a big part of the value of pop music for me."
Unlikely is proud to present two songs, available on-site, from Songs from the Pit:

The songs of Shael Riley and the Double Ice Backfire are not available for download, but instead can be heard right here on the web site. If you don't see a jukebox above, try downloading Flash player.