Tom Bradley: Tell us about Troglodyte Rose.
Adam Lowe:Where to start? Well, the book's about her, obviously, and she's a bit of a crazy slut. Into drugs and all that shiz. Likes big guns, tarty outfits, hermaphrodite sex and smashing things. But she's also very artistic and intelligent, with the ability to work her way round scenarios using wit and verve. I guess the other stuff is all from boredom. She's very bored when the novel opens—even running from the Justicars doesn't quite keep her on her toes.
TB: Justicars?
AL: They're like the bio-mechanical, beastly special police force of the Underworld. They roam round tearing perceived criminals to shreds with their huge bronze beaks and can track fugitives down from their scent. They're lone wolves, semi-sentient, with some unknown driving purpose, assumed to be servitude to the Hegemon. They're designed to complement the Legionnaires and Centurions who keep martial law on the streets, but in effect are a law unto themselves.
TB: This is quite a dark world, right?
AL: Right.
TB: How dark?
AL: Well they all live underground, so there's little in the way of natural food sources. There are rumours that the Palace has roaming packs of genetically-engineered animals, but the rest of the population lives off fungus and cannibalism. Lobotomised humans are raised as a delicacy, like a veal, and it's common practice to eat slaves or criminals. Unfortunately, the restrictive laws of the Warrens mean most people fall into one or both categories. Even babies and children are fair game if they were born to slaves or criminals.
TB: How does working in tandem with illustrators differ from writing solo?
AL: Well it throws up a whole host of challenges. Both sides are reliant on the other. If I don't finish a scene on time, they can't draw it. But your work feeds into theirs and vice versa. I had a particular image of Rose in my head, but their illustration cast an entirely new light on her. The Justicars, too, looked very different in my head. Once I saw their art, I adapted the writing to suit it, and they occasionally had to recolour or redraw certain scenes based on later developments in the text. You also have to consider placement of elements in a scene: what's behind Rose; what's she holding; what information about the background of the world can be gleaned from the mise-en-scene?
TB: The interactive website is fascinating. How is that working as a promotional tool?
AL: I prefer to see it as a part of the book, rather than just a promotional tool. It's got hidden info about the characters and background information. It also lets you glimpse the art and immerse yourself in the world. It's been very popular with people who've seen it, so I hope it generates interest in the way a blurb can't. Books are ancient things—they can and should be modernised. In this day of Facebook and Twittering your bowel movements, people want instant gratification and constant stimulation. An illustrated novel with an online component seems, to me, to fit better into this culture than a big fat brick of print.
TB: Dog Horn Publishing is highly exciting. Where did you get such a brilliant array of authors?
AL: Most of them sold me drugs. But seriously . . . when I set up Polluto, it was partly to showcase what Dog Horn would be about under my ownership, since the former owner had her own stamp and I wanted to make mine. As we got to issue five, Vicky, my editor, and I had a huge list of appropriate writers. We'd networked to high hell in those early days. It meant we discovered delicious talents like Deb Hoag and got to pal up to some of our favourite writers, like Rhys Hughes. Once we were introduced into this weird little world of weird little fictions, the books just kind of flowed to us. Now we're having to beat hideously talented authors back at the gates because we simply don't have room for all of them at the party.
TB: What are Dog Horn's plans, hopes, joys, challenges, etc.?
AL: The main difficulty, as with all small presses, is cash. We receive no funding and so far have shied away from advertising, so everything is funded from my own pocket—i.e., a writer's very, very modest income. Negotiating financial hurdles has been very time consuming, but we think we have almost reached a model that will at least allow us to spend all the time we want on finding, developing and designing beautiful books. I guess the biggest reward is that we can find these little gems no else can find, because we take a much more hands-on approach to slush and because many of our writers came to us via unusual means. We publish only books that we like, rather than books we think will appeal to the lowest common denominator.
TB: Please share some your experience as a publisher, book editor, and features editor for Bent magazine.
AL: Ah, Bent. Well, I'm better known in the UK as a journalist, and I write a column in Bent under my pseudonym/alter ego of Beyonce. It's enabled me to judge contests like Mr Gay UK and Drag 4 U. The most surreal moment was when I had to report on Mr Gay UK for The Pink Paper, when it was revealed that the first ever Mr Gay UK, ten years later, had gone a bit loopy and eaten his boyfriend. It certainly made me look at those jockstrapped young men in an entirely different way when I went backstage!
Editing books is very different to editing for magazines, though. You have to look at the project as something artistic, and look at its integrity. With magazines it's all about fun and lifestyle and culture. With papers it's usually news. Books are something a bit different, but I enjoy working all those different media.
TB: Do these extroverted functions enhance your private fiction writing, complement it, interfere with it, etc.?
AL: I'm a very extroverted person anyway. Anyone who's my friend on Facebook will be aware of that. I'm not of the 'I'm in a lift' Twitter generation; I think every status update should have a point, tell a story or just be funny. Although I do lead a hectic lifestyle and I like to keep these various connections with those in the world around me. I go out clubbing regularly, throw house parties all through the night and travel as much as I can. In my hometown I run a monthly clubbing event called Blasphemy, which is all about fashion and in-your-face entertainment. But I run professional development programmes with writers and creative individuals in my region, regularly attend and hold events and go to workshops or writing retreats. For me, it's important to do it all. A writer who doesn't live his life doesn't have much to write about. These strands of my life aren't even separate any more—I write when I'm on the bus or in a bar, and I listen to house music when I'm at home writing.
TB: Tell us about Polluto. Is Deb Hoag as hilarious and subversive in person as she is in print?
AL: Criminally enough, I've still to meet this saucy wordsmith in person. But we're always in touch on Facebook and via email. Deb, of course, is the one all the Dog Horn crew dream about, because she seems just so . . . well, if you read Crashin' the Real, you'll see what I mean. Everything about Eva Petra in that book smacks of the real-life Deb Hoag, and even though it's fiction, it's scary how much of it you can imagine her doing.
AL: We definitely have a Dog Horn resistance, which would be the only way to describe it. Indeed, I've caught my writers saying to each other things like 'Is your book being Adamed too?'. So now, apparently, I'm a verb, but I think it reflects the way we work. I keep close contact with all my writers and I would consider them all friends in one form or another. We've formed a support network of rather unhinged but very loving individuals, in a sense. Luckily, every one of those writers is also exceedingly talented, which just makes it more fun. One day we'll have to organise a meeting for all our writers, and it would be the wildest, most surreal party ever. Just don't talk to Fellatio Nelson, as he's one of the seedier figments of Rhys Hughes' imagination and has been known to crash parties all over the world.
TB: How do you like Crossing Chaos Enigmatic Ink as a publisher?
AL: Do you know what? Wayne, the publisher, has been so hands-on with Trog Rose. I think he sees this as his baby too, which is the way it should be. He has as much invested as I do. Whenever we've hit a brick wall, he's been the first to show his disappointment but also the first to offer his encouragement. He wants this to work as much as I do, and he's always had high hopes for this book. What's more, his manifesto complements the Dog Horn one so well, I honestly think he's the perfect publisher for me right now.
TB: Do you see a literary movement, or something of the sort, congealing around such wild publishers as Dog Horn, Crossing Chaos, etc.?
AL: I do. Bizarro and the irreal and the new weird have all existed for a while. Experimental novels, like those of Burroughs and Cathy Acker, have been around for even longer. And what with genre works now entering and intruding upon the mainstream, it seems appropriate that we're toying with everything so much more. Janice Lee, one of our authors, wrote a science fiction masterpiece about the nature of consciousness, which reminds me of a very poetic House of Leaves. It's a mash-up of art, snippets of prose and linguistic journeying which is just more fun than reading yet another formulaic mass market airport book. Perhaps in ten years time someone will turn round and give us a name like the Beats and the Romantics before us. Maybe they'll assign us to some perverse, twisted niche best forgotten about—but maybe they'll appreciate that we were willing to take chances, and that we did it for ourselves and not for multinational conglomerates. Literature needs to be fun. Writing needs to be fun. We need to take culture to new places.
Check out an excerpt from Troglodyte Rose or these illustrations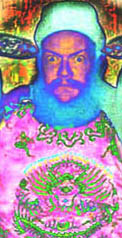 Tom Bradley's recent books include Lemur (Raw Dog Screaming Press, 2008) and Vital Fluid (Crossing Chaos Enigmatic Ink, 2009). His book My Hands Were Clean is forthcoming from Unlikely Books in 2010.