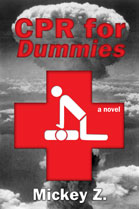 Let's say you've got some strong—perhaps even terrifying—things to tell people on subjects ranging from the threat of nuclear annihilation to post-9/11 madness and other general acts of government stupidity. There's an obvious problem: for the most part, no one wants to hear about it. The economy is looking more and more like Tim Roth during the last ten minutes of Reservoir Dogs, and people are more likely to let American Idol do all their heavy intellectual lifting than admit to themselves just how in trouble we really are. You can take to Times Square with a megaphone and scream blunt truths until blood flies out of your throat, but chances are that the average good citizen will still find a way to ignore you and keep the illusion rolling.
It's always been like that, but lately the ignorance seems to be taking on a level of devotion most religions would kill to have. People don't want to be bothered with how close we seem to be getting to the end, and they certainly don't want any shots of grim reality interrupting their free time. The solution hasn't changed, though. A book or film or song must be entertaining enough to get people to pay attention, while still leaving enough room to throw down some strong social/political opinions and get people to pay attention. If anything, it's just had to get a little smarter, a little more ambitious in trying to make its point.
Problem is, it seems as though it's getting more and more difficult to find work that succeeds in walking that line.
Thank God there are writers like Mickey Z. In his latest book, CPR for Dummies, he keeps up the good fight, not only in the name of his own beliefs, but in the name of telling a damn good story. And he manages to fit a few brutal, potentially upsetting opinions in there, too.
One can't knock off an easy description of CPR for Dummies, its intentions and the approach it takes to those intentions . Mickey Z. was apparently determined to lay out the intersecting lives of his ensemble in as many styles as he could. If you're familiar with his past work, you won't be surprised to know he succeeds admirably in his efforts. His characters figure into that success quite heavily. It's apparent to anyone moving through the book's frantic, chaotic pace that Mickey wants you to pay attention to his thoughts on religion, his bits of nuclear development history and his overall stance on a world gone terribly wrong. And yet, he manages to devote almost as much to the stars of the stage he's laid out.
Main protagonist Janie is clearly his favorite and the one he wants us to love, too. She's a beautiful, struggling actress with good taste in books and movies, who also manages to be sexually adventurous. More importantly, she also has a hell of a good sense of humor. It's the kind of sensibility necessary to spend more than a minute on any American city street and not wind up picking off strangers with a sniper rifle. And it's enough to get Janie through what's going to be a very strange and trying day. She's more than just one of the reasons why this is such a fun read. She's a sharp, believable character who lends instant credibility to the author's bid to kick your ass, scare the living hell out of you and make you laugh at the madness of each and every day, all at the same time.
She's not the only one. Although some of the misfits who show up in CPR for Dummies are only there long enough to prove a small point of some kind, Mickey has also included a powerful array of personalities well-equipped to keep his heroine busy, while contributing something meaningful on their own terms. Father Gil and his dedicated flock of world-weary and reasonably screwed up flock of followers find themselves in this category. They are a collection of misguided emotional burn-outs who happen to decide, each for their own reasons, to crown Janie as their messiah. She becomes their new reason to wake up and start believing again.
Of course, Janie can't resist going along with what becomes a very funny joke, even though all she really wants to do is get to the day's audition in one piece. The ensuing relationship that develops between her and her followers is an interesting one and it takes up a pretty decent portion of the story. Father Gil—himself a sexually repressed priest with the body of a pro-wrestler—is far from the only entertaining character in the small, hopelessly lost congregation. Mickey Z. has somehow made them absurd and believable at the same time. It's an interesting phenomenon that gains steam as the book moves along.
It's obvious he has a place in his heart for almost all of his characters. Many of them represent portions of the America he seeks to criticize, but he recognizes them as more than just one-note points to make. There's an odd undercurrent of respect and affection. Lenny D, Janie's kickboxing boyfriend, who sounds off his personal philosophy for life and martial arts throughout the book, is an excellent example. Less than a few pages from his introduction and initial role as Janie's potentially poor choice for a romantic partner, we're suddenly forced to shift our perception and admit he has a lot more going on. Even some of the individuals who will appear for only a page or two have more going on than you might initially suspect. Mickey Z. makes sure we don't take anything for granted or get settled into the solace of a first impression. He has a hell of a knack for kicking your comfort zone right in the balls. (Maybe all those years of maintaining a blog have something to do with it.)
If he's not applying his skill to his impressive attention to characterization, then he's making good use of it in the very way in which the novel is set up. He could have told this story in a completely traditional novel setting, but the challenge probably wouldn't have been all that significant. Once again, he has no interest in the obvious. Instead, he chooses to take as many roads as possible to get to his main point. In the end, he ties them all in beautifully and never once loses his focus. The story moves effortlessly from straightforward novel, to screenplay, to personal confessions from the key characters to non-fiction in the form of some of the most discomfiting trivia you'll ever read.
It all comes together to make one of the most compelling dissections of our nation—and the poor bastards who live here—in entirely too long. "Chaotic" is a word that demands repeating, but CPR for Dummies is not just pure literary anarchy. It's very much controlled and very much fastened to a single track that moves along to a blunt, appropriate conclusion. What makes it so formidable is the way it serves so many purposes. Not only does it appeal to the interests of the reader, it also gives added depth to not only Mickey's characters and opinions. Never once does it come off as putting a different spin on the exact same thing. Each part keeps the machine intact and each part is important in its own way. Just like those characters.
Of course, it may not be for everyone. Those who are looking for the status quo in their reading will probably not appreciate what makes this book such a pleasure for everyone else. It's grim at times and bluntly damns our state of affairs and the direction we're headed. The final moments come down to nothing more than dumb luck—the same breed of dumb luck that's gotten us out of more potential disasters than we have any right to. Some readers just aren't going to be able to get on board for that. Safe and easily digestible is still the diet of the hour, and even with a good package to surround some cold, unflinching truths, there's always going to be many out there who just don't want to hear it.
Mikey Z. is undoubtedly aware of this, since the book also manages to fit in a few well-placed jabs at this exact model of the so-called good citizen.
He rarely abandons his sense of humor. The book is a brand of dark comedy not too far removed from Janie's, and a couple of the other more revolutionary-minded players. From the first page his own voice stalks the proceedings and is never too far behind. At times, it appears in the form of editorial notes and remarks from Mickey himself, commenting on the current goings on of the story. And I think you'll enjoy it after you've come to the last page, dimming the lights on planet earth with a couple of memorable and wholly befitting quotes.
There are few books out there like CPR for Dummies, and perhaps that's best. This is a story worth your attention. It's probably a good thing that so few writers are willing to take the kind of chances Mickey Z. goes for. The question now is where he'll go from here.I'm betting that it's going to be somewhere even further than where he's taken us with CPR for Dummies.