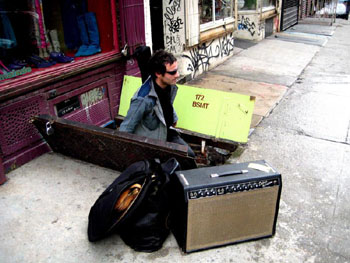 Ladies and gentlemen, please, I implore you, indulge your auditory fantasies by listening to Peter Blood and the Nights of Habit's new record Osama's Daughter.
This album is like watching CNN war coverage on one television and S-and-M porn on another while fucking a Bubble-Yum-blowing, pig-tailed, barely-legal blonde, all during a three-day meth bender set off by winning the state education lottery. I wouldn't know how to go home to the wife and kids after that one. It might take a lot of forgiveness there. The beautiful violence described by Peter Blood's empathetic lyrics juxtaposed against the pop instrumental hooks either took vast genius or a great stroke of luck to create. The lyrics are hilarious, sad, sex-crazed, remorseful, and enlightening all at once.
I first heard the song "You" on an episode of the show Moral Orel and it played as the ice cream man tried to consummate his crush on a na´ve boy-child of God. Perfect comedy because the song is so fucking sexy and beautiful and true that it is the quintessential backdrop for such modern dementia.
I thought it was the best television I'd ever seen. My mom wouldn't like the show just like your Mom wouldn't like this album because it tells all your secrets. Like that time you got done masturbating in her panty drawer and didn't know what to do with the ejaculate or when you sniffed your sister's friend's discarded pad just before the knock on the door. Peter Blood's songs of women and war are intrinsically entwined with contemporary subconscious. Honestly, I don't think the civil war would have happened if southern belles weren't so loose with their love.
Blood is coming with his heart and the vibrations are better than bad; they're good. And then there's the vision I had while listening to "Little Firefly" of Woody Guthrie hookin' in drag outside a Coxsackie Holiday Inn and Frank Zappa picks him up, takes him to his room, and feeds him the EndDust he was jonesin for. These tunes were written in that fantasy. I'm in my car port doing a mean jig to lines like "I'm gonna take the downtown bus to my suicide" and "it's no crime if you want something that's not everybody's cup of tea/ if we both should end up fucking it would be alright with me/ there's no time there's just a moment that goes on for eternity".
All you have to do is listen to the songs yourself. They put you in your place. Make you wish you weren't so dull. Don't be so critical; have some fucking fun once in awhile. What are you? A self-righteous liberal? Loosen up. Buy this album. It'll help the economy. You can purchase the album through iTunes or through Blood's MySpace page but hey, just listen right now. —ES
Unlikely is proud to present three songs, available on-site, from Osama's Daughter.

The songs of Peter Blood and the Nights of Habit are not available for download, but instead can be heard right here on the web site. If you don't see a jukebox above, try downloading Flash player.