This was where her mother
spent the last moments of

her life, the exact spot
before the house crashed down.

This is where she always
sat in her blue dress.

Her daughter kneels in the
middle of mud-soaked debris,

in the middle of crusts
of red bricks and wedged doors

3 plastic yellow tulips
so they stood out like a shock of

color in a black and white
photograph. This is where she

sat in her blue dress in her
brown reclining chair

and oxygen tank as the 30 ft
wall of water thundered

ashore. If I could just find
her dress, just a piece

of it. It was blue, a
house dress. They found

her sandals in the house
across the street. Others in the

house swam to safety but
her mother wouldn't.

She had spent her whole
life in Bay St Louis.
---

a splash of wintergreen
aftershave and a cool
dusting of talc can
make a man feel
whole again

the guys from the Dailey
Brothers barbershop
in San Antonio seemed
to know this. They'd
watched the hurricane

coverage on TV, their
hearts breaking. On Labor
Day, clippers and combs
in hand they showed
up at one of the city's
shelters and gave, along
with shape ups and shadow
faders, just what their

thread bare customers
needed: some dignity.
One man held a mirror to
his face. "A lot of lamb
chops tonight," he said
admiring the haircut
that had dramatically
improved his chances for

a kiss from his wife and
for one second, forgot he
was nearly homeless and
his wife was sleeping on
a cot next to him in the
shelter
---

First he wrote a note
telling anyone who found
him to contact a fellow
officer. He was precise
and thoughtful to the
end. Then he stuck a
gun in his mouth. One
of many cops who killed
themselves in the chaos
of Katrina. Someone says
he was a stellar guy, a
perfectionist, everything
had to be just right.
Uniform crisp, office in
order. Everything just
right on his desk. Like the
others, he wandered thru
the mass of flesh and
stench in the Superdome,
saw the dead in the street.
He was tortured, some
one says, when he could
not help women stranded
on the interstate and
pleading for food and
water. One said her baby
hadn't had water in 3
days. He even wanted to
stop and help animals
lost amid the ruin of New
Orleans. Unable to stop
the hurt, he sank into
depression, sank into him
self pulling the trigger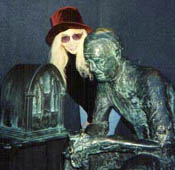 Lyn Lifshin's Another Woman Who Looks Like Me was published by Black Sparrow in 2006 and selected for the 2007 Paterson Award for Literary Excellence. Also out in 2006 was The Licorice Daughter: My Year with Ruffian from Texas Review Press. Lifshin's recent books include Before It's Light (Black Sparrow, 2000), Cold Comfort (Black Sparrow, 1997), In Mirrors (Presa Press), Upstate: An Unfinished Story (Foot Hills) and The Daughter I Don't Have (Plan B Press). Her poems have appeared in most literary and poetry magazines and she is the subject of a film, Lyn Lifshin: Not Made of Glass, from Women Make Movies. Her web site is www.lynlifshin.com.