GINA

"Okay, so, like, you know how like this guy Gordon and I hung out at Zodiac a few weeks ago?" Gina began.
"Yeah," Rusty said, letting the guy in the black leather jacket behind Gina catch his eye for a minute. He had bright pink liberty spikes and was piss-drunk. Rusty thought he was cute.
"Well, he takes me back to his place, just me and him, you know? And I'm like, what are we doing here? And he goes, so you wanna have sex? And I'm like, sure. Why not? So I take my clothes off and he unzips his fly, and we sit on the couch, which was totally covered in plastic, and we start to make out. He's all over me and I'm like okay—whatever. So he's all like, tell me you want it and I'm like, yeah I want it and all, and then he's like all hard rubbing it on me and the plastic is sticking to my ass and I'm like, where's the dope? And he goes here, and pulls up this tray from under the couch and there's like all this pot on it and so we smoke a bowl. So like, the whole time we're smoking we're totally naked and he's telling me all about this horror movie where this girl goes home with this guy and he kills her and dismembers her and then has sex with her dead body. I'm like, gross and he laughs and asks me if I want to watch it and I'm like, why not? So he puts this movie on and we're watching this girl get chopped up by this guy when he like grabs my legs and pushes himself between me and I scream and he says don't and I'm like, you scared me and he laughs and then I'm like whatever and he's totally hard watching this movie and fucking me and then he like breaks out these poppers and totally cums. I'm like, whatever and I grab the bowl and smoke more dope and he like puts his pants on and then he's all shitty with me like I have to leave and he takes me back to the gig and everyone's gone and I have no way home and he splits."
"What did you do?" Rusty asked.
"I found Gacey and he let me crash at his place."
"Cool," Rusty said.
"Yeah," Gina said, "I don't know."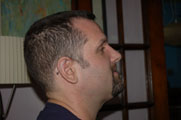 Bill Berry says, "I was born in Detroit, Michigan and live on Cape Cod. I am a college professor who teaches writing and language. Presently, I am busy with my dissertation on identity and writing. My creative work is inherently transgressive. I want people to feel challenged; my fiction reflects this."