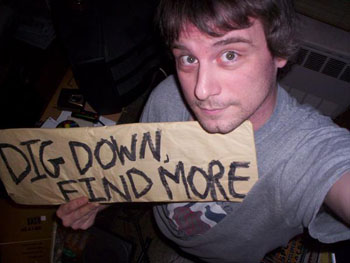 With a stripped-down, folky-punky sort of sound that seems to celebrate the death of rock'n'roll as much as anything it did in life, the solo work of Joseph O'Leary slaps wailing, eerie vocals on surreal and evocative lyrics, then mixes with acoustic and electric instrumentation and ambient effects, for a final product that, for all its ingredients, comes off creepily minimalist. The vocals never bellow, but the lyrics and music are nonetheless harshly pregnant with a sad and brave anger, born of daily triumphs and mundane struggles in the face of a generation's deep historical failure. This, then, is post-punk: rock'n'roll after rock'n'roll has faded away; personal stories in an era in which people seem irrelevant. —JP
Joseph O'Leary, poet and painter, is the author of poetry chapbooks The Open Wound Manifesto, Transit, A Laughter, Interrupted, and Post-Millennium Depression, but doesn't produce as much poetry these days because he has to focus on rocking out. His first band was Trousers, which broke up in 2004, but not before releasing the drunken, Velvet Undergroud-obsessed album We Pitched a Hut and Called it Providence. After that, he was in The Disclaimers, but now he's not anymore. These days, he rocks with Jenny Christmas and Danly Moreno in NoiseBin, offering a loud and cheerfully depressive sort of grungy punky thing to New York audiences. But he still has time, as his superhero identity Joe Yoga, to play gigs with Andrea Dangerously as Coach, not to mention recording solo work, which we are proud to present here at Unlikely. Be sure to check out his web site for more music, visual art, and writing.
The songs of Joseph O'Leary remained on Unlikely for one year, then were removed for reasons of space and copyright.