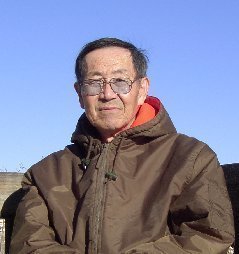 The stripped-down, moody compositions of Suchoon Mo are quiet, reflective excursions into passion, pain, and emotional contemplation, filled with Eastern sentiments expressed with Western musical styles. Infused with a sense of meditation, they use spiraling themes and partial repetitions to transport the listener downward through consciousness.
We present two pieces here: "Largo -after Tchaikovsky-" about which the artist says "Largos tend to lack, because of very slow tempo, intense and tumultuous passion. I believe I have succeeded in expressing such passion." We also present his "Piano Sonata in C," a playful and enthusiastic counterpart that builds off the largo's quiet moodiness.—JP
Suchoon Mo is a former Korean Army Lieutenant and a retired university academic living in the semiarid part of Colorado. He authored a number of research papers and monographs in psychology. His poems and essays appeared in East and West, Bitter Oleander, Religious Humanism, Snakeskin, Dissident Editions, Tryst, Spillway Review, Thunder Sandwich, Subterranean Review, Subtle Tea, Verse Adagio Quarterly, Mad Hatters Review, Round Table Review, Strange Road, Orange Room Review, and others. His music compositions in real audio was show-cased in Sage of Consciousness, Mad Hatters Review and Strange Road. He has no formal music education. He is a 4th Dan black belt in Taekwondo and is an official International Referee of World Taekwondo Federation. He may be contacted at suchoon@aol.com.
The music of Suchoon Mo remained at Unlikely 2.0 for one year, then was removed for reasons of space and copyright.

You will need an MP3 player to download the music, such as the free Winamp.
Comments (closed)
Jeremy Finn


2008-08-27 20:34:05



What a wealth of information and inspiration, Dr. Mo is to all those who have had the honour to be within his presence.