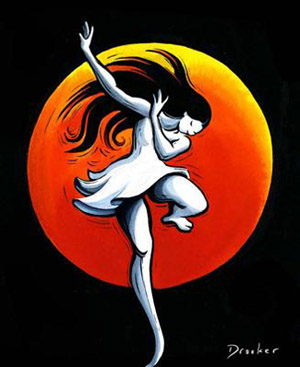 Meet DEVI, a little New Jersey slice of pure rock and roll. Wildly praised by a host of diverse magazines such as TrifectaGRAM, New York Cool, Midwest Record, Guitar Gods, Ugly Planet and just about everyone else for an ear for what's happening in original rock, DEVI's been all over clubs in the greater NYC area bringing their blues-tinged party to grateful and jamming audiences. Led by sensuous scholar Deb DeSalvo's siren voice and screaming guitar, DEVI stays hard and tight with the help of Dan Grennes on bass and John Hummel on the drums. Their first full-length album Get Free, will be released by True Nature Records in early 2008. Until then, we're proud to present the full content of their initial EP, Hoboken Demo. —JP
"A fiery, virtuosic guitarist and a terrific singer" (Artists & Bands), Debra DeSalvo has been compared in the press to guitarists David Gilmour, Jimi Hendrix and George Harrison and singers Sheryl Crow, PJ Harvey and A.K. Healey (Scout). She leads DEVI, "an excellent, frequently exhilarating band getting some real momentum." (Lucid Culture)
Deb placed four songs from her first demo in the film STRIPPED: Exposing the Business of Baring It All, broadcast on Sundance Cable. At director Jill Morley's request, Deb wrote the film's theme song, "Take It Off," and starred in a music video for the DVD (Vanguard Cinema). She also placed two songs in "Driven: Tim McGraw," which aired on VH1 and CMT.
Encouraged, Deb put a band together and began performing at NYC clubs like Pianos and Arlene's Grocery. She recorded the 4-song Electric Goddess EP, which New York Press praised for her "impressive guitar attack" and "unaffected, girl-next-door sensuality." Tinfoil Music called it "hands down the best CD to land in our pile so far this year."
Next Deb placed three songs in the Showtime film Getting Off. The three songs we present here at Unlikely make up the band's Hoboken Demo, which they recorded The Pigeon Club in Hoboken, NJ. "All That I Need" was licensed to Tenderness, starring Russell Crowe and Laura Dern (spring 2008). In preparation for their full-length album, the band has now taken their name: DEVI.
A passionate blues fan, Debra also wrote the ASCAP Deems Taylor award-winning The Language of the Blues: From Alcorub to Zuzu (Billboard Books), which Louise Landes Levi reviewed here at Unlikely. Check out DEVI's web site at Devi-Rock.com, and check out Eric Drooker, whose painting, Joy, represents DEVI to the left.
The music of DEVI remained on Unlikely 2.0 for one year, then was removed for reasons of space and copyright.