This month we present two tracks from the Steve Dalachinsky and Matthew Shipp collaboration, Phenomena of Interference. New York Jazz poet Steve Dalachinsky and free jazz pianist Matthew Shipp have teamed up to produce twenty-three sophisticated and varied tracks, smoothly merged together into a brilliant aural experience. Check it out here, then consider purchasing it from Hopscotch Records.
The music of Steve Dalachinsky and Matthew Shipp remained on Unlikely 2.0 for one year, then was removed for reasons of space and copyright.
JP: The first track on this CD is "Myth," seventeen seconds of Steve Dalachinsky simply reading a poem. He does so with a strength, assurance, and confidence that gives you a pretty good idea what you should expect from the rest of the disc. It's a ballsy and bold album, filled with grand themes and fierce inflections. Consider "Blue #3," where the simple, sharp piano competes with Dalachinsky's firm and argumentative voice, underlying the argument implied by the poem. There's a freedom in this album, expressed in simple things, like the highly variable length of tracks, as well as the words themselves. —JP
Yes, the first thing to hit you is that voice: Brooklyn-born, smooth-tongued, soft spoken, a teller of stories; sharp-edged yet intimate, easy going enough to render everything in double meaning; menace and assurance in a single phrase, "I am about to sell you another myth," how upturned the corners of his innuendos; sly smiles and innocent yearning. The words in the ear from his voice stark, like simplifying one's life, direct, engaged. Right away, when Shipp rolls in on piano, first jazzy and blue on the second track, "OK," then haunted on the next track, "Retiring the World," you know you're in for a joy ride. Not poetry; not even lyrics to melody; not lines to read while you're playing the tune, but jazz poetry, original in itself: "unrhymed free verse through a doorway into a courtyard" as he says in "Trust Fund Babies," not spoken word and accompaniment but a jazz adventure. Mary Jo Malo writes on the liner notes, "You could read the entire lyrics booklet from this beautifully packaged CD and never come close to what you will taste and experience when you hear him bust a sound wave." Well said, that.
You're so right about Shipp on "Blue #2," with its great line, "Twice you came to my door; two times I told you I was not home." The piano is a prism, "a phenomena of interference" as the album is titled; as you say, "underlying the argument implied by the poem." —KG
The voice is an interesting thing, here, and well-exemplified by that line, "I am about to sell you another myth:" the voice is self-consciously seductive, which is a funny thing considering the anger in many of the poems. But like you say, the work is both smooth and sharp: playful and coy, filled with a winking sort of sexy, sexless exchange with the listener, yet very clearly expressing frustration and a demand for greater social and intellectual consciousness. This is a tightly and thoroughly layered album of work, with new meanings that reveal themselves with each listen. So it's not surprising that everything's so cleanly integrated, to produce that effect of neither jazz nor poetry, but jazz poetry, that you mention. This is the sort of very careful composition that gives the listener the pleasure of believing that everything came easy. —JP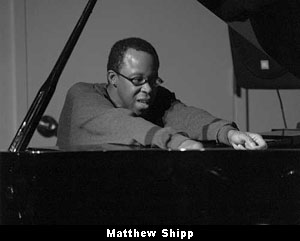 No question, it's an accomplished collaboration between Dalachinsky and Shipp that yields a sense of effortlessness and of improvisational opportunity! The poet's careful focus---he's got an eye for detail, a sense of pace and pathos and an ear for swinging---invites a delightfully carefree quality in the performance. Track Nine, "The Door Pomes," for example, opens with Dalachinsky singing a cappella that line from an old Cream tune, "Don't take the wrong direction passing through." Shipp, sensing the birth and death "correspon-dance" in Steve's opening volley, comes in on the next chorus. In a moody Mahler moment, he extends a metaphysical mystery to riffs on doors opening and closing, or as the poet says, "A window is sometimes a way out." This is one of the pleasures of listening to the CD. You are never quite sure where it's going to go, how many stars it will touch or how many layers of our consciousness it will reveal.
How about "Naima," the next track? I didn't read the titles, so when Shipp comes in skeletal and abstract, I was caught off guard. Dalachinsky opens, "When I asked the tall thin tenor man why he played 'Niama' every week his way, he said, Listen," and suddenly Coltrane's melody finds the words and they intertwine quite nicely. Shipp shapes and sculpts soundscapes as Dalachinsky narrates this tenor man's tale and drops lines like, "warm soft woman that she is, the opening in her name, Na Ee Ma." Shipp's solo at the end of the poem sends it into heaven, quite a coda. Then, a couple of tracks later, there is "Galileo for Sonny Rollins." This is the wildest, nuttiest, outest track I've heard in a long time. Unlike the straight-ahead treatment of "Naima," here words speak and repeat into patterns that start freely associating on the names Sonny and Rollins and that soon resemble in sound a sax solo of Rollins. I'm not sure what language Dalachinsky is speaking a minute into his solo, but it makes its own sense, and creates a context in which words like copyright, Galileo, omit, emit, imprint, click-click, navigation, money-money and if only take on new meanings. It's madness, synethesia, "hypnogogic-hypnopompic dream language," as Malo called it, truly far out and in close.
He's taking words apart, breaking down meaning like a little kid saying a phrase over and over until it's a wiggling worm of word bits. I suppose you could say he is following in language a line that Coltrane and Rollins, among others, explored musically, but I don't think you need to know the history of jazz to be blown away by what he is doing. —KG
Oh, absolutely -- the education here is of the artists, and not one they're showing off. You don't need any sort of poetic or jazz education to appreciate the strength of the work, and the sophistication of the words. I was listening to "Retiring the World" just now -- I forgot what a brilliant and moving (and quite dark, compared to the delight and ecstasy of "Niama") poem that was, so starkly accompanied by the piano. Such truly trippy convolutions! "In a time when nostalgia no longer exists, is no longer there to remind us to remember." Yeah, there's a lot of wild nuttiness here, mixed with the more straightforward stuff like a whirlwind. —JP
You said it! It's all in the incredible command of that nuanced voice which speaks to us intimately and authoritatively like a secret self. He's taken the best of the jazz po' lineage, wedded those early Ferrlinghetti and Rexroth efforts with the more avant impulses of Amiri Baraka. Hence, unlike most post-WWII American poetry written in the shadow of Modernism, we don't need to be educated to locate "Retiring the World," with its drop-dead-brilliant lines like, "where even the godhead is still being born."
In "The Moneyed Muse" in this week's New Yorker, Dana Goodyear traces the Lilly endowment of two million dollars to Poetry and the rise of John Barr, president of the Poetry Foundation who complains that "American poetry has a morale problem … is neither robust or entertaining."
I recommend that he hear---not read---this CD. Instead of sitting in a chair and opening a book, lay down and put the CD in the boom box. The truth's in the motion of the ocean, as the muse reminds us, and Steve's words float in the ear, bouyed on Shipp's 88s, and speak to us like a voice in dream. Julio Cortazar, a jazz lover, wrote in Hopscotch, "Talking about dreams, we realized almost at the same time that certain structures we dream could be current forms of madness if they could continue for a while when we're awake. When we dream we give free rein to our aptitude for madness. At the same time we suspect that all madness is a dream that has taken root." That's Delachinsky! —KG