Unlikely Stories Presents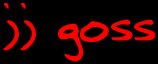 "Thought she deserved no less than she'd give well happy birthday her
blood's on my hands it's kind of a shame cause I did like that dress
it's funny the things that you find in the rain the things that you find in
the mall and in the date mines in the knots still in her hair on the bus I'm on my way down
all the girls seem to be there"
--Tori Amos

The poems of jj goss read like a civil alarm siren; strident, unnerving, and leaving us wondering if we should flee or duck and cover. Her symbols are unpredictable and varied, yet serve to clearly illustrate her passions and fears. She does not shy away from tough subjects, exploring both intimate and cheap sexuality and relationships with the same probing voice.
jj goss resides with her husband in central Massachusetts. Her work has appeared or is forthcoming in publications such as Happy, The New England Writers Journal, Net Authors E2K, Babel, Branches Quarterly, Amarillo Bay, Lummox, 52%, Copious Lightening Bell, Writer's Montly, Poetry Superhighway, Red Booth Review, Sometimes City, Seeker, Blindman's Rainbow, and Slow Train. Her short story, "Missing a Beat," was nominated for a 2001 Pushcart Prize.
jj says, "I've never been good at words. Spoken ones. I've always communicated better on the page. My poetry is made up of the stuff that refused to stay inside the lines, to be contained in neat paragraphs, spelled out, summed up, concluded. Poetry, words cryptic and random, sewed together with a common thread. Crude uneven stitches. My precarious fix." Drop her a line at jjgoss2001@hotmail.com.
jj's works here at Unlikely Stories are:
2003:
Leave of Absence
Wedding Function
Elimination
Escapism