Unlikely Stories Presents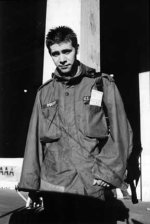 Using urban life as a symbol for the struggles we all experience, the poems of Patrick Porter reach into ugliness and pain to find something sublime. His poems tell tales of decay, loneliness, depression and angst, in ways that we can immediately understand and identify with. These poems radiate a desperate, hopeless attempt to do and be good, and they are for everyone who tries to achieve goodness.
Patrick Porter is a writer/musician who lives in Denver, Colorado, though he has been known to travel frequently and impulsively. He was born in Murfreesboro, Tennessee, on November 18th, 1977, and spent his early childhood living in and around the various (and inherently abundant) trailer parks of Tennessee and Alabama. At age 4 he moved with his parents to Colorado, where he spent the majority of his adolescence, living in a tiny, dilapidated mountain community called Bailey. There, surrounded by drunken cowboys, paroled petty criminals, and other assorted components of white trashiness, Porter proceeded to follow a dangerously haphazard course that by his early teens had him bordering on the brink of complete juvenile delinquency.
Fortunately, somewhere between detention school and adulthood, Porter discovered the two things which were to change his life: a 25 cent copy of "Notes From The Underground" by Dostoyevski, and an old, pawn-shop purchased Fender Mustang guitar. Allowing these two discoveries to sprout all the usual ramifications, Porter immersed himself in the incongruous dual-study of teenage-distortion-pedal-racket and classic literature. He graduated High School early, at age 16, and immediately began writing professionally, publishing his first stories in a variety of literary magazines, and completing his first novella at age 17 (a work that has since been banished to the oblivion of the "first literary attempts" drawer).
At the same time, Porter played varying instruments in a number of bands and recorded his first album, "Reverb Saved My Life" (on which he played all the instruments) at age 18. He gained a small but loyal following with giveaway CD-Rs of this project.
Not long after, Patrick's first book, "The Intrusive Ache of Morning", was published. He went on a tour of America to promote the book, and returned home a few months later to write "Kristallnacht", his first full novel, and record the album "Reconsidered" as part of the duo Phineas Gage (with Josh Wambeke). "Reconsidered" was released by Camera Obscura in April 2000. Presently, he is in Denver, has completed another book called "Nervous Halo," which was published in September 2001, and spends most of his time either hunched over a typewriter in whatever apartment he happens to be residing in, or haggling with sound engineers in overpriced recording studios. Most recently, Patrick has commenced new recordings with Josh Wambeke under the moniker The Wilhites. Write to him at syrupbaby@hotmail.com.
Patrick's works here at Unlikely Stories are: