The abused myth returns
each day on the breasts and thighs
advertised each night on TV.
The collective dream is a cartoon
within which resides the secret dream
of Michael Kohlhaas bursting
through the first as if
tearing through a paper mountain.
He rides a flaming horse
and wields a sword
much longer than a man,
Kohlhaas himself a giant.
Thinking this dream within a dream
is a sovereign possession,
the malls swell
with eager buyers.

It is any other day.
---

Lunch with a friend,
hopes level.
Today's menu:
humid maintenance.

The truth is, I am adjacent
to truth-taking stares every day
What good to dive head-
long? I'll choke on minnows.
So, rather than stare,
I exude a glare
which causes them to make
way,
quite as if I were
a whale.

The book next to me (my friend)
is here not to be read,
but to remind me that I will not drift away
if I remember certain facts,
such as publication—in spite of which
nobody ever imitated Moby Dick.

Lunch break almost over,
in deep and swimming,
later I can pick up the line with confidence,
spool it quietly back into my silent
self.
I am tethered
to possibility.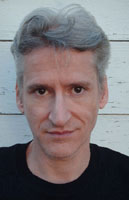 Mark Kerstetter is a self taught artist and writer restoring an old house in Florida. He makes art out of wood salvaged from demolition sites and has published his poems in Jerry Jazz Musician, Evergreen Review, Connotation Press and other journals. Please visit him at MarkKerstetter.com.