Jeremy Hight: What are you working on right now?
Susan Joyce: Currently I'm building out an apartment and gallery with a workshop in the basement of my house to host artist residencies, exhibitions, and installations. The space will be ready soon. As always I am continuously looking for suitable locations for a Survival Research Laboratories [SRL] show. Since moving to the Seattle area, my intention is to have a show somewhere in the Pacific Northwest. It would be great to do another SRL show in Seattle. As hospitable as Los Angeles is and has been, it would also be interesting to do a show in a place other than LA, where SRL has not yet performed.
JH: Who and what are some of your influences?
SJ: Eduardo Kac influenced my curatorial vision early in my career. His Holopoems were in the first exhibition I organized (1997). The focus of the show was artists using holography as a medium for language and text. Since then I have gone on to work with Eduardo on a few projects including his solo show at Fringe Exhibitions "Specimens of Secrecy About Marvelous Discoveries" (2007). This exhibition included a series of biotopes which are living artworks containing self sustaining ecological microbial life that change in appearance during the course of the show producing colorful blooms encased in glass as actual live paintings. Another exhibition I produced was "Out of Context" (2001). This was a large group show consisting of interdisciplinary works inspired by literature and text. The catalog for this exhibit has proven to be a popular research subject and unfortunately is out of print.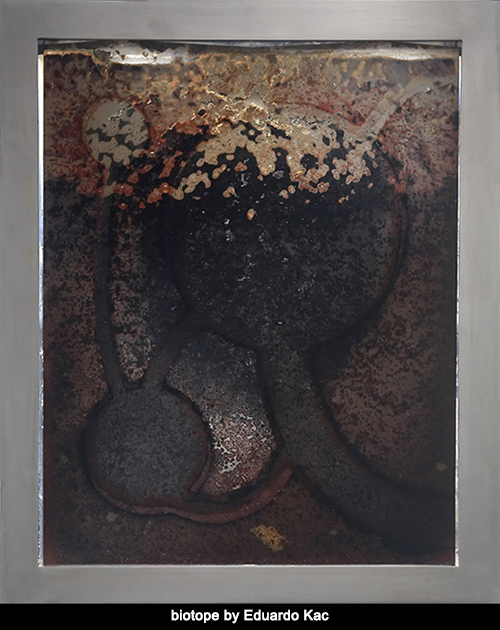 Looking back now, it would seem literature, language, and text has held a continued interest for me. Many SRL performances are inspired by literature. The first SRL show "Machine Sex" (1979) was loosely based on The Stranger by Albert Camus. Interdisciplinary collaborations with artists, scientists, engineers, architects, musicians, and writers are some of the driving forces that inform my work. The focus of my research has been on the intersection of art, technology, and science. I have organized a variety of exhibitions featuring robotics, bioart, sound, light, video, electronic art, augmented reality, holography, and on occasion traditional mainstream art world shows. Basically I am attracted to anything that moves.
JH: What were/are some of the concepts behind Fringe Exhibitions?
SJ: Fringe Exhibitions started out as an experimental art space in Chinatown, Los Angeles. It was intended to be a place for artists to show work that would typically not be presented in a traditional commercial art gallery. Generally speaking it was a place for stray cats to create cutting edge, ambitious, and challenging art projects. At the end of three years the lease was up, it was time to move on from that location. I toy with the idea of giving it another go but the space would be a key element something different this time around, probably warehouse size with shows lasting three to four months (like museums). There is a tremendous amount of time, effort, and cash that goes into supporting experiential projects that are interactive, and engage an audience. As far as I know, I am not aware of any such space like Fringe that exists now or even has. It's a go-big-or-go-home mentality.
JH: Can curating and creating a space for art to be shown and discussed itself be conceptual work?
SJ: Yes, I always believed in the art of the curatorial profession. However, it is almost invisible if the job has been done right. The design of the exhibit space directly effects how visitors will receive, interpret, and experiences the show. Machine Project in Los Angeles is a good example of a space that uses the model of conceptual work successfully. Machine is a cabinet of curiosities of sorts. Fringe to some degree operated under the conceptual radar but the focus was concentrated on the artist's vision. The gallery was a commercial space, not a non-profit.
JH: What is some of the key history of Survival Research Labs?
SJ: Survival Research Labs was founded in 1978 by Mark Pauline and located in the Potrero Hill neighborhood of San Francisco. After 30 continuous years of making work in downtown San Francisco at the SRL shop, due to the limitations imposed by the city, it was time to move. There was a need for more space that would allow SRL to grow and continue creating new work. On April 17. 2009 Mark relocated the SRL shop 45 minutes North of San Francisco to Petaluma, California.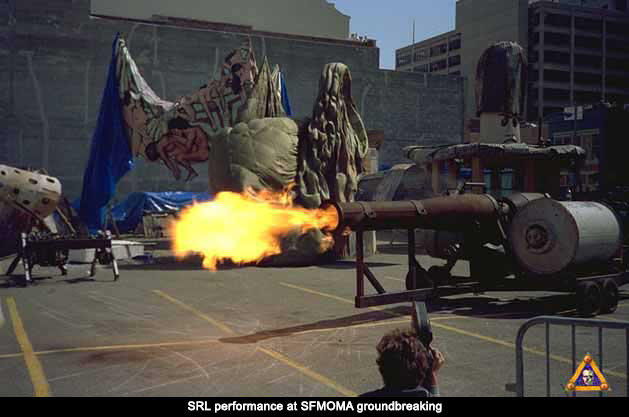 In April 1992 SRL performed at the groundbreaking ceremony in downtown San Francisco for the new museum (SFMOMA) building at the current location of the Museum of Modern Art. You can see that on YouTube.
In 1997 in Tokyo at the ICC (Inter Communication Center) SRL was the first to operate intentionally lethal machinery over the Internet with standard browser software. The event was broadcast live; live explosive and inert rounds fired from the air launcher destroyed targets in San Francisco.
SRL was included in "Under the Big Black Sun: California Art 1974 – 1981" curated by Paul Schimmel at the Museum of Contemporary Art as part of the Pacific Standard Time groundbreaking exhibition initiated by the Getty Foundation and the Getty Research Institute. This citywide series of shows put Los Angeles on the art world radar. Mark Pauline operated the original Deconstruction Machine (featured in the first SRL performance "Machine Sex" in San Francisco on January 31,1979) at the opening of the exhibition at MOCA on September 30, 2011. This historically significant comprehensive survey was the first major museum exhibition for SRL.
JH: Is SRL mixing performance, concept and commentary ? How so?
SJ: SRL has staged over 50 shows in the United States, Europe, and Japan. Each performance consists of a unique set of ritualized interactions between machines, robots, and special effects devices, employed in developing themes of socio-political satire. Since its inception SRL has operated as an organization of creative technicians dedicated to re-directing the techniques, tools, and tenets of industry, science, and the military away from their typical manifestations in practicality, product or warfare.
JH: What are some of the wilder moments and machines you have seen with SRL?
SJ: The show at Post in Los Angeles happened a short time after 9/11. I wasn't sure if the city would be open to hosting such an event but surprisingly it went off without a hitch. This was a very intimate show, by that I mean the barrier between the machines and the audience was made by the simple use of yellow caution tape. This situation allowed for the full SRL experience. The performance was staged in an alleyway in front of the gallery that created a tight space to accommodate an audience of about 1000 with a dozen machines and a crew of about 25. Expending all that energy in such a small area created the atmosphere for a rather intense show. An early version of a flame hurricane was tested in the daytime during setup. Habib was not present during testing, that night of the show he went up to the roof to view the show and was standing right above the flame hurricane, when it was started vertical flames went straight up about 30 feet, it threw him backwards and singed his eyebrows. Basically everyone there felt like they were going to die.
The performance at Dangerous Curve was sensational. This was a much larger show spread out over two city blocks in downtown LA. During the show the police decided to close off the 4th Street bridge also. They were standing on top of their squad cars cheering wildly along with 2000 other spectators. This was a very ambitious production that included about 60 tons of machines and a crew of about 50. It was inspired by the invasion of Troy. There was a 25 foot tall wooden horse, a Hollywood prop that discharged an army of eight sneaky soldier robots out of the rear end. An updated flame hurricane shot 45 ft horizontal flames across the street spraying Mark's mother and I with fuel on the second floor balcony. The pitching machine was hurling six-foot two-by-fours, two per second at 200 mph towards the wall of the Scientology warehouse that was covered with used mattresses (procured from the Mattress King). A guy in the audience sustained a minor injury to his calf due to a splinter from the exploding wooden boards ejected from the pitching machine. Because the show area was so large, it was almost like a three-ring circus with something going on everywhere. No matter where you were in the audience, you were able to see some of the show.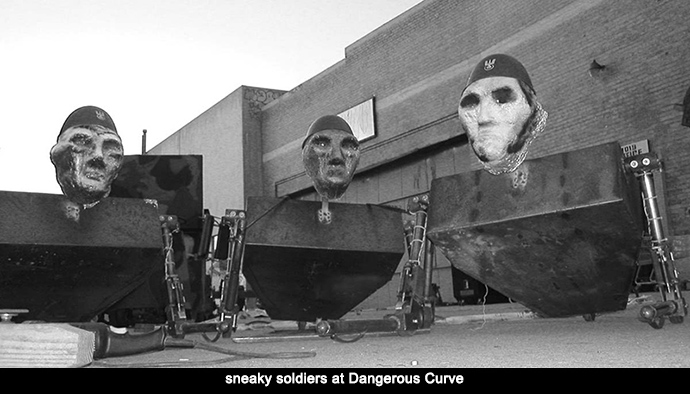 During the opening reception for the exhibition Under the Big Black Sun at the Geffen, Mark operated the original Deconstruction machine from the first SRL performance in 1979. Replacing frozen dead pigeons, this time we used whole raw chickens that were stuffed full of fireworks. When they traveled along the conveyer belt—outfitted with several sharp blades—down into the Plexiglas dome, they were chopped up causing the fireworks to explode and then spit out onto the floor of the museum...as well as onto Jeffrey Deitch's shoes standing nearby on the receiving end. Needless to say this action left a memorable impression with the controversial new director of the museum at that time.
JH: Has the changing climate and perception of robots and things like maker faire shifted any of the context or creative development in SRL compared to the past works?
SJ: SRL has evolved with the advances of technology. The newer machines built at the shop would not be possible to make without the aid of technology. The Spine Robot was manufactured almost entirely by Computer Numerical Control [CNC] machines at the shop. It is made up of about 60 segments that form a 9' arm with a large claw attached. It is a prototype for a family of fast moving arms and is not intended to have any practical use whatsoever, other than in SRL shows. Since 2010 when the project began the Spine Robot is constantly being worked on to improve and enhance performance and capability.
The V1 (1990) is a replica of WWII German designed buzz bomber jet engine modified to produce low frequency acoustic out put rather than thrust. It has served as a low frequency generator and flame thrower/shockwave device in many SRL shows. The valve intake assembly could not be reproduced due the complex parts of the original design with the machine tools available in 1990 when the V1 was first built.
SRL acquired a CNC machine in 2000 and an exact replica of the original valve intake assembly was completed in 2003. The Track Robot used in the ICC Japan show in 1999 was recently updated with a 3d Oculus system.
SRL did a demo at the 2007 Bay Area Maker Faire and several SRL crewmembers have participated in the Maker Faire that was started in 2005. In operation since 1978, for several generations SRL is responsible for influencing the machine arts movement and numerous counter culture events in the Bay Area.
Jeremy Hight is a Staff Interviewer at Unlikely Stories: Episode IV. You can learn more about him at his bio page.
Susan Joyce is director of Fringe Exhibitions, an independent curatorial practice dedicated to the support of cutting edge experiential art by creative minds working at the intersection of art, science, and technology. She is also a principal member of Survival Research Laboratories producing exhibits and large-scale mechanical performances. Fringe Exhibitions was an experimental gallery located in Los Angeles; it featured dynamic and challenging projects of an interdisciplinary nature. Now relocated in the Seattle area, Fringe will begin an artist residency and exhibit program this fall.