Jeremy Hight: What relationships do you see between your various interests, research projects, and forms of writing?
Janice Lee: I don't really distinguish between all my interests, and I have many. Science, neuroscience, the occult, the paranormal, ufology, biological anthropology, psychology, theology, philosophy, phenomenology, alchemy, etc. I like to stay away from aesthetic categories that act as constricting forces, and rather see all these disciplines and areas as overlapping wavelengths on a broader spectrum, or different perspectives on the same object of study, namely, life. So all of my reading and research informs my writing. My first two books especially were sort of obsessive research projects, and the writing reveals a sort of mind map of the connections I was making.
JH: What first drew you to creative writing? What were you doing before?
JL: Honestly, it's hard to imagine a moment before writing. I've been writing almost as long as I've been reading, and really can't imagine a moment when writing didn't serve some ample purpose in my life.
JH: Who and what are some of your influences?
JL: This is a constantly growing and infinitely changing list. At the moment, I'm enamored with the films of Béla Tarr, and really drawn to cinema and photography in general. I'm also influenced by various belief systems, mythologies, the ways people construct narratives and then hold onto them so tightly. And also, the apocalypse, the many ideas and perceptions of the apocalypse and how it operates as an image or as a process or as an anchor. Some more concrete influences. Julian Jaynes. Camus. Beckett. Laszlo Krasznahorkai. Victor Hugo. Kim Hyesoon. Anna Joy Springer. e.e. cummings. Kathy Acker. Kierkegaard.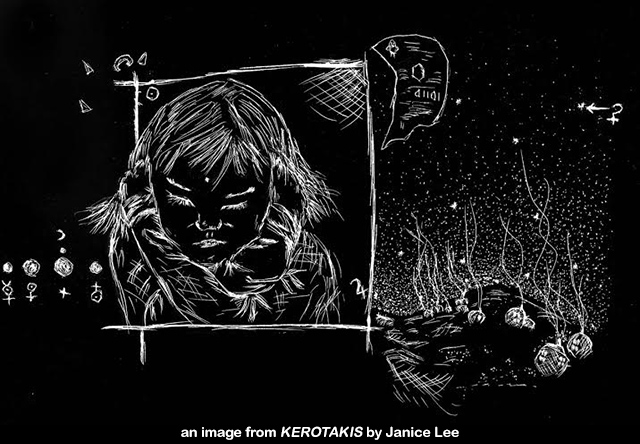 JH: What are you working on right now?
JL: I've currently been going through a strange period marked by a strange inability to write, a changing relationship with language, and intense emotional experiences. So much of the writing I've been doing has either been for Entropy, such as for my series "The Poetics of Spaces," or via collaboration. I'm working on a collaborative project with Jared Woodland in which we're looking critically at Satantango, both the film directed by Béla Tarr and the novel by Laszlo Krasznahorkai. We talk a bit about slowness in Satantango here and here. I'm also working with Michael du Plessis on a collection of ekphrastic poems that look at decapitation scenes in films. I've been writing some sestinas here and there, I'm a bit obsessed with the form at the moment. And finally there may or may not be a novel idea brewing. Something to do with empathy, God, Hitler, and rain.
JH: Do you see the other things you do—such as curating and design—as cross-pollinating your writing and art, or are they satellites, orbiting your other core interests and works?
JL: Yes definitely. Everything I do affects something else, even if it's very indirectly or just to take my focus off of something for awhile so my eyes can adjust. Probably just life is as the core of it all. The desire for growth, to constantly be learning. Writing. Then everything else is sort of an offshoot of that center.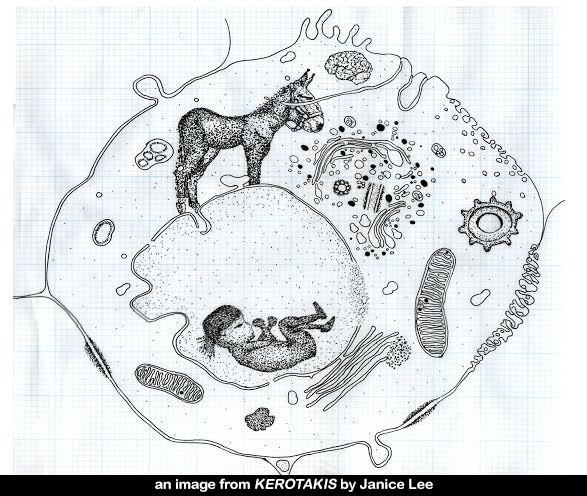 Jeremy Hight is a Staff Interviewer at Unlikely Stories: Episode IV. You can learn more about him at his bio page.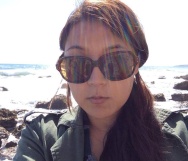 Janice Lee is the author of KEROTAKIS (Dog Horn Press, 2010), Daughter (Jaded Ibis, 2011), and Damnation (Penny-Ante Editions, 2013). She is Co-Editor of [out of nothing], Reviews Editor at HTMLGIANT, Editor of the new #RECURRENT Novel Series for Jaded Ibis Press, Executive Editor at Entropy, and Founder/CEO of POTG Design. She lives in Los Angeles where she teaches at CalArts and can be found online at JaniceL.com.