Jeremy Hight: What is code poetry?
Mez Breeze: Code poetry is a type of literature that merges poetic elements with code-like structures. Code poetry—or my preferred term, Codewurk—can be angled towards the functional [like Graham Harwood's Perl Poem "Jabberwocky"] or can mimic or [dare I say] emulate programming conventions and/or traditional poetic constraints. The use of code conventions can act to open up otherwise staid aspects of poetry through a type of dimensional overlay [combining the lyrical with a formalised structure]. Code poetry is highly lauded in academic circles, but isn't a form that often results in traditionally-palatable, or user friendly, reading experiences. My project "Wish4[0]" [a set of 40 codewurks based on a poetic interpretation of the maxim "Be Careful What You Wish For"] partially attempts to grapple with this readability issue through its idiosyncratic-knitting of code, mezangelle, social criticism/commentary and audio and visual components with real-time news events.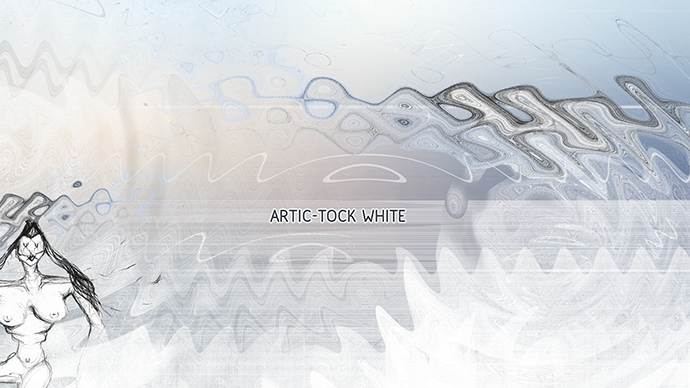 One of your previous interviewees, Talan Memmott, has said of the "Wish4[0]" project that it "...is something like a forty-day odyssey through contemporary consciousness. Billed as creative interpretations of news items, the work addresses such issues as fake Facebook likes, online surveillance, climate change, and NASA's 3d pizza printer (to name a few) through video poems, infographics, and classic mezangelled texts that respond to and resonate with cultural obsessions of immediate access to information. As such, the work produces a compelling and resonant reading of our times; a puzzling yet familiar zeitgeist that haunts rather than convinces."
JH: What elements of html and of type and elements like splitting words into dual reads using parenthesis first interested you or most inspired you?
MB: HTML tags [opening and closing tags], comment markers, nested brackets/ parentheses, tree structures, boolean variables, operator reappropriation, underscore framing, unix shell commands.
JH: How would you describe the evolution of mezangelle over time? How has it spun off into other works and areas of interest and research?
MB: Although I still create "raw" codewurks regularly [see Netwurker.Livejournal.com], I've also started to inject mezangelle into recent app-based and game/transmedia collaborations with creative boffins such as Andy Campbell [including The Dead Tower, #Carnivast, #PRISOM and our work-in-progress Pluto] and Pall Thayer [such as our in-development "Youlissees"].
I've gradually been integrating mezangelle into more expansive projects for a while now, including more complex works like Massively Multiplayer Online Game performances, and projects like _feralC_ [commissioned in 2010 as part of the Arnolfini "Lingua Franca" series] that included such amazingly accomplished artists as Louise Bourgeois. From the catalogue, this series: "...explored intermediary language, linguistic translation and the subjectivity of language". _feralC_ is a "socumentary" [social media mockumentary/Alternate Reality Game equivalent] and unfortunately the entire work is no longer completely accessible online, but there are some remnants of it that can be accessed here.
In terms of incorporating mezangelle into app and game development, I tend to stick to specific criteria so that the visual aspects of the text won't act to overwhelm [i.e. keeping the fragments short and the symbolic code insertions relevant]. For instance, in our anti-surveillance game #PRISOM, the Surveillance Drones talk to each other in mezangelle: when a player successfully "eyejacks" [or hijacks] each Drone, they'll get messages also written in mezangelle. We've had some great feedback about "#PRISOM" [which premiered at—and was commissioned by—The 2013 International Symposium on Mixed and Augmented Reality in conjunction with the University of South Australia University's Wearable Computer Lab and the Royal Institution of Australia], so mezangelle seems to have been successfully integrated into the game's fabric.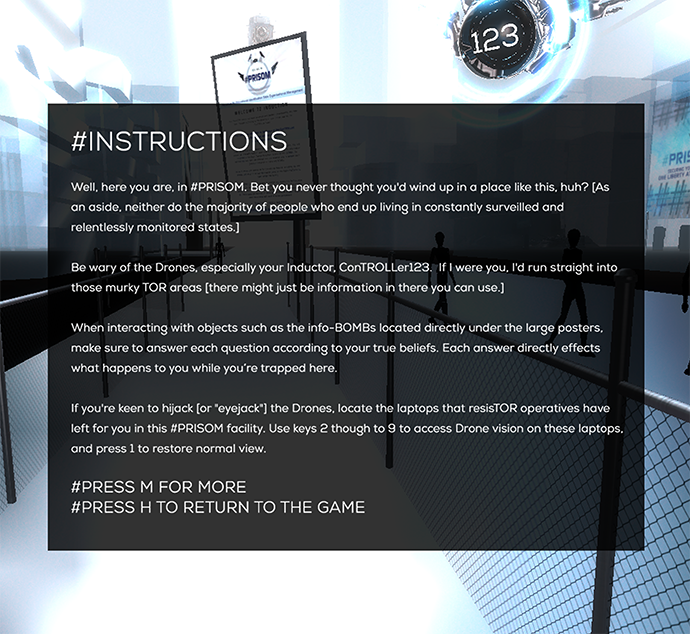 JH: How does it feel to have your work archived at Duke? How did that come about?
MB: To be completely honest, it does feel a tad surreal [though in a good, albeit partially daunting, way]. We're only in the beginning stages of getting the archive materials catalogued, as it took me quite a while to consider all aspects of the archive before signing the final "Memorandum of Agreement". As the archive is a comprehensive career archive of all my digital writings, digital and analogue works, associated documents/referential material [notebooks, journals etc], correspondence and papers, it's a massive undertaking. The archive is called "The Mez Breeze Papers" [which I quite like].
The process began back in 2013 when Stephanie Strickland approached me with the suggestion that she'd like to recommend me as an archival candidate for Duke University's David M. Rubenstein Rare Book & Manuscript Library Archive. I agreed, and soon after Will Hansen [Assistant Curator] invited me to participate by saying: "It's clear, from my discussions with Stephanie, Prof. Kate Hayles, and others here that your work has been groundbreaking and important in the fields of electronic literature, Internet art, and poetry more generally, and that access to the documentation of how these works were created will be important for future generations of scholars."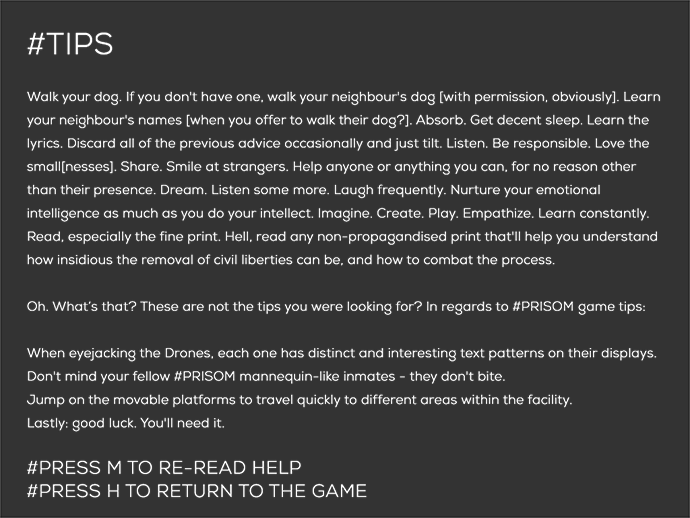 JH: What aspects of spaces like World of Warcraft and Second Life have most interested you? Are there other such charged spaces yet to explore?
MB: Exploring and participating in Massively Multiplayer Gamespaces and Gameworlds has been instrumental to my practice: the intersections of "real life" and virtual [plus augmented] life leads to such amazingly fertile overlaps. During my time playing, forming bonds, and learning in these spaces, I've loved tussling with players [who normally wouldn't even be branded as creative] that engage in the most amazing behaviours [even in their choices of avatar "dressing" and naming]. I've also encountered incredible modifications of "out of the box" and emergent gameplay which have helped formulate substantial chucks of my Augmentology research. With the advent of motion capture controllers and actual Virtual Reality tech [think: Oculus Rift and Project Morpheus for instance], the possibilities are only going to become more intriguing.
There are definitely other charged spaces to explore: Linden labs have just announced a new successor [or is it radical overhaul or update?] to Second Life that's due for release in 2016.
JH: What constitutes an "avatar"? Are there several layers to it? Are there any dualities or even contradictions within the general concept of the avatar that you have explored in your work?
MB: There are layers to the concept of an avatar: I originally became interested in the idea of avatars when first exposed in 1993 to the work of VNS Matrix [who I later wrote about in Switch Magazine]. Their mix of feminism, persona adoption, and virtual engagement intrigued me [at the time I was creating mixed-media installations involving painting, computer text and computer hardware]. In 1994, I started engaging in [and exploring] notions of performative identity-play and story creation by constructing text avatars [using y-talk, Kajplats and Cyberchat chatrooms] to interact with other virtual participants. Two of my avatar names from that time included "ms post modemism" and "Aeon".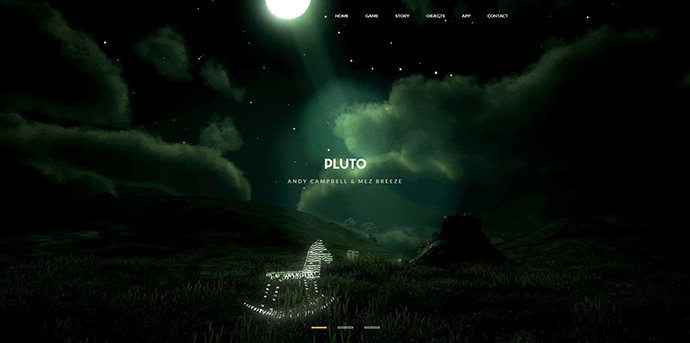 In relation to dualities and contradictions inherent in the idea of the avatar, I've talked about these previously as part of my Augmentology project, including: "Identity Ecologies + Avatar Formations" and "Reality Mixing + the Geospecificity Complex".
JH: Who/what are some of your influences?
MB: Kathy Acker, CB Radio yakking, Dr Who [Tom Baker and K9], David Cronenberg, Peter Greenaway, Choose-Your-Own Adventure Books, The Blair Witch Project [and the accompanying crossmedia campaign], Kimba the White Lion, Astro Boy, Cosmos, Text Adventure Games, Consolidated [the album "Friendly Fa$cism"], New Order [and Joy Division], Twin Peaks [ the TV series and "The Secret Diary of Laura Palmer"], Ghost in the Shell, Cindy Sherman, Frida Kahlo, Sylvia Plath, Virginia Woolf, Stevie Case, John Wyndam, Narnia, libraries, Doom, Quake, arcade games, Everquest, ELIZA, Koko the Gorilla, Alex the African Grey Parrot, LittleDog and BigDog, Sam Coleridge, George Orwell, Duke Nukem 3D, Everquest, assorted brilliant teachers, Lars von Trier, Donkey Kong, Jabberwocky, Python, System Theory, Quantum Holism, Permaculture, Max Headroom, The Maxx, Aeon Flux [Peter Chung version ("Plop!")], the Situationist Internationalists, Wakamaru, Curve, Radiohead, Perl, Chris Cunningham, Unix...[etc].
JH: What are you working on now?
MB:Pluto—a mammothly exciting transmedia work including a 3D literary game component [with Andy Campbell].
Youlissees—a subversive Augmented Reality narrative app involving face detection [with Pall Thayer].
Storyjacker—a collaborative game writing project where authors play and write games: the games will include bouts with novelists and fiction writers.
...and multiple other projects, but I think that'll probably do for now.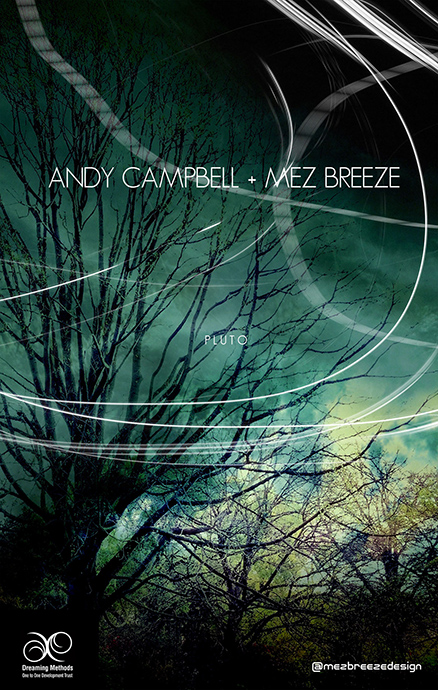 Jeremy Hight is a Staff Interviewer at Unlikely Stories: Episode IV. You can learn more about him at his bio page.
Mez has exhibited her ground-breaking creative work widely (eg "Arte Nuevo InteractivA" Mexico 2005, the "Radical Software" Show Turin Italy 2006, New Media Scotland 2008, Arnolfini Gallery Bristol 2010, Netherlands Media Arts Institute 2011, and Jeu de Paume Paris 2014). Her awards include the 2001 VIF Prize (Germany), the JavaMuseum Artist Of The Year 2001 (Germany), 2002 Newcastle New Media Poetry Prize (Australia), co-winner of the 2006 Site Specific Index Page Competition (Italy) and the Burton Wonderland Gallery Winner 2010 (judged by Hollywood Director Tim Burton). Her works reside in Collections as diverse as The World Bank and the PANDORA Electronic Collection at the National Library of Australia. Duke University have recently extended to Mez an invitation to develop a comprehensive career archive of her works, associated documents, correspondence and papers to be housed there at the David M. Rubenstein Rare Book & Manuscript Library. Mez is also an Advisor to The Mixed Augmented Reality Art Research Organisation, is currently Senior Research Affiliate with The Humanities and Critical Code Studies Lab, and the Creative Director of Mez Breeze Design [an agency which provides boutique digital product and design services including illustration, transmedia, text, games, interface design, and responsive media].