The men leered and talked shit around the table. "There goes the diaper money." "Balls to the wall, man." "Kiss my ass and call it breakfast." Crystal sat next to the only other woman at the table, an elderly woman flashy with makeup and jewelry and a zebra print blouse. Henry, Crystal's boyfriend, had given her fifty dollars to play Texas Hold 'Em. He was playing at the next table, sexy and confident as fuck in his black cowboy hat. They had practiced in their motel room with cards and poker chips Henry bought at Wal-Mart. They had fought. "It's good you're doing this here in the privacy of our room. If you did this in the casino people would think you are an idiot," Henry had said at one point. He had written down the different hands in one of Crystal's spiral notebooks.
The dealer and all the other players were staring at Crystal. She felt the idiot. She felt the alien. This was not an uncommon feeling for Crystal. "You've got to put in three more chips. There was a raise," a Latino sitting across the table from Crystal said with a smile. He wasn't an asshole like the others. Six poker chips at once seemed excessive to Crystal. Soon all her chips would be gone and she would have to go to the bar or play a goddamn slot machine while her boyfriend sat and grinned and stacked his chips. The sex was good but it didn't send Crystal into outer space. She missed the vibrator she had left in the bathroom of her ex-husband's apartment in San Antonio but her fingers got the job done with frequent efficiency. In between orgasms there were walks and sprints around the duck park, walks to HEB and Dairy Queen and poems. Crystal was addicted to reading and writing poems. Sometimes she read poems to Henry. Sometimes he liked them.
"What are you playing? Blackjack?" the young chubby Latino to Crystal's left asked.
"I thought I was playing backgammon," Crystal replied. She sipped her Cape Cod. She wanted a Corona dressed with salt and a lime but she was tired of her bloated stomach. She was road tripping to Corpus Christi with Henry next weekend. Crystal hadn't worn a bikini since her first semester at Texas State University. Maybe if she wore a bikini and looked decent enough in it Henry would keep her around a while. Crystal didn't have anyplace else to go. She had tried living in San Francisco for a month, couldn't afford it. There was always her grandparents' house in Bridgeport. Crystal would rather sleep on a sidewalk. Crystal's relationship with Henry was a Billie Holiday song, a raw aching thing that could not be dismissed with logic and common sense. So the sex was not starry. So he insulted her. So she called him El Chango. So they argued about stupid shit such as towels and plastic spoons. Crystal loved the motherfucker so much she was willing to spend hours of her life in an Indian casino, mocked by cigarette smoke and bottles of beer and flashing lights and annoying sounds and shit talkers with their towers of chips.
"I want to go flying," the cockiest mouthiest Latino at the table said. He had a pair of brown plastic nuts on the table in front of him, a good luck charm. He showed his cards. Two aces. Crystal felt like gouging out his eyeballs and spitting in his beer for good measure. It occurred to Crystal that she was Alice at the tea party and the cocky mouthy Latino was the Mad Hatter. Crystal's stomach grumbled. Crystal's stomach wanted pizza and deep fried Oreos, not the Caesar side salad from Wendy's. Too goddamn bad, stomach. There's a man in the bed. He must be kept there at all costs.
"I just lost my ass," Crystal told Henry. Judging by the chips in front of Henry he seemed to be at least a hundred dollars ahead.
"What are you going to do? Go to the bar?" Henry asked. He was congenial, not pissed.
"No. I'm going to play a goddamn slot machine."
Crystal had seven wrinkled singles in her purse. She sat down at a Sex And The City penny slot and fed it her first dollar. No Mr. Big. No luck. Carrie was such a skinny yet fetching bitch. All that hair. Those dresses. Those heels. That sweet little modest apartment. "How does it feel to make money as a writer and live in New York City and get that Mr. Big cock?" Crystal muttered at the machine. No DING DING DING. The machine was not Crystal's friend. The machine would not buy Crystal a Cosmopolitan or a weekend in the Hamptons. The machine would not go down on Crystal and stay down until she screamed YES! FUCK ME! I'M CUMMING! FUCK! I'M CUMMING AGAIN!
They sat together on a bench by a palm tree waiting for the shuttle that would take them back to The Goose & The Gander Inn. Crystal loved the way Henry smelled. He didn't wear cologne. Fuck. Was that his natural scent? He lost everything at the table. Crystal lost her last seven dollars to the unsexy slot machine. Crystal didn't give a fuck. She just wanted to inhale her boyfriend and bite his brown neck.
"You need to find your soul mate. I'm so ready for you to stop being lonely," a young woman was saying to a young man near the casino entrance.
"Well, that sounds great in theory," he replied.
"There are so many possibilities these days what with Twitter and Facebook and all the dating sites. There's really no excuse not to find a soul mate."
"Yeah, but things can go from rosy to crappy in the blink of an eye. You think I haven't tried? I've tried. Hell, I even joined a Baptist church last month. I go to Sunday school."
"Well? How is it?"
"Free donuts and coffee. The bitches are okay but I haven't found my cosmic match."
"When you find her you'll know. You'll be struck by lightning."
"Something to look forward to."
"Exactly."
Crystal met Henry in a karaoke bar. She was alone. He was with his three sons. Crystal knew she had to meet Henry when he sang "All The Young Dudes." She bought him a beer. He was already trashed from tequila. He kissed and groped Crystal in the alley behind the bar then they took a taxi to a La Quinta Inn and indulged in hours of sweaty drunken sex. A lot of details of that night were lost in a beer fog but Crystal remembered Henry had enthused over her tits and that went a long way in endearing Henry to Crystal. Also, at one point Crystal had returned to bed from the bathroom. She had turned away from Henry on the other side of the bed. "That ain't no way to get into bed," Henry had muttered. Crystal had smiled and apologized and pressed her tits against Henry's back and clung to him like seaweed. The next morning they ate chips and salsa in bed and watched a Hitchcock movie. It wasn't Vertigo, Crystal's favorite.
"We're a couple of losers," Henry said into his pillow as Crystal straddled him and kneaded his back with her knuckles.
"It's all relative, baby. I don't feel like a loser right now. I feel like I just hit the jackpot."
"That's sweet. Do you mean it?"
"That's truth. I say what I mean and mean what I say. Comprehende?"
"Si. Comprehende, mamacita."
"Bueno."
Outside the door cars roared and rap music boomed and drunk voices screamed trash. Money was being spent and people were eating and people were dying and the moon was a dusty crescent and people who owned telescopes could count the craters. Crystal preferred to leave the counting to people who enjoyed numbers. For Crystal the moon all those miles away was miracle enough. She didn't need a telescope. She could see that the moon was pretty fucking special.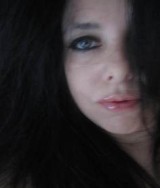 Misti Rainwater-Lites is the author of several disasters, some of them in book form. Bullshit Rodeo, a novel, will be available from Epic Rites Press in November 2013.