His body is lying face up on the bed, head at the foot. His chicken neck hideously twisted. Broken. She's sitting in a chair next to the window, fingers tapping the ends of the arms. Wide strips of sunlight cut in through the dust. She opens her bag and peeks inside at the gold. A mans watch, a wedding band. Closing it quick, she looks at her phone. 5 messages. 12 o' clock. She gets up, struts across the room. Picks up his banjo and turns to face the bed. Strums the two broken strings, tightens the head. She paces to the corner and tosses it down, then walks back and smoothes out the blankets. Sneery smile. Something stinks. Monkey dances over to the closet door. Yanks the string for the light. Yanks the blue velvet coat off its hangar. Limbs slither in to the cool and dark, sleeves hang short, halfway to her wrists. A little girl. She sits back down by the window, neat, her black Mary Janes and ankles line up. Old time radio waltzes in from outside. "WaaaWaaa." Her forearms are scratched and bruised on the inside. She reaches down under the bed and pulls out a quart of Jim Beam, half gone, lying on its side. Like gasoline, she empties the bottle over him, then places it under the crook of his arm. "Go to sleep, go to sleep lil' baby." She pads off to the kitchen and opens the freezer. Reaches deep past cold smoke for a box of ice cream drumsticks, peels off the paper and chomps back to the bedroom. From the chair by the window she sucks it up. Ravenous, eyes burning red. Melting, sweet and creamy. Through the blur she sees something dark and moves in closer. Her brow crinkles like a worried pug. Breath puffs the mirror. She moves in closer still. Her index gingerly lifts the corner of her mouth. A pencil thin line of cakey, dried blood circles the underside of her lip. More blood on her teeth. A front tooth chipped and ragged. She looks down at her hands like foreign objects, scraped up and speckled with blood. A rapid-fire thumping grows in her chest. Stomach starts to churn. The phone vibrates, shivering loose change. Don't answer. She's late. Sees his ripped t-shirt and spattered gray sweats. She's doubtful they will listen. A flash of regret. Her head throbs.
She looks and licks each finger tip. A thin thread of chocolate rims the blood that rims her mouth. She heaves open the bureau and pulls out a shiny black handgun and a box of shells. Shakes the box like candy. She loads the candy into the magazine, wraps it in his hand and presses it under her chin. Squeezes.
---

A baby is born. Again. A baby is called Henry. Again. He is so cute and beautiful. Of course. Everyone is excited. Of Course. His mother is so happy. His father is so proud. If you don't stop crying you won't hear the baby cry. You make the baby cry. Make sure he is wrapped up in pure cotton. Make sure he sleeps and eats. Make sure you don't touch anything he will touch. Make sure he is protected. If you touch something he will touch, make sure you sterilize it. His face is purple; the cotton wrap is too tight. Take the tight cotton wrap off. Put the baby in the cart. He is sick from his food. Change the food. He is allergic to the soap. Don't use soap. By age 5 the mother would like to have him removed to a Holding Station. If she does this she can have another child. If not, he will be taken at age 7 and she will be sterilized. The father would like to father a number of children if possible. It is possible. The control panel will keep track. No one is allowed to develop without applying for a license. No one gets licensed. There is no point. The outside is unusable. Everyone stays inside the metal sheds. Carts are loaded with unnecessary junk. No one can find anything, but there is nothing to find. There is nothing to do. Everyone will have a baby. Every baby will be cute. Every baby will be taken before age 5. There is nothing else to do. Nothing else will be allowed. If you try to do something else, you will be sterilized and expelled from the shed. You won't survive outside. The atmosphere is a radioactive furnace. There are no plants. There is no water. The sun will gore you. The sun will fry you like a microwave. Stay inside. You can walk the aisles with your cart. You can fill it up with junk. The shed has everything you need. You don't need anything. There is no other option. Do you hear that noise? Did you feel that tremor? The sky is gone. You will be monitored. You are being monitored. If you want to die, you can't. If you want to leave the shed, you can't. If you try to leave the shed so you can die, you can't. The doors to the shed have been removed.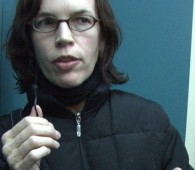 Elizabeth McGuire is an artist and writer from Chicago. Her fiction has been featured in Burningword and Hobart. She lives with her husband and their favorite rat terrier, and when she's not writing, she'd most like to be, or most likely be… sailing.