If evolution were real
humans and animals
wouldn't need reproductive organs
cause we'd just spring from monkeys

and
beside if evolution were true
there'd be vampires and werewolves
cause we'd have evolved
to beat
death

and there's no way
I came from an ape,
sinner.
Maybe you
but not me

Jesus loves me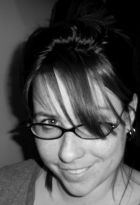 Ally Malinenko has been writing poems and stories for a while. Occasionally she gets them published. Her first book of poems, The Wanting Bone, was published by Six Gallery Press and her novel for children, Lizzy Speare and the Cursed Tomb, was published by Antenna Press. She lives in the part of Brooklyn the tour buses don't come to.