—with nods to Robert Bruce Lehman and Kevin L. Thomas
Conformity storms in, and you, beneath concrete umbrella, barred from any normalcy, a breath away from drowning in the bloodshed, head for home. The drive alone is driving you half-mad. Your wife's life falters. Alternate the shivs with HIS and HERS towels. Power outage. The big house to the small house—no one's home.
---
In one network of dirt there lurk many unpleasantries, unseen by the masses, still no less there than air. Microcosmic clunks and clinks of movement sinkhole slowly, rumble when the hush is meant to come. Tumultuous sub-ciety—sunrise falls. At the cornerstone of war, all lore grows wildly.
---
Dysfunctional son,
whose mother's love is nothing
but a bloody apparition,

hates these bars, those bars
where mother sold her cunt
for bucks and bottles.

So many ways to kill
the time, to knock a bastard down.

The kill zone on a wild boar hog
differs from a deer,
a headshot is a hard shot and a
heartshot's even harder.

Go for the shoulder blades
with repeated blows
until the fucking breath stops.
---
badged-ones owl the branches
of ten wall towers

(panoptical is optimal
to scan the bad nobodies)

scramblin' vermin

nothing flowers
in this lengthiness of shade
these compound hours

frowned upon
and
on
and
on


man and wagon
bird and vermin

exit.
(cue shun)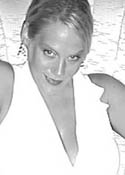 K.R. Copeland is a widely published Chicagoland poet/freelance creative now living in the West Village, NYC, accompanied by her lovable pitt-mutt Spyder. Her newest book of poems, 2057, has received many favorable reviews and is available through Amazon.com. The Statevilliany sequence of poems, published right here at Unlikely, was inspired by Robert Bruce Lehman's play, Isolated Incidents, adapted from the book by the same name, written by former Stateville correctional officer, Kevin L. Thomas.