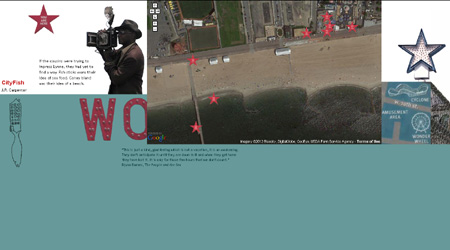 Click to experience
Original Project Description
CityFish is a hybrid word, title of a hybrid work, tale of a hybrid creature. Part classical parable, part children's picture book, CityFish is a web-based intertextual hypermedia transmutation of Aesop's Town Mouse Country Mouse fable. Winters, Lynne freezes in Celsius in the fishing village of Brooklyn, Nova Scotia (Canada), a few minutes walk from a white sandy beach. Summers, she suffers her city cousins sweltering in Fahrenheit in Queens, New York (USA). Lynne is a fish out of water. In the country, her knowledge of the city separates her from her school of friends. In the city, her foreignness marks her as exotic. CityFish represents asynchronous relationships between people, places, perspectives and times through a horizontally scrolling browser window, suggestive of a panorama, a diorama, a horizon line, a skyline, a timeline, a Torah scroll. The panorama and the diorama have traditionally been used in museums and landscape photography to establish hierarchies of value and meaning. CityFish interrupts a seemingly linear narrative with poetic texts, quotations, Quicktime videos, DHTML animations, Google Maps and a myriad of visual images. Combining contemporary short fiction and hypermedia storytelling forms creates a new hybrid, a lo-fi web collage cabinet of curiosities.
Additional Thoughts post-Sandy
CityFish is set between Nova Scotia and New York City. The piece contains many videos of subway tunnels which were flooded during Superstorm Sandy, and a Google Map satellite view of Coney Island which—for now—still shows the beach, boardwalk, amusement park, and bordering residential neighbourhoods in pristine condition. Coney Island neighbourhood was but one among the many communities in New York, New Jersey and Connecticut heavily damaged by Sandy at the end of October 2012. It will take months if not years for these communities to recover, certainly longer than it will take for Google's satellite images to be updated to reflect the effect of climate change on the eastern seaboard.
Although CityFish is intrinsically about dissonance—between past and present, fact and fiction, home and away—I am not sure yet how to reconcile this new dissonance—between the lines of the story I wrote and the new lines of this coast. In particular, I am concerned with the harsh economic dissonance underlined by the situation still facing those hardest hit by Sandy. 30-40 high-rise public housing buildings in the Coney Island neighborhood of Brooklyn remained without power, and often without water and basic necessities, for well over two weeks after Sandy. Many elderly residents remained trapped on upper floors, unable to get help, unable to get to shelters. Many did not want to leave. Reports of looting in many neighbourhoods were wide-spread. FEMA does not help businesses, churches, or other community organisations. Many of these will never rebuild. Speculation has arisen that many of the 'mom and pop' food stalls featured in the videos embedded in the Google Map of the Coney Island boardwalk embedded in CityFish will be replaced with fast-food chains.
It is my understanding, on the basis of the 21 hours or so a day I spend on Twitter, that the #ocupysandy movement has done great things on the ground in Coney Island, Red Hook, the Rockaways, and other hard-hit coastal neighbourhoods of New York City. To learn more about the ongoing Occupy Sandy relief effort, visit OccupySandy.org.