this landscape of the mind//Is a landscape only of the eye
Wallace Stevens

All my life
all my life
the eye only.

This shoulder, that
hip, the pattern of
rib, the landscape

of flesh, its span and
surface, the judgment
of form that

Suspends my own.
---

The laughter mechanic's arrival is routine. He rents an office, puts ads in the Pennysaver and arranges his tools—funny car, one liner, banana peel. He waits. Solemn clients show up. They are eager to embrace the physics of the giggle. They study rib cage expansion & how to squeeze air into bray or snigger. They ache to accomplish heehaw and horselaugh. They, long to craft the hoot & all other interactions of smooth muscle and sensibility.
The laughter mechanic studies the various tee-hees. He promises nothing and expects less. His patients chuckle, grin, whoop. When he takes their money, not one complains. They remember what life was like before he came. On their own without a last laugh, helpless, luckless, stuck. How they were always unable to finish the joke.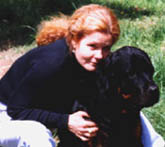 Wendy Taylor Carlisle lives in the Arkansas Ozarks. See more of and about her work at www.WendyTaylorCarlisle.com.