If you're looking to lend some love and mutual aid in post-hurricane NY and NJ, look no further than http://interoccupy.net/occupysandy/. And even if you don't end up pitching in through Occupy Sandy Relief, the fantastic and fantastical legacy of Occupy last year, it'll lead you—as it did for me today—to other sites of marvelous mutual aid. Here's one story, amid so many right now.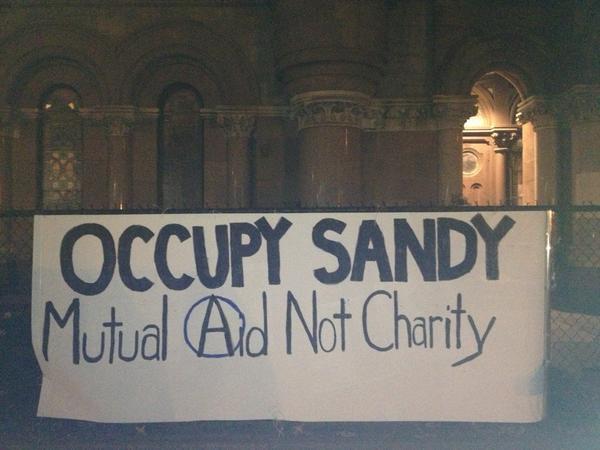 Midafternoon today, after doing some organizing work at Interference Archive (from below!) to help facilitate talks/discussions about "art and revolt" by the visiting Sublevarte Colectivo, a group of street artists that formed out of the 1999-2000 student strike at the National Autonomous University of Mexico (UNAM) and six of whose members put up their "The Persistence of Dreams" exhibit here at our autonomous nonnational(istic) space at 131 8th Street in Brooklyn (Nov. 16th opening reception/talk described at http://www.facebook.com/events/183120365145843/), I headed over to the new Occupy Sandy Relief distro site for Red Hook at 83 14th Street between 2nd and 3rd Avenues in Brooklyn to lend a hand for a bit. On my short walk there, I thought how the Occupy dream, which had turned into a nightmare for so many of us, was now not only persisting but in fact transforming into something far more dreamlike than any of us could have imagined a year ago—a self-styled and effective "hegemonic" force in what mutual aid looks like and indeed is all about, in sharp contrast to "The Persistence of Dystopia" in the wake of Hurricane Sandy for some many in New York and New Jersey.
When I arrived at the new Red Hook Occupy Sandy Relief distro site, a gaggle of what appeared to be mainstream reporters with cameras, microphones, and little regard for anything except themselves were jostling to film a donation delivery out front. Inside, though, I found three incredibly nice folks, clearly just getting this new site set up. I asked if they needed help, but they said that the weekend would be better; it would get busy when folks came in to pick up material aid. They needed to organize things first so as to better integrate other volunteers into this space.
"I'm involved with an archive fairly close by, but won't be there tomorrow," I said. "How about Monday?" "Do you have a car?" asked one, and then without pausing, answered his own question, "No, I doubt it. Probably just a bike, huh? We need cars for deliveries." "Do you have a laptop?" inquired another, who seemed the point person here. I affirmed that I did, and the response was, "Great! Could you bring that on Monday?" They then bent over their own computer, after handing me a whiteboard to write down my name, number, email, and availability.
"Did you say you're an archivist?" they asked distractedly, staring at their laptop screen. "No," I replied, "I'm an anarchist." I instantly got a big smile and high-five from my new acquaintance. "Cool! I've never heard of that archive. What is it?" When I explained it was an independent space filled with social movement cultural production more for us than preservation—cultural ephemera like zines, posters, films, books, stickers, banners, buttons, T-shirts, audiotapes, periodicals, and more—and that we did related events, they eagerly asked, "Do you have ACT UP materials, especially from Philly? ACT UP was amazing in Philly." A minute later we discovered that we had both sublet the same apartment at different times in Philly at Fancy House, one of those anarchic collectively owned West Philly residences. "Can I hug you?" they beamed. Hugs are always good, especially since genuine ones, and I thought, what a lovely interconnected world we're trying hard to create, by design and spontaneously, and how much even the most minor of mutual aid attempts leads, serendipitously, to reshaping social relations in micro ways. Macro ways, too, perhaps, as Occupy Sandy Relief seems to be doing. Again that sharp contrast: our cooperative, communitarian, egalitarian social relations against the cruel backdrop of the competitive, individualistic, imbalanced ones instilled by capitalism.
(I want to insert a caveat here, before my story of today continues. I've been posting tales of hurricaned NYC on my Facebook page and blog, and have had one too many people mention, glowingly, Rebecca Solnit's book A Paradise Built in Hell. I've never read the book, but I heard her speak about it, and was disturbed by what seemed to me, in her talk, an overemphasis on the "joy" and "paradise" we find in human tragedy. Maybe this stress isn't so pronounced in her book. Yes, in moments of profound disaster, when things fall apart, self-organized community forms and works as a method of getting through those moments. But NYC and its boroughs attest to the equally prevalent situations: A Hell Built in Hell, where even with the community that emerges, people are further immiserated; and those many, many people who find not community but instead a vacuum to be filled in by self-interest, avarice, power and land grabs, and on and on. Nonhierarchical and hierarchical forces, or as James C. Scott frames it in The Art of Not Being Governed, "state-evading or state-distancing practices" against state practices to contain and control people, are always battling it out—it just becomes far, far more apparent in moments like Hurricane Katrina or Sandy, or it should. So please, much as I too am enamored of and awed by the swift, humane, and effective efforts of everyone converging around Occupy Sandy Relief NYC and NJ, a short walk away from Red Hook to Park Slope, or another short walk away from the public housing projects of Chinatown to Wall Street or publishing housing projects of the Lower East Side to Times Square shows that mutual aid is far from the only response to this latest disaster. Much as I applaud the savvy use of Amazon's wedding registry to well-organize material donations for Occupy Sandy Relief, let's not forget that Amazon—and so many other entities—are making bank off the hurricane; we're all, all of us, trapped in this social structure and its tools, and hence the extra power of practicing mutual aid not as mere material aid but as a contravening social relationship to those instilled in us by capitalism.)
Back to the new Red Hook distro site: My new acquaintance mentioned that if I still wanted to help today, I could walk over to Coffey Park in Red Hook, where folks were supposedly setting up tents for another, outdoor distribution hub. So I trotted off in that direction, walking across toxic Gowanus Canal and snaking under an freeway menacing high overhead as toxic-smelling fumes wafted by, to see if mutual aid was indeed needed in the park a mile away.
The minute I got past canal and freeway, into Red Hook, I found what shouldn't be a surprise—and yet ... I found another poor neighborhood shit outta luck in "natural" disasters. It was as if Hurricane Sandy had struck the night before. I walked past someone pumping murky-muddy water out of a basement, then a corner store lit by candles, and then public housing projects still sans lights and heat. On reaching the park, there was no sign of tents or Occupy Sandy Relief but plenty of signs of suffering and devastation: downed trees & debris lingering, fowl-smelling air and toxic-looking muck on ground, ConEd workers trying to get electricity going again and "restoration" workers with masks/gloves on, homemade and bilingual signs about where to get help or when/if school would be open, and police. Lots and lots of police—doing nothing (which is maybe preferable to them doing something!). I saw two Red Cross trucks, one handing out a few supplies to a few people; the other seemingly just parked and serving no one. Nearby to this Red Cross van, there was a Warner Cable van and and two Warner Cable guys had set up a tent, with a well-made banner with the Warner Cable logo that also said "recharging station," but no one was there, and they decided to pack up and drive away as I watched. Failed effort number two to offer some mutual aid.
I stood in the big, desolate park, in this big, abandoned (by state, capitalism, racismů) neighborhood, trying to decide what to do next. Hmm, I could walk the couple miles or more over to 520 Clinton to the big Occupy Sandy distribution hub to see if they needed volunteers (the photo at the start of this blog post is from that site; more on that later).
Then, in the near distance, I spied a big National Guard truck, its green camouflage paint job seeming like an insult directed at the bare-limbed park trees and many wind-torn branches. Next to it were three cops cars with their flashers going, along with a group of people, so I wandered over. Troops and cops had blocked a street off, and they were chatting among themselves in the middle of it, between camo truck and cop cars, flanked by a dumpster overflowing with hurricane trash. A crowd of neighborhood folks—mostly black and Latina moms with kids, pushing various ramshackle carts and strollers to fill with material aid and wheel home (home likely being a place without power)—was congregating around an open garage. Inside the garage, clean-cut, working-class-looking folks in T-shirts and sweatshirts were giving out gallon jugs of orange juice, big packs of bottled water, and canned goods. "Are you sure you don't want some apples? Take as many as you want!" said one man to a bunch of moms, who peered into a massive cardboard box filled with fruit. The troops and cops seemed done chatting, and took their vehicles and themselves and drove off. I heard one of the garage folks mention that they were with Catholic Charities; I saw them and the moms all schmoozing, in English and Spanish, about the storm, their situations, their lives, while the kids ran around and played with each other, apples in hand. It almost appeared to be, simply, a neighborly street fest. No one seemed to notice the cops and troops leaving, nor seemed to have any need for them. Nor need for me. They had each other.
Strike out three. Back to, hmm, maybe walking over to 520 Clinton? I turned the corner, and saw severl woman with overflowing shopping carts of material aid, including stuff I knew wasn't in that garage, and continued down the block and around another corner. It was then that I realized that the garage was the back side of a big cathedral-like church. A big truck arrived just as I did, and volunteers streamed out of the church, laughing and smiling, to unload paper towels, coats, water, and so much more. I walked up the church steps to go in, but before I could even get in the door, a cheerful woman said, "Can I help you?!" "Yes, hello, my name is Cindy. I'd like to volunteer. Do you need people?" She told me her name, shook my hand, and happily ushered me inside, "Do we need volunteers?! Yes, of course!"
There was, it was instantly clear, so much energy, enthusiasm, and initiative in whatever Red Hook church I had stumbled on in my search for an Occupy Sandy Relief site. And it was apparent that the Catholic Charities' folks who had borrowed this church put anyone and everyone to work the minute they walked into the entryway—even godless anarcho-jews like me. First things first, though, before I was given a task. The woman who greeted me offered me warm food and coffee, and then gave me a thoroughly warm hello again. Most people were wearing nametags, but everyone introduced themselves to each other anyway, as she had to me.