An AssangeNYC blog composed August 20th, 2012
I am currently writing this blog piece, inside England. Well not literally, but legally speaking. I am currently under the roof of the British Consulate, seeking (non political) refuge from the rainstorm here in New York City on 3rd avenue and 51st street. For Julian Assange, the thin line that divides him between the Ecuadorian embassy and Britain Proper literally is a matter of life and death. British Police have been ordered to arrest Assange the moment he steps off Ecuadorian territory. If he is arrested and sent to Sweden (with the advice of Karl Rove) he'll likely be extradited to the US, where our government may indict him on conspiracy/espionage charges, which could result in execution by the state.
I am currently completing my second night here at my promptu call-out indefinite Occupation of British Consulate in NYC, in solidarity with Julian Assange. Within minutes of tweeting it out on @OccupyWallStNYC, Russia Today mentioned it, and it started getting many "guests". Later, Michael Moore and the Guardian mentioned it as well.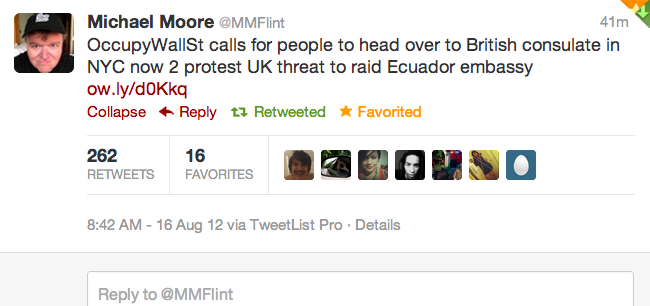 It was really exciting seeing how one tweet later turned into multiple other occupations, from Los Angeles, South California to Sydney and Ecuador. I inspired some, and many inspired me to make that tweet and impromptu occupation in the first place.
Our single demand for this occupation is "We will not leave, until Assange can leave". It is not the only demand I have, but the consequences of that one demand would restructure society in a domino effect.
I acknowledge there is nothing immediately practical about a 24/7 occupation. There are logistical and legal constraints, as well as limited internet and electricity. Yet, there is something highly symbolic, and sentimental, about refusing to leave the "sight" of the oppressors, until they change. To quote Frederick Douglass: "Power concedes nothing without a demand"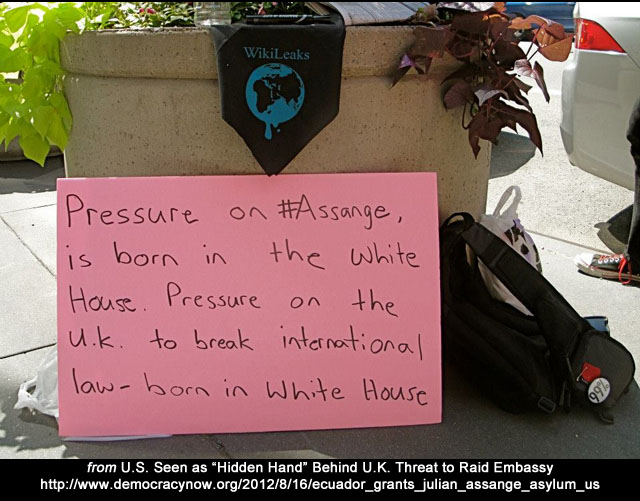 I also see it as an opportunity to continue the dialogue globally, pertaining not just Assange, but also Bradley Manning, War profiteering criminals, repression of the state etc.
I envision different organizations and communities volunteering everyday to give teach ins, skill-shares about activism, political mobilization, harnessing powers of social media and more. It can be funky too, using film projectors to broadcast on the walls of the consulate, films such as Wiki Rebels or Assange: Sex, Lies and Sweden or even Collateral Murder. Let us celebrate Ecuador's brave motion to continue to house and protect Assange. Nothing like declaring America's independence from England (for a second time).
Contrary to previous experiences with organizing political protests, the police here do not see this as a threat to their or the Mayor's legitimacy, and thus have largely left us alone. That may change when they see we are not leaving for good, until our demand is met, but we shall see. The fight here is not directed at the Police state, but make no mistake, the Police state are a firm branch in the tree of the very fascism we fight. Our occupation is participatory, and if you or your organization are in line with our demand, then this occupation is yours. Join us. Change us. Expect us.
We are in front of British Consulate, 845 3rd Avenue New York, NY 10022.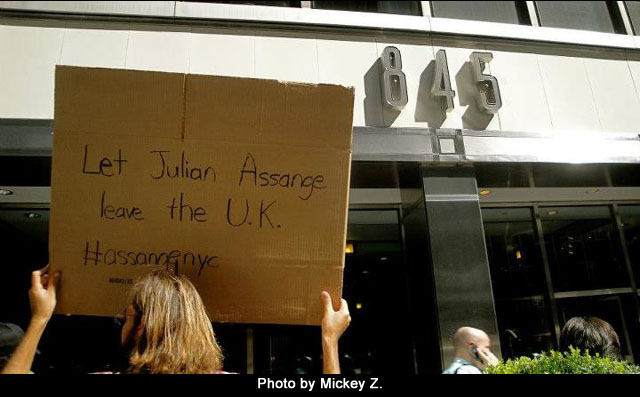 Live Updates from our Occupiers: https://twitter.com/#!/search/realtime/%23assangenyc
Find us at:
https://www.facebook.com/assangenyc

Website: http://www.assangenyc.org/

https://twitter.com/AssangeNYC
Yoni Miller can be reached by e-mail or on Facebook, or followed on Twitter.