Black and white,
you are vagrant
in a still picture,

scarred daughter
of a bitter moon.

You cursed me to live
among snakes,
among stars.

You bequeathed falsities
and humiliations—

But I have unremembered
your myths
and pray to dispel

their bad magic.

I have nothing left
with which to create
an effigy —

Mother,
you skimmed your finger
along my bone
and left a print
of yourself inside.
---

We mark ourselves with salt.
Tattoo whorls

where blood rushes—
where blood matters—

What hours do we bring?

Calluses against nipples,
an acid sting.

The sweet grind
of ghost hungers

that ache of our union.
And the ones who hunt us

are blinded
by this, a whiteout sun.
---

i
asleep in the woods
dreaming of a fleeting love
the grass sprouts through me

ii
the sky is copper
patinaed with hues of blue
the dream breaks open

iii
a red mare pulls through
apparitions of water
whisperings come

iv
Understanding lies
in the soft flicker of sense
in the depth of sleep

v
six crows razed storm clouds
and bled us of all our strength
what madness is this?

vi
a harrowing thought
deep in my petrified bones—
wash me, savior

vii
we drop through this world
into dark awakening
we, the strong-hearted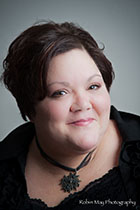 Clare L. Martin's debut collection of poetry, Eating the Heart First, was published fall 2012 by Press 53 as a Tom Lombardo Selection. Martin's poetry has appeared in Avatar Review, Blue Fifth Review, Melusine, Poets and Artists and Louisiana Literature, among others. She has been nominated for a Pushcart Prize, Dzanc Books' Best of the Web, Best New Poets and Sundress Publication's Best of the Net. She is graduate of University of Louisiana at Lafayette, and a member of the Festival of Words Cultural Arts Collective. Martin founded and directs the Voices Seasonal Reading Series in Lafayette, Louisiana, which features new and established Louisiana and regional writers. Photo by Robin May.