I am bare; always yearning.
No path leads from this want.

I've spread myself open,
made a nest of my heart.

I have torn out pages
wishing to forget.

I have gone into the poem
and taken

poetry inside me,
but the word does not come.

What is it of me that kills?

I am dropping deeper,
deeper into the hush—
---

Old mother of sadness,
lie by lie, we feed your sorrow.
Heap hours upon you—each minute a malignancy.

Our insensible prayers:
one laid upon the other,

upon the other,
upon the other,

with no meaningful
geometry.

What can we say to you
without poisonous effect?

We know only
that what is was not
until it became.
The bruising garments have fallen away
to reveal parchment flesh
hung upon obvious bones,
a display of wizened genitalia.

And nearly extinguished now,

the burning heart.
---

Blue flames flicker under a black iron skillet.
My face is wet. I see through a prism. I wipe
the back of my neck with a dishtowel
and toss it in the sink.
I position pots
under the drips from the ceiling.
This old house needs a new roof.
This old woman needs a new everything.
Heavy throbs in my jugular catch my attention.
I wonder if this is it. I don't fear
growing old because it has already happened to me.
I am isolated in the kitchen. I am isolated
in a house falling apart around me.
Between cane fields and alligator-infested canals,
between feebleness and death.

The food I make today will take a long time to cook.
The food will take days to eat. I make enough
for my family to share a meal with me but they never arrive.
These days, I go for whiskey
because I just don't have the time to get drunk slowly.
Half a glass and the bottle speaks to me:

Why do you hate what you reflect?
Drink up!

There is something I need to remember, but have forgotten.
I say to no one:
Do you remember when I clambered against you?
Ran my fingers along your rises and ridges;
wandered the abandoned garden of your dream?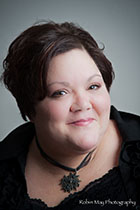 Clare L. Martin's forthcoming debut poetry collection, Eating the Heart First, is a 2012 Tom Lombardo Selection from Press 53. Clare's poetry has appeared in journals such as Blue Fifth Review, Louisiana Literature and Poets and Artists, among others; and in the anthologies The Red Room: Writings from Press 1, Beyond Katrina, and the 2011 Press 53 Spotlight. She is a graduate of University of Louisiana at Lafayette.