He doesn't imagine the lesser wings of sphenoid, the Sella Turcica, the crista galli and the ethmoid bone, that lunar landscape under a child's curls, until he has shaken that child—felt her brain slide, frontal to occipital, seen her eyes gone blank—so he can read the future opening before her. In that future, she will always be looking for the next hit, the perfect fist, the next bony ridge, will never resist a man's curious hand or step back from a suspect front porch. She will forever walk into a crowded party filled with secondhand smoke and talk, take it all in—the first deep breath and the next—as a dream while smoke hits her tarnished lungs and thoughts drift aimlessly among her bones.
---

I
the body is nothing but a temporary and insignificant
carrier for a soul. not a vehicle for pleasure...
Life in a body leads to general joylessnesss

ii
Precocious masturbation, drains a youth's fluid
and magnetic force, stirs up young, then
doomed to lunacy, TB, sterility and more

iii
In the tinder box of childhood games, dear Teddy
and his cousin Beatrice play out motley fantasies,
display lascivity and prove their parents right

iv
In the vocabulary of taboo, any sex words are equal to
pornography, although later Foucault will say,
Talk...is prudish and repressive, not silence.
quotes: Browning Institute Studies V16, p.93, Max Müller, Lectures On The Science Of Language (2 Vols, NY Chas. Scribners, 1862) p.379
---

Those summer days enter you like a noon crowd into the bleachers at Fenway
like a cold beer poured until your paper cup face fills up

they embrace the memory of icemen, tonging the great cold bricks
into oilcloth kitchens, of fans—the perpetual ceiling, the occasional funeral

they sweat like the brush-cut boy playing soccer with his Rottweiler
like the dog walker resisting four terriers

those days lush up the everclear with Koolaid, the kudzu with crows
the vacation road with retread scraps thrown onto the tarmac like scarves

they thicken with stories grown liquid in imagination, cocktails
and highballs spiked with a jigger of amber truth

and later dissolve you in a festival of flesh behind an oleander, there
you can be naked, your only garment a scrim of sweat

In the end, they nourish odd thoughts of winter, of women in wreaths of smoky hair
of jazz seeping into you with its nightliness and its cool distance.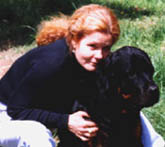 Wendy Taylor Carlisle lives on a hillside outside Eureka Springs, Arkansas. She is the author of two books, Reading Berryman to the Dog (2000) and Discount Fireworks (2008). She has two published chapbooks: After Happily Ever After (2River Chapbook Series) and The Storage of Angels (Slow Water Press). Her work is included in several anthologies: The Poets Grimm, (2003), Is This Forever, Or What?: Poems and Paintings from Texas, ed. Naomi Shihab Nye, (2004) and Letters to the World, eds. Moira Richards, Rosemary Starace, and Lesley Wheeler, (2007) and others. Her poems have appeared in 2River View, Salt River Review, Cider Press Review, Aquila, Bent Pin Quarterly and elsewhere. Find out more about her work at WendyTaylorCarlisle.com.