IV
It's late and a school night and instead of reading or writing or watching a movie I foolishly begin reading various news agency's response to the strike. It is a profound waste of time. Very few people seem to understand the core issues. Numbers are misrepresented. The union gave huge concessions on some issues that people outside of education don't understand. For instance, we can now only bank up to 40 sick days. After that, we aren't paid for them, they just disappear. This is fine, but if a teacher misses a day, the system has to pay a substitute to do the job. Even strong substitute teachers—not so rare but not so common either—create a disruption in the classroom.
So a teacher missing a day costs the city extra money and hurts the students, if only in small ways. So teachers should be encouraged not to take sick days. The old way had problems, too, I admit; some teachers would save up a year's worth of sick days and then take the payout of those days at their retirement, at a much higher rate. I don't advocate this, either. My point is now teachers have to use them or lose them. CPS has incentivized teachers into taking their sick days, instead of offering a reward to teachers who don't take them. And the hidden costs of substitute teachers—not figured into any budget that I know of—is real.
The union also signed on to a health initiative. Every month I have to click a button on a website that says I'm physically active. If I forget, I get fined fifty bucks. This applies to Beth, too, as she's on my insurance, and will apply to Simone at some point. We were given the opportunity to opt out of this health initiative—I don't know why they don't call it what it is, a monthly fine—for a flat rate of $600.
We also fought for textbooks for the students on the first day of school and smaller class sizes, both of which, incidentally, make students learn better. Are we praised for our attempts to help our students? No. In fact, the web chatter holds this against us, too, saying that we don't really care about the students, we just put this language in there as window dressing.
We took merit pay off the table, thank god. We also reduced the evaluative power of standardized test scores. "Reformers" see the testing as a metric to see if a teacher is effective. Teachers see the testing as a biased and unreliable waste of time. It can only gauge a narrow range of things, and even these it does poorly. Finally, merit pay necessarily punishes teachers who choose to work in tougher areas of the city. Even testing student growth in some part of the city, where students experience immense regression over the summers, is biased and unfair.
Anyway, here's a roundup of the first blast of critics, bloviators, and blowhards.
Stuffed shirt James Warren—of Newsweek (a magazine which, as I wrote in an earlier post, used far-right National Review editor Rob Long! to write about the teachers' strike), and the Daily Beast— hides beneath a measured tone while giving a skewered view of the strike fallout. He calls the union "change-resistant." He says that "reform" groups, and there's that word again, were disappointed with the contract. He argues that the system has to shrink else it isn't sustainable. He provides arguments that appear to be logical, but they aren't. He is echoing Emanuel. The city is broke, the school system is too expensive, the teachers should feel lucky they have jobs. He reveals his hand, however, when he promulgates the bright and shining lie with this whopper: "The teachers, who now average about $74,000 a year and cost the system in the vicinity of $100,000 with benefits, will continue to ravenously suck up most of the system's cash."
My God, the horror.
First off, this number is flawed. It involves the pension pickup—imagine if someone factored in some of your future social security as part of your pay (and most Chicago teachers know that the pension money won't all be there in twenty years)—and is still inflated. We should make this much, but most teachers don't. I've heard the reason this number is so high is CPS is gaming its own system by including administrators who have teaching degrees into the average teacher pay. (They earn much higher salaries, in the $125,000+ range.) In fact, the average pay being reported is sneaking up. Two separate sources yesterday said that the average teacher salary in Chicago, under the new contract, will be $100,000. I wish someone would tell my bank account.
Second, and when sober Warren would admit as much—if he could pause from kissing his own rectum for a few seconds to open his syphilitic eyes—public school teachers are not rich. Most teachers work a second job in the summer or teach summer school. Many (I'm tempted to say most, at least at my school this is the case) teachers have to augment their salaries with after school tutoring. How many people in the city of Chicago, making $76,000, have to work a second job?
Warren's line of thinking is hugely problematic, but I'll only focus in on this. The city offers tax breaks to enormously wealth businesses—as well as tif money legally skimmed off the public education tax money, the real vacuum ravenously sucking up the system's cash—to stay in Chicago, but gripes over modest pay raises for teachers working at advanced degrees within their profession. Utter madness. It's blame the teachers all over again, ignoring the fact that the worst schools are in the bad neighborhoods, and the schools in the wealthier areas rank up as some of the best in the state.
If you want to throw up in your mouth, read it here.
The BBC gets much closer to the reasons behind the strike, placing the whole thing in an international context. Check it out.
Slate is right on the money as to why Chicago's system is struggling, and if you're only going to read one article, read this one.
And the Socialist Worker, which I never read, delivers up a hearty humming pump your first in the air victory lap on the strike here.
And after reading these articles and more, after a bout of angry dyspepsia and a spike in my blood pressure, after getting the taste of self-righteous blood in my mouth, I was no better informed, nor was I happier, so around midnight I had to let the whole thing go and try to drift off to sleep.
V
One thing I learned from the strike is that we are, as a country, starved for causes to fight for. There's a notion that all the worthwhile battles have been won. This with systematic voter disenfranchisement and the re-segregation of our public schools happening right out in front of our eyes and out in the open.
We haven't progressed. We've regressed.
We're backsliding. We're teetering. We're fragmenting. We're fighting battles we thought were won back in the 1950s.
We've tricked ourselves into thinking the world is a better place. The technological bells and whistles have consistently blinded us to the misery most of the world lives with every day. Worse, the technological bread and circuses have blinded us to the blight and poverty and destitution in our own country, in our own backyards.
We've confused entertainment with quality of life.
We have Dwight Eisenhower reincarnate as the president and his challenger paints him as some fire-breathing Marxist.
A sensible healthcare overall, where individual risk can be sublimated and shared by everyone and save money in the process, is libeled with death panels and socialism.
After the worst oil spill in history blankets the Gulf Coast with toxic oil, people living in these ruined coastal towns call for less regulations.
Briefly, the strike awakened the community-minded little radical that lives in my chest. (He fights with the tiny libertarian who hammers away at my spleen.) Every teacher I spoke with saw the strike in terms of inequality and civil rights. In the streets and on the picket lines, we felt like we could change the world. The marching and the rallies and the political social economic arguing and the process felt so vibrant and alive.
I just don't know if the civic awareness of the strike, the progressive spirit, can be replicated. I'm too busy, we're all too busy, there's so little time to sit and think.
VI
It's night and Beth knocks over a half-full bottle of olive oil onto the kitchen floor. The crash startles Simone. Beth cannot pick up the glass without first cleaning up the olive oil; its slick, viscosity makes it almost impossible to sweep up the shards of glass. But she cannot clean the olive oil up until she has removed all the glass; the glass is sharp, and cuts one of her fingers. She leans over the lime green pool of liquid creeping towards the wall. The situation seems hopeless.
"Mommy, why'd you knock that over? Come on, mommy," Simone says.
Beth gingerly wipes at the spill with old rags. She then tosses them into a large black plastic bag. It's arduous work, and Beth soon is angry. Simone keeps saying, "Mommy, why'd you do that? That wasn't smart." I'm holding the black plastic bag, waiting, trying not to laugh at Simone's commentary while Beth grows more and more annoyed. I offer to help but Beth wants to clean it up herself. I understand, but I'm forced to watch, and listen to Simone gripe about the mess.
We can't fix the school system until we fix poverty. And we can't fix poverty, without first fixing the (poorer schools in the) school system. It's the chicken and the egg. The oil and the glass. There isn't an easy solution, there can't be. People saying otherwise haven't worked at the frontline, in the classrooms.
Like healthcare, we have two public school systems in our country. One is top notch, the best in the world, churning out the best and brightest, super-educated people to the top schools in the country who go on to become professors and writers and scientists and experts and lawyers and bankers and the like. The other is squalid and miserable, a failed social experiment that loses students to the streets and graduates others at excruciatingly low reading levels and doesn't have textbooks or computers or even enough desks and it's a simple containment system in the worst schools, the students are being sent to keep them from committing crimes in nicer neighborhoods, and the explanation for this tiered system is the explanation for everything bad in this country, the soul-destroying condition of poverty.
To speak of the failures of Chicago public schools without discussing poverty and racism is to deal with the effects while ignoring the cause.
VII
It's now eight days after the strike and I'm still holding onto the anger. The mayor continues to run his attack ads blaming us for the strike and for the upcoming school closings. The papers continue to inflate our salaries and deflate our accomplishments. If the trend continues, soon our average salary will be $250,000. Every public school teacher has a company car, unlimited paid passage on international flights, a new designer wardrobe every six months.
Inside the schools, we bustle about with the demands of the job and an internal, self-righteous ire. Outside, we move through a constant harangue, with resentment in our hearts.
I started yelling on the sidewalk today, yelling at people who were agreeing with me. The political undercurrents of the strike damaged one very close relationship and put a strain on half a dozen others. Most of my family and friends stayed quiet on the issue, leaving me alone. A wise decision.
"I'm glad I'm on your side," my neighbor says, and moves along.
And again I'm slowly pulled back into the rancorous web ether. One article after another misrepresents the teachers' union. Now we've ruined the city. Now we've bankrupted the state. Now we've quadrupled the national debt. Now we've assassinated half of the United Nations and dumped arsenic into Canada's water supply. Now we've detonated a nuclear weapon in the New York subway system. Now we've released some anti-life sickness into the Milky Way and negated all of existence.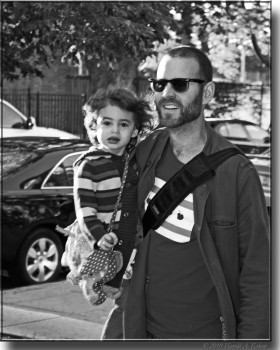 Time to put the thing to bed. I've written enough about politics. My dark imagination wants to run rampant, untethered by facts. (I'd make a good politician.) I don't like it, I don't like the factual demands. It's elongated my anger. I've been too preoccupied to do the type of writing that makes me feel alive.
So my coverage of the Chicago teachers' strike hath ended.
Go now and weep no more.
The strike is over. Long live the strike.