Getting to Johannesburg was an absolute mission in order to participate in Greenpeace Africa's protest at Meggawatt Park in Sunninghill last week. My flight was delayed by six hours (thanks Kulula.com) and having no no music on me did not help.
The trip from OR Tambo International Airport to Mellville was a slow and bumpy ride but I got to my destination in one piece—eight hours later!
Changing Eskom's Management
On the day activists confronted Eskom to publicly highlight that the utility has failed to deliver clean, affordable, accessible electricity to the people of this country, and demand a shift away from the use of coal to generate electricity.
We installed the new management members Bobby Peek (groundWork) as the new Eskom CEO, Makoma Lekalakala (Earthlife Africa) as the new Eskom Stakeholder Engagement Director, and Melita Steele (Greenpeace Africa) as the new Eskom Spokesperson.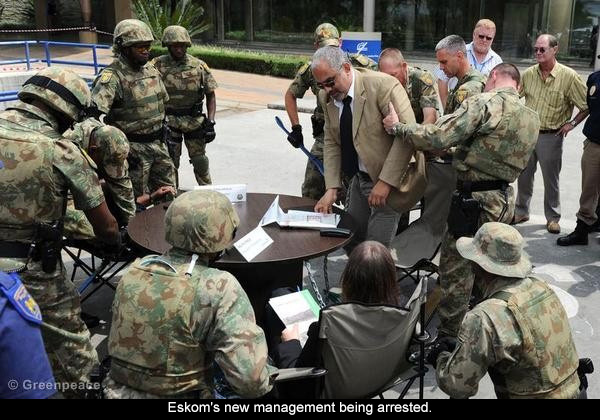 Eskom's 'New Management' will listen to all South Africans, and finally put the people of this country first by:
Ending South Africa's addiction to coal and investing in renewable energy instead
Providing sustainable jobs for South Africa's workforce
Averting a water crisis for South Africa
Providing affordable and decentralised electricity access for all
Making sure that the people of this country do not suffer from the health impacts associated with coal-fired power stations and coal mines
The Water Hungry Coal report is unnerving and I believe that all South Africans be very concerned because of our water scarcity status.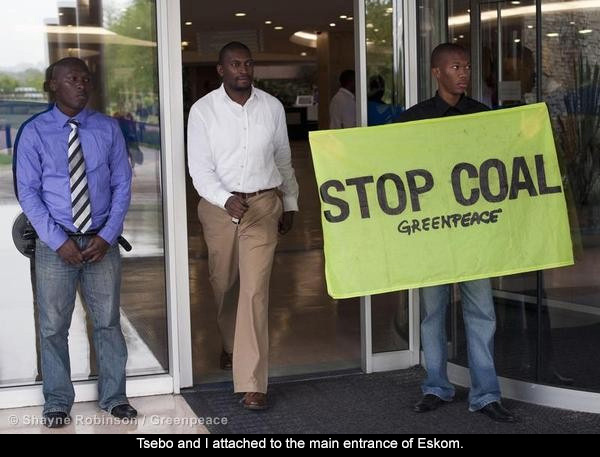 Thank God that I was wearing comfortable shoes. Due to the inaction of the security guards, Johannesburg Metro Police and the South African Police Service we were stuck there for hours before being confronted by the Special task forces. Now being confronted by men that look as if they just came from a guerrilla war in deep dark Africa is hectic. Tsebo and I had two very different methods of handling the confrontation by dozens of heavily armed men but the end result was the same, the back of a police van.
The etv journalist who covered the story provided for some light relief with his frantic running in and out of the building trying to get as much information as possible about the story.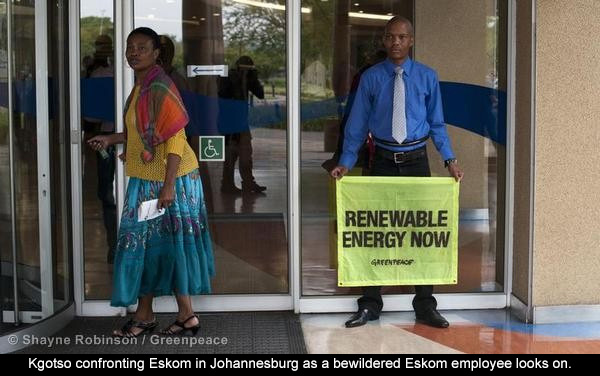 I was a bit disheartened by the reaction of my social media friends, who have a 'television and newspaper knowledge' of Greenpeace, to the protest. May I just remind everyone that Greenpeace is an independent global campaigning organization that acts to change attitudes and behaviour, to protect and conserve the environment and to promote peace. Greenpeace has been working in Africa to end environmental destruction and fighting for the right of Africans to a healthy environment since the early 1990s.
Coal's Hidden Water Cost
Kusile, an Eskom coal plant under construction, will use 2,9 million litres of water an hour! That is 173 times more than Wind power would use per unit of electricity. This water will come from the Vaal River. The closest water source, Olifants River, are too polluted for use because of coal mining and associated industries.
Gauteng gets most of it's water from the Vaal River. Now water will be diverted away from agriculture and residential use in order to feed Kusile Coal Power Plant.
Kusile's coal will come mostly from a new Anglo American mine. That mining is expected to have a drastic effect on local wetlands and water systems.
Due to Eskom's reliance on coal, it's total water use is a staggering 10 000 litres per second. This is enough to fill an olympic size swimming pool every four minutes. In one day Eskom uses enough water to grow almost one million kilograms of maize.
Eskom is classed as a strategic water user under the National Water Act meaning that the utility is guaranteed a supply of water , come hell or high water.
The difference between South Africa's water supply and demand by 2030 will be 17%. This means that water prices could triple as water gets scarce. (Today's price of water per unit is R 7-12)
Water is a critical resource and under threat. Two of the recommendations of the report is that:
the South African government should immediately prioritise renewable energy over water intensive coal fired electricity.
Kusile should be cancelled and no further investment made in coal-fired power stations.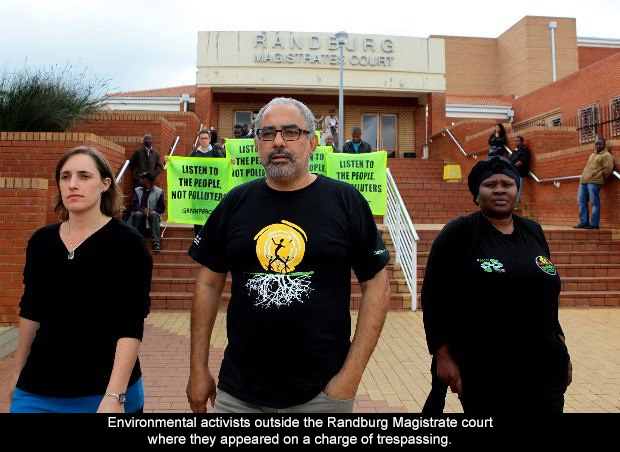 "Never doubt that a small group of thoughtful, committed citizens can change the world. Indeed, it is the only thing that ever has."
—Margaret Mead
You can read more about Ebenaezer Appies's thoughts and activities at his blog, Ebenology.blogspot.com.