On May 29 I participated in a Greenpeace Africa demonstration to show the Minister of Energy's clear bias towards nuclear power in South Africa. The protest created awareness and highlighted the lack of democracy and transparency that is prevalent within the nuclear industry and called on all South Africans to support Greenpeace's call for the Minister to stop forging ahead with nuclear power.The South African government is planning to build 6 new nuclear reactors at a cost of R300 billion and R 1 trillion.
Disadvantages of Nuclear power
The nuclear industry often claims that nuclear energy is needed to combat climate change because it generates less greenhouse gases emissions as compared to coal power. However, nuclear power is expensive and dangerous and the above claim from the nuclear industry is distracting people from real solutions to climate change.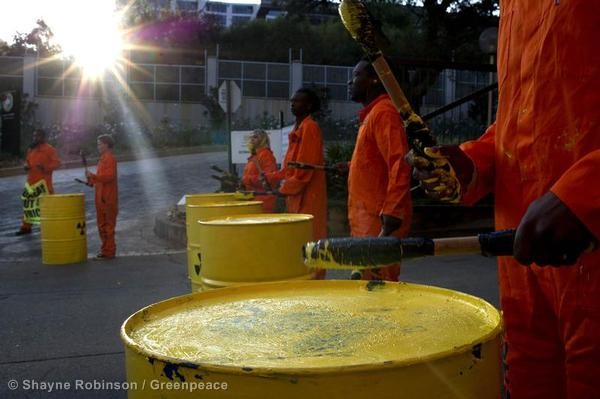 Greenpeace activists blocking the gate leading to the venue of secret nuclear energy discussions at the IDC in Sandton
Nuclear power could at best only make a negligible contribution to emission reductions, even if the entire global fleet of reactors was quadrupled, a completely far-fetched scenario, this would lead to at most a 6% reduction in global carbon dioxide emissions, which would come too late due to long construction times, well beyond the deadline that climate scientists have set for avoiding catastrophic climate change.
Nuclear power is different from coal power but is no better a solution to combating climate change and solves the energy problem by creating another, NUCLEAR WASTE.
I have family members that live close to the Koeberg Nuclear station so taking part in this anti-nuclear protest was very personal and not just another "tree hugging exercise".
One of the major reasons why nuclear energy will not be favored over renewables and energy efficiency is that it is far too expensive to consider realistically. Nuclear power's bad economics makes it unfinancable in the private capital market. The World Bank will not even provide loans for nuclear energy. The cost for nuclear energy persists long after the plant has ceased operation. These include:
disposing of radio-active waste
guarding closed reactors
decommissioning the reactors following a more or less lengthy "cool-down" period
Nuclear energy is expensive and prone to construction delays. In developed countries like Finland, the delays have resulted in costs being increased by almost 100%, from EUR3.2 billion to EUR6 billion. France, a country that is one of the strongest proponents of nuclear energy has had to delay the construction of its reactor being built in Flammenville. The French reactor has faced numerous delays and cost over-runs since the project began.
The Emergency Plan of the Koeberg Nuclear power station is vague and outdated and have not learned from the lessons from Fukushima.
Why Renewable energy is the future
During the last five years, 22 times more new power generating capacity based on solar and wind was built (230,000 megawatts) compared to nuclear (10,600 MW). Even if we factor in their lower utilization rate , renewable power plants built in 2011 alone are capable of generating as much electricity as 16 nuclear reactors.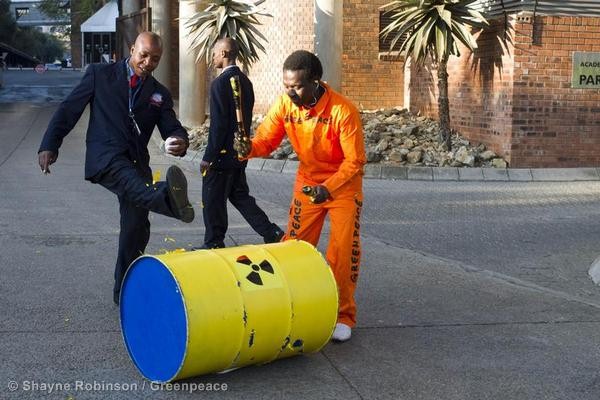 In hindsight I am not too sure about the white shoes that I wore
Africa has very good potential for renewable energy technologies. Given the vast areas that require energy, renewable energy will be the best solution to develop decentralised grids that could power rural and urban demands.
In terms of economic growth, Africa should look at the potential for manufacturing and skills development through renewable energy.
China vaulted past competitors in Denmark, Germany and Spain and the United States last years to become the world's largest maker of wind turbines, and is poised to expand even further this year. China has also leapfrogged the West in the last two years to emerge as the world's largest manufacturer of solar panels.
The national energy demand of countries fluctuates between day and night, and between seasons. Renewable energy sources are better suited to follow the demand with a mix of different technologies, management of the demand for electricity, ans some storage of renewable energy in hydro power stations, for example.
Most renewable energy sources are easy to turn on and off; they are flexible and can be used to meet varying demand. Solar photovoltaic and wind depend of course on how much sun and wind are available but they often balance each other over time and across larger geographical areas. Bio-energy, hydro, geothermal, concentrated solar power stations can be turned up or down depending on need.
Numerous expert studies have already shown that when properly planned and smartly integrated to the electricity grid, the supply of renewable electricity can be as reliable as conventional energy. Detailed modelling and simulations of an energy system based on a mix of renewable energy supply have been performed example for Europe, and confirm that the grid can function reliably 24/7 even under various weather extremes.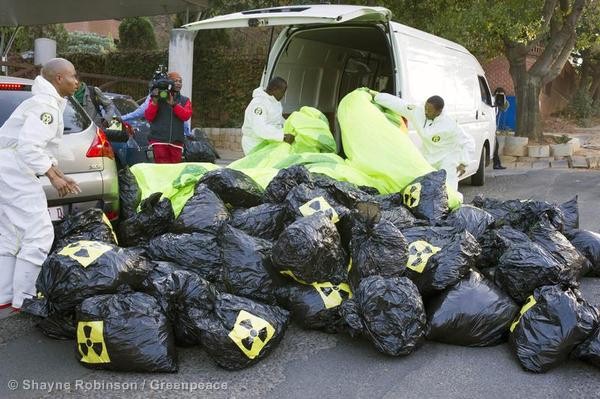 Activist showing their disgust at the South African Government's plans to build six new nuclear reactors.
Renewable energy are the cheapest and technically best options for achieving a secure energy supply and for gaining independence for any African country. Renewable energy is tailored towards decentralised energy access, not falling into the fallacy of thinking that bigger is better. Decentralised systems reduce transmission losses by having a generation close to demand and can adequately adjust to demand growth. In addition they can both operate in both island mode and grid connected mode making operation flexible, and can also offer grid support features.
Personal Reflections
When I saw the front page picture of the Business Report (a national business supplement) of the drumming team I knew that wearing white shoes was not a good idea...what was I thinking?
The fact that the Minister of Energy did not attend the secret nuclear talks, as scheduled, was a huge victory.
I hope that Greenpeace Africa will stage a protest in the 'real Africa'. Let's face it, there is very little African about Sandton or Sea Point.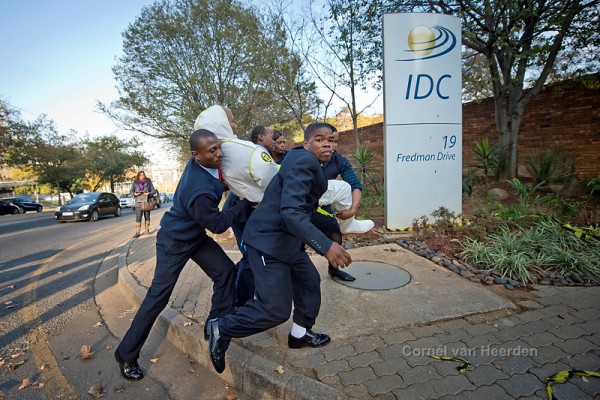 Khotso being unceremoniously escorted from the IDC premises. I love this picture.
Conclusion
The Fukushima nuclear disaster is a reminder that "nuclear safety" does not exist in reality. There are only nuclear risks, inherent to every reactor, and these risks are unpredictable. At any time an unforeseen combination of technological failures, human errors or natural disasters at any one of the world's reactors, could lead to a reactor quickly getting out of control.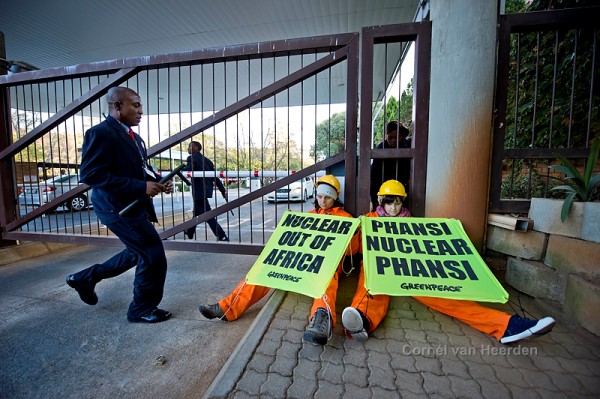 Nuclear energy will be a mistake for South Africa and the continent especially in terms of cost, waste and potential for disasters and accidents. The amount spent on nuclear will close the market for renewable energy growth.
There is no place for nuclear in Africa, a continent blessed with rich renewable energy resources ans hungry for sustainable development. As a continent we should be learning from what history has to teach about nuclear power: It is a dirty and dangerous source of energy, and one that will always be vulnerable to the deadly combination of human errors, design failures and natural disaster.
You can read more about Ebenaezer Appies's thoughts and activities at his blog, Ebenology.blogspot.com.