Unlikely Stories Presents
"I tell the truth, 'cept when I lie."
--Dwight Yoakum
"If I lie and say you took me for a friend,
patched together in my thin bones,
will you help me be cunning and noisy as the wind?"
--James Welch
"Sometimes even the Village Idiot has something to say."
--My father
(actually what he said was, "Sometimes even you have something to say." and he called me the Village Idiot.)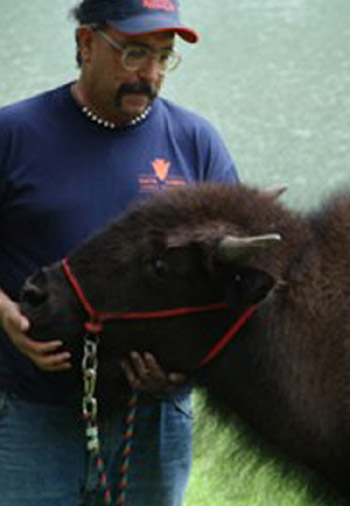 If life wasn't so vulgar, we might find the poems of Tony Gallucci shocking. But life is a nasty business, and the harsh, frank words of Tony's poems seem to fit contemporary reality perfectly. Whether discussing sex or suicide, they carry a kindness and sensitivity that melds perfectly with their rough facades, pulling together the emotional and carnal into a comfortably real package.
Tony says: "Notes for you on a below-freezing texas night, saturn brighter than the moon:
"No dog. No cat. What I got's a pet buffalo. He's too big to crawl on my lap anymore. Still, he tries. 1200 pounds of try. I no longer let him sleep on the rug by the door. He's now an "outside" buffalo.
"I have no litany of drugs and extracurriculars, but i still write.
"Hum of High Wires probably says what it needs to say on its own. But i ought to say something about truth, since i tell my students writing is about truth. I think truth is what you want it to be. Sometimes you have to lie to tell the truth -- maybe the truth is you're a liar, i say. Truth is larger than words, or lives. Melissa is true too. The intersection of what's happening to you and what's happening to her/him may be love. Maybe not. Suicide: truth about truth. That's really all i have to say about those pieces - i hope they carry themselves.
"Other things? William Goyen, Susan Power and James Welch are my favorite writers; Naomi Shihab Nye, Joy Harjo, Carolyn Forche my favorite poets (but can't get enough of Young-Hae Chang; William Raspberry, Leonard Pitts and Kris Clack my favorite columnists; Thom the World Poet, Genevieve Van Cleve, and Tammy Gomez my favorite performance poets. Sorry, no favorite politicians - that's where truth fails us all.
"I usually point out that my family was a monstrous amalgam of culture. My dad died trying to make us the All-America family, but there was no stifling a household that used three languages, angered bled Italian/Scottish/Kainai blood, and smelled of our French Canadian, Mexican, Long Island, Texan upbringings (upbroughts?). Generally that's excuse for why i write like i do. Someone else may have to translate me through those filters.
"I guess i ought to say that i'm editor of The Black Widow & The Brown Recluse, part of the WordsWork network, an e-zine for high school writers; founder/mentor of the student writer's group "Locker Room Writers & Thinkers Workshop"; and associate editor of the "Texas Civil Rights Review". Was musical partners with Lyle Lovett. Finishing a spoken word/native music CD "Chicken Soup for Black Widows". Competed in the National Slam Championships. Done the journal, mag, chap, anthology, broadside, coffeehouse, conference, workshop, academia, theatre, movie, TV things. Did i mention i have a buffalo? Anyone need a nice buffalo?" Check out Tony's web site at http://fly.to/SevenBullsBoy, or write to him at sevenbullsboy@hotmail.com.
Tony's works here at Unlikely Stories are:
2003:
Melissa in the Year of Nothing Else to Do
Sometimes Suicide Is Not Enough
The Hum of High Wires