Unlikely Stories Presents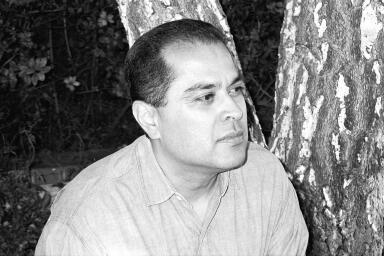 The short stories of Daniel A. Olivas, with their darkly enthusiastic Latin tones, speak revealingly on love and all the friction involved in it. Whether he's speaking of romance, marriage, or the love of a father and son, his stories are filled with sincerity and angst, revealing the pain inherent in genuine affection. These stories will engross you, yet seem hauntingly familiar with their universal, frightful themes.
Daniel A. Olivas is the author of Assumption and Other Stories (Bilingual Press, spring 2003), for which he was one of ten finalists in the 2000 Willa Cather Fiction Contest sponsored by Helicon Nine Editions. He is also the author of the novella, The Courtship of María Rivera Peña (Silver Lake Publishing, 2000), and his stories, essays and poems have appeared in many journals including The Los Angeles Times, The MacGuffin, Exquisite Corpse, THEMA, The Pacific Review, Painted Moon Review, Linnaean Street, Red River Review and Web del Sol. The author's writing is featured in several anthologies including Fantasmas: Supernatural Stories by Mexican American Writers, edited by Rob Johnson (Bilingual Press, 2001), and Love to Mamá: A Tribute to Mothers, edited by Pat Mora (Lee & Low Books, 2001). He received his BA in English literature from Stanford University and law degree from the University of California at Los Angeles. The author practices law with the California Department of Justice specializing in land use and environmental enforcement. He makes his home with his wife and son in the San Fernando Valley. He can be reached at olivasdan@aol.com. Visit his web page at www.danielolivas.com.
Daniel's works here at Unlikely Stories are:
2003:
Gisella's
Señor Sanchez
Guppy
Methusaleh
Señor Sanchez first appeared in Nemeton: A Fables Anthology. Guppy first appeared in PULSE. Methusaleh first appeared in La Petit Review.