Unlikely Stories Presents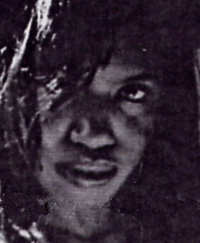 Death and decaying bodies, sleeping and getting stabbed with forks, she will pop your eyes out with an unseen point of view from the executioner. Drawn into the story of man against man, man against self, and woman against pen. Mintz stories curve inward a psychological perspective of two children, one with an addiction to moon pies, and dealing with their mother's hated boyfriends. Battered along the way this is one body you should not leave unturned.
Gwendolyn Joyce Mintz is a writer, comedienne and teddy bear artist. She writes for both children and adults. Her writing has appeared or is forthcoming in Magic Lark (children's ezine), Puerto del Sol, The Ink, Facets, the-phone-book, Summerset Review, Scrivener's Pen Literary Journal, Laughter Loaf, The Apricot, TimBookTu, Outsider Ink, Insolent Rudder, Word Riot, The Fiction Warehouse, Small Spiral Notebook, Pindeldyboz, Reading Divas, Sparks Magazine, Rearview Quarterly, taint magazine, Passenger May, Nuvein, Long Story Short, RiverSedge, SEGUE, Poor Mojo's Almanac(k), (Re)verb, The Nubian Chronicles, Song of the Siren, Clean Sheets, 14 4 30, Poetry Super Highway, Poetry Midwest, Black Creek Review, Sin Fronteras and El Ojito. Two stories have appeared in the anthologies: "One Paycheck Away," from Main Street Rag Press and "Sudden Stories: A Mammoth Book of Minuscule Fiction," from Mammoth Press.
Mintz is a former news writer and college writing instructor but now writes creatively full-time (unless she is forced to get a temporary "real job" to keep the lights on). She is an assistant editor for Small Spiral Notebook and is on the editorial board of Scrivener's Pen Literary Journal.
The best advice on writing she has ever heard is from Natalie Goldberg: "Sometimes you just have to shut up, sit down, and write."
As a comedienne, she has opened for Colin Quinn, formerly of Saturday Night Live, and Gabe Kaplan, of "Welcome Back, Kotter" fame.
She designs and hand-sews teddy bears and other plush creatures for her business "Teddy Hugs & Things."
She lives in New Mexico with her children, too many cats, a dog and turtles. She can be reached at gwendolynjoycemintz@yahoo.com.
Gwendolyn's works here at Unlikely Stories are:
2003:
I'm eating eggs while you sleep
On Discovering My Dead Body
MoonPies
Working
On Discovering My Dead Body was originally published in Lunar Offensive Press' Rag Shock 4. MoonPies was originally published in Pindeldeboz. Working was originally published in The Fiction Warehouse.