Unlikely Stories Presents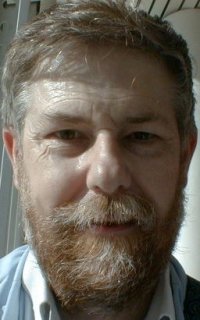 Poetry activist Gerald England has been working long and hard to put the romance back into poetry. His imagery is carefully crafted in the pursuit of beauty, making each of his poems a pleasure to read. We present eight of his less-formal pieces here, but you can find many links to his formal work at his home page.
Gerald England is a British poet, living on the edge of the Pennines with his lace-making wife, a son, and a Manchester terrier. He has been active on the small press scene for almost thirty years and edits the magazine Aabye. He has published eleven collections of poetry and been translated into several languages. Of his 1992 collection Stealing Kisses Taproot wrote, "Gerald England is a whiz with traditional form and structure and this chapbook plays to all his strengths. From obviously rhymed to subtle internal couplings, these poems deftly flesh out carefully constructed frameworks of form and style, yet maintain a powerful narrative throughout genuinely crafted poetry in the best sense of the tradition." Of his new collection Limbo Time published in 1998, Poetry Quarterly Review wrote, "His work is both personal and accessible and presents an original view of life." His work has also appeared in countless magazines and on various websites. Check out the info on his haiku mailing list, or contact Gerald at http://www.geraldengland.co.uk/contact.htm. You can find his books at the Unlikely Stories bookstore.
Gerald's works here at Unlikely Stories are:
July 1999 - July 2000:
You, Being Absent, and the Cat
Clinging to the Valley
Traces
My Last Poem about Snow
July 1998 - July 1999:
Lame Dog Love Poem
Dreams
And Every Star Shall Shine
The Image-Maker