Unlikely Stories Presents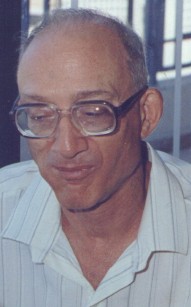 The short, sensual poems of Yona Alon explore psychological depths that most of us avoid. His poems are simultaneously a journey through the intellect and the universe, filled with unexpected twists, and compacted into pieces so short that one is left struggling to absorb them long after one has finished reading them.
Yona, an Israeli poet writing in Hebrew, was born in Kibbutz Ein-Shemer in 1935. In 1958 he moved to Jerusalem, where he lives today. He studied in the Rubin Academy of Music in Jerusalem, and learned philosophy from Prof. Yeshayahu Leibowitz and Prof. Marcel Dubois. He has written two books of philosophy: There are no Wicked in the World (1968), and The Social Moral vs. the Existence Moral (1975). In these books, he offers a new moral theory that eliminates the concept of wickedness. He has written four books of poetry: Light (1976), Beethoven - Letters for the Immortal Lover (1990), The Death of Summer (1998) and A Year's Diary (1999), which was translated into English by Dr. Ben Schapiro. The entire content of A Year's Diary is available on this web site.
If your computer can read .zip files, and you wish to download A Year's Diary for off-line reading, simply download YONAALON.ZIP. Otherwise, just click on the link below to begin reading. When you're done, check out Yona's web site. You can contact Yona through his son, Ofer Alon, at ofer_alon@hotmail.com (note that there is an underscore between the ofer and alon), or find more information on his books at the Unlikely Stories bookstore.