Ward Kelley is always a master of the language, and he's at the top of his form with this epic poem. With elaborate and winding imagery, he keeps you hungry for his words right up to the book's shockingly relevant ending. His metered, cautious voice provides the perfect accompaniment to his tense and restless phrases.
The protagonist of Comedy Incarnate is on a journey through hell, and as we meet hell's guides and prisoners, we share in the narrator's wonder, fear, and confusion. We travel with him through ending after ending, horror after pleasure, until we realize that his journey, like ours, is only just beginning. You can order Comedy Incarnate on either CD-ROM or CD, through ArtVilla.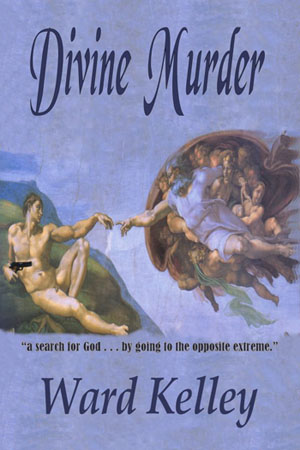 Ward Kelley's latest book is Divine Murder, available through Wordwrangler.com. Internet poetry star Janet I. Buck had this to say about it:
Ward Kelley's Divine Murder is an odyssey on a par with Tolkien's Lord of the Rings. His style of examining circumstance and perpetuity and the graves we dig in terms of soul is a cross between C.S. Lewis and Dantė, an engaging mix of speculation and inner truth. Kelley's poetic pen has an eroticism reminiscent of Nabokov, where scenery is more than scenery. It is a playground for temptation and a test of moral cues.

Kelley opens the novel near the sea, travels through a veritable galaxy of emotion, and the reader falls in love with the complexity of both his protagonists and his villains. In Divine Murder, you will meet both the devil and the god, the beams of light and the complex shades of the darkness, but they are at times indistinguishable, and rightly so. It's the reader's job to intuit and draw the line, which adds nothing but fascination to the experience of reading this book. Science fiction has never seen such a startling command of both the earthly and the imaginative.