The Twinkie Fitness Aptitude Test
By storybook standards, Felicity White had all the makings of a princess: a size two figure, unparalleled beauty, and the Squad, her devoted ladies-in-waiting.
As head cheerleader, Felicity chose and sculpted her people with the meticulous care of a diamond cutter. The Squad represented Norman High's crème-de-la-crème, gorgeous and stylish, yet loyal and obedient. And Felicity's boyfriend was a high school demigod – the preternaturally handsome captain of the football team.
Being on the arm of Bruce Dexin was every girl's fantasy. It was Felicity's reality, and the way things were supposed to be. Together, they ruled as royals on a chessboard, the students their pawns to maneuver at will.
Indeed, Felicity's life was perfect.
Until the day she found an alarming flaw – Squad uniform skirts with broken symmetry. Pleats that should have hung in precise vertical lines from waist to hem were beginning to separate. And separating pleats meant only one thing.
For Felicity, supremacy came with uncompromising standards.
#
Felicity lined up the Squad in her bedroom and commanded all seven girls, in synch, to strip down to their Victoria's Secret best. They cowered in identical pink bras and panties as Felicity strutted across her plush ivory carpet like a drill sergeant, black Sharpie marker in hand.
"It's for your own good," Felicity said. "For the good of the Squad."
Felicity scrutinized each girl. Every X she drew on their exposed skin signified her approval, every wide O pointed to offensive areas of thickening flesh.
At the end of the onslaught, the Squad trembled, losers in a mad game of Tic-Tac-Toe with O the clear victor.
"How could you let this happen? We are better than this!"
Felicity stormed toward the smallest girl. Laden with Os, she quivered under her captain's shadow. The girl's iridescent blue eyeliner melted beneath her tears.
"It was the Twinkies."
"The what?"
"The Twinkies." The girl lowered her head, avoiding Felicity's glare. "In the school cafeteria. Now they're selling them at the field. From the concession stand."
"I can't stop myself," another girl whispered.
Identical nods and murmurs corroborated the confessions; the Squad lovingly patted their thickening midriffs.
"Snack with the snack in the middle"
"Big delight with every bite"
Felicity pressed her palms to her ears. "Enough!"
The girls snapped into silence.
"Since you don't have the strength to put a stop to this Twinkie binging, I will."
#
Felicity leaned across Principal Applebee's desk, her long blond hair swinging, ice-blue eyes intense. "The cheerleaders are fat. And it's the Twinkies' fault."
A vein in her neck pulsed as she pointed at the principal. He squinted, confused.
"You need to ban them," she said.
Principal Applebee shook his head, his salt-and-pepper comb-over greased to his scalp. "No can do. Twinkies are our best-selling snack."
As he stood, Applebee's mint green shirt strained around his girth. White fabric peeked through the spaces between his buttons. Like spreading pleats, Felicity thought.
"Eating a Twinkie is – well, it's like the pursuit of happiness." Applebee rubbed his stomach. "One of three unalienable rights our forefathers promised."
"Twinkies didn't exist when the Constitution was written," Felicity said, her lips pursed in a practiced pout.
"You mean The Declaration of…" He chuckled. "Never mind. Twinkies don't make people fat. Overeating does."
Applebee motioned Felicity toward the door. "Now, it's time for you to go. The Twinkies stay."
Flipping her hair with the fury that only an indignant teenager possessed, Felicity glowered at the principal before stomping out of the office.
"Not on my watch," she muttered.
#
Albert Applebee drove his vintage yellow Volkswagen Beetle into the faculty parking lot, humming along to the soft 70s rock that floated from his speakers. He took a swig from his red Real Men Eat Twinkies travel mug and licked his lips, anticipating breakfast.
Humming, he glanced toward the school. Students swarmed across the quad, their harsh chants drowning out his mellow tunes.
"What the hell…?" 
Applebee's Beetle promptly crashed into a parked school bus. The principal abandoned his car, engine running, and raced toward the melee.
Felicity White emerged from the crowd, her perfectly-pleated, crisp white cheerleading uniform gleaming in the sunlight. Flanked by the Squad, she shouted through a megaphone.
"This school is placing us in harm's way! Putting profits over people." She gestured toward the cheerleaders, who showed off their jiggling thighs. "Look what it's done to their bodies!"
Applebee's face reddened. "You need to stop this. Right now."
Felicity raised the megaphone. "He wants us to stop. And what do we want to stop? Give me a T! Give me a W..."
The crowd roared, voices rising with each letter. Students across castes – Nerds, Band Geeks and even Goths – joined the cheerleaders in their march, hefting banners and signs showcasing their allegiance to the cause: "I'm with Her!" "Fat Lives Matter," "Not My Snack."
Bruce stood on the sidelines with his football team, beefy arms folded, expression grim. It wasn't typical for him to leave Felicity's side, but this was her battle, not his.
"Guess it's just us and the Stoners." Bruce gestured toward a group of boys with unwashed hair and wrinkled clothing. They lay on the grass, giggling at the chaos. "No way they're giving up their munchies."
"Got that right," Bruce's teammate said. "Me, too."
Applebee grabbed the megaphone from Felicity. "Disperse! Report to your homerooms immediately!"
Smiling, Felicity laid a hand on Applebee's arm. "Are you sure you want to compromise our First Commandment rights?"
"First Amendment rights," he gritted. "Which don't apply in this school."
"Can you repeat that? Pretty please?" Felicity asked, her voice purring. "For them?"
Applebee turned around, paling as a team of reporters approached.
#
"A compromise?" Felicity said. "Why should I meet you halfway? We're the victims. Your Twinkies are disrupting the natural order."
Applebee popped three antacids, chasing them with a swig of Diet Coke.
"Because it's the only way to satisfy everyone. If I take away the Twinkies, the school board will have my head for the revenues we'll lose. If I keep the Twinkies, I'm a front-page villain who arms my students with junk food." He shuddered, gazing through the window toward the empty field that, hours earlier, was blanketed with protesters.
"What are you proposing?"
Applebee cleared his throat. "A rigorous pre-qualification process for anyone who wishes to purchase Twinkies at this school. The Twinkie Fitness Aptitude Test, or T-FAT, for short. To qualify, applicants will be screened on two primary parameters – one physical, one mental. If they pass the first threshold, BMI of less than 25—"
Felicity snorted. "I'd shoot myself if my BMI were that high."
Scowling, Applebee tossed another antacid into his mouth. "That's the accepted BMI for an average person. And you can't say 'shoot' while on school grounds. That word is banned."
Leaning forward, he folded his hands. "Now, the second parameter. Candidates will be subject to a personality screening to assess their proclivities toward addiction. Pass both hurdles, and they're cleared to purchase Twinkies after a five-day waiting period."
"If they fail?"
"No Twinkies. Ever."
Felicity paused, considering the options. "You've got a deal. On one condition. The Squad automatically fails."
"But surely they'll pass the BMI stage. And there's no way of knowing—"
"The Squad fails. Or we march our way to a new principal."
#
Bruce's fist cracked into his locker with a thundering echo, silencing the hallway chatter. Books dropped; students scurried, fearing they'd be next. Felicity sidled up beside him, running a finger down his bicep.
"Why are you mad, Pookie?"
"Why am I mad?" Bruce grazed his palms over his spiked blonde hair, flattening its perfect points as he paced. "Felicity, do you realize what you've done?"
"Bruce, what is it?" Her tone grew serious; his muscles twitched at her touch.
He yanked his arm back. "Three quarters of the football team failed the T-FAT, including me. Why couldn't you leave well enough alone? Things were fine the way they were! And now…"
Felicity winced as Bruce delivered a final assault to the locker. He turned, stomping down the hallway cradling his swelling hand. And perhaps his bruised ego.
"See you at the game?" she whispered.
#
Felicity paced under the harsh field lights, wringing her hands beneath her pom-poms. A trimmer Squad practiced cartwheels, their wrists sturdier and more assured, their revolutions faster. In the stands, a vendor hawked Twinkies, checking patrons' credentials before dispensing them. As the Band Geeks warmed up field-side, a trombonist broke ranks. He stormed toward the Twinkie seller, pointing his instrument like a weapon.
"Way to be part of the problem!"
"Shut it, horn blower!"
A spectator flung a Twinkie from the bleachers; it landed with a splat between the trombonist's eyes. The cake split in two; cream trailed down his nose. He wiped it aside, surreptitiously licking his fingers.
Felicity's skin trembled with the pounding of the snare drum and blaring trumpets as she waited for Bruce and the team to take the field. At the first sign of the players, the fans leapt to their feet, roaring to welcome the team's running charge.
But Bruce led the team forward in a slow trudge, carrying their helmets in hand toward the 50-yard line.
One by one, each member of the team dropped to a knee.
The fans' cheers receded like an ocean before a tsunami, confusion palpable in the quiet murmurs that filled the silent stadium.
Felicity stormed toward Bruce, followed by Applebee, who hustled from the stands in a waddling fat-man sprint.
"What. Are you doing?" Applebee's breath heaved. "You. Have a game. To play."
Bruce smirked at Felicity. She scowled, arms folded tightly across her chest.
"We're taking a knee," Bruce said. "Protesting the oppression that the T-FAT has brought to this school."
"Oppression? That's ridiculous—"
"I failed the T-FAT. Most of us did. I guess that means we're all out of control, that we're mental or something. With Twinkies, we're like a ticking time bomb…"
"You can't say bomb."
Bruce threw his helmet. It bounced off the turf, rolling past the Squad. "You take away our right to Twinkies, you take away our right to feel powerful." His voice boomed. "To be men."
Waving their helmets, the football players yawped.
Bruce set his jaw. "T-FAT goes. Twinkies for all, or we don't play."
Felicity stepped up, towering over her kneeling beau.
"T-FAT stays, or we don't cheer." She cupped her hand under Bruce's chin, pressing his face into her flat torso. "It's this eye candy that makes you play hard, not Twinkies."
"Argh!" Applebee pounded his fist into his palm, kicking at the dirt like a frustrated umpire. "You kids are infuriating! Make up your minds! Twinkies, no Twinkies – it's a cake, for goodness sake!"
"Big delight with every bite," the crowd sang.
Bruce shook his head. "Sorry, we're in this for the long haul."
Riddled with the desperation of a man on fire, the principal turned toward Felicity, who shrugged.
"We're not compromising our position."
With a snap of her fingers, seven skirted behinds plopped to the grass in unison.
Bruce and Felicity stared each other down from opposing sides of the 50-yard line, King and Queen surrounded by pawns, each awaiting the other's next move.
#
Hours passed. Crinkled Twinkie wrappers littered the empty bleachers, the crowd long departed. Moonlight cast the field in a gray hue; chirping crickets lulled both the Squad and the football players into a hazy slumber.
Only Applebee remained awake. Rummaging through the concession stand, he scavenged the remaining boxes of Twinkies and waddled back to his position between the two opposing teams. The cheerleaders slept peacefully, snuggling together like littermates. The boys splayed across the field, a heap of snoring barbarians.
Applebee lay on the turf, looking up at the stars – thousands of tiny voyeurs judging, condemning.
They had reached a stalemate, and only one thing remained.
Applebee shoved a whole Twinkie into his mouth.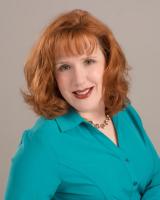 Lisa Fox is a pharmaceutical market research consultant by day and fiction writer by night. She recently returned to creative writing after a long hiatus and hasn't stopped since. Her short fiction has appeared in the anthology Suspicious Activity, in Ellipsis Zine, Foliate Oak Literary Magazine and at UbiquitousBooks.com. Lisa resides in northern New Jersey with her husband, two sons, and oversized dog, and relishes the chaos of everyday suburban life.