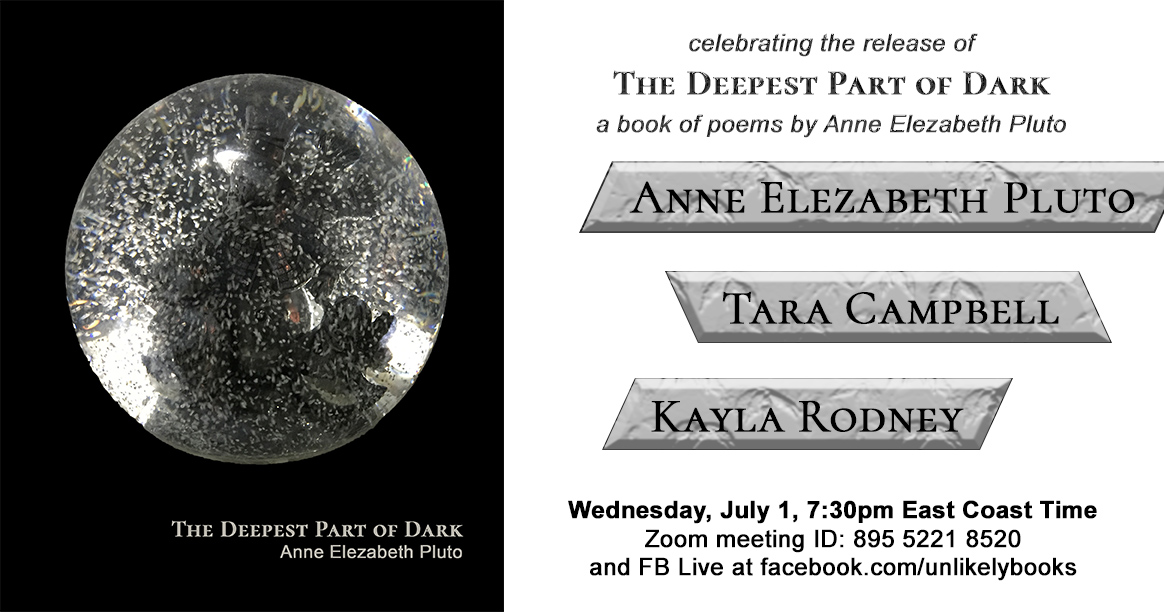 Wednesday, July 1
7:30pm US East Coast Time
on Zoom and Facebook Live
Facebook Event: https://www.facebook.com/events/1137018649996093/
Come celebrate the release of The Deepest Part of Dark, the new book of poems by Anne Elezabeth Pluto! Unlikely Books authors Anne Elezabeth Pluto, Tara Campbell, and Kayla Rodney will read their poems. Come join our Zoom room, or watch the broadcast on Facebook Live!
(Zoom meeting ID and Facebook Live information are on this event's image, above. If you can't read them, just drop us a line!)
The Deepest Part of Dark is a 128-page book of poems on grief, family, and a multiplicity of spiritualities. Amy King says "Set on the outskirts of Eden, Brooklyn, and on the boundaries of religion, Pluto's poems are complicated love letters to a god caught mid-shape-shift. Sometimes whispering in Russian, sometimes crying out in the language of myth, these poems are replete with love and its breaking."
Anne Elezabeth Pluto is Professor of Literature and Theatre at Lesley University in Cambridge, MA where she is the artistic director and one of the founders of the Oxford Street Players, the university's Shakespeare troupe. She is an alumna of Shakespeare & Company, and has been a member of the Worcester Shakespeare Company since 2011. She was a member of the Boston small press scene in the late 1980s and is one of the founders and editors at Nixes Mate Review.
Tara Campbell is a writer, teacher, and fiction editor at Barrellhouse Magazine. Tara is a graduate of the American University MFA, a Kimbilio Fellow, and recipient of multiple awards from the DC Commission on the Arts and Humanities. Her forthcoming Unlikely Book is Political AF: A Rage Collection (August 2020).
Kayla Rodney, a New Orleans native, has been studying and writing poetry for the last fifteen years. She's a graduate of Lusher Charter High School, Xavier University of Louisiana, San Diego State University, and just acquired her PhD in English at the University of Florida. After being displaced due to Katrina, and then later migrating to different cities for her education, she felt a pull to write about home and the tremendous power of community, landscape, family, and water. She is the author of Swimming Home (Unlikely Books, 2019).