Coming in late June: the 20th Anniversary Party!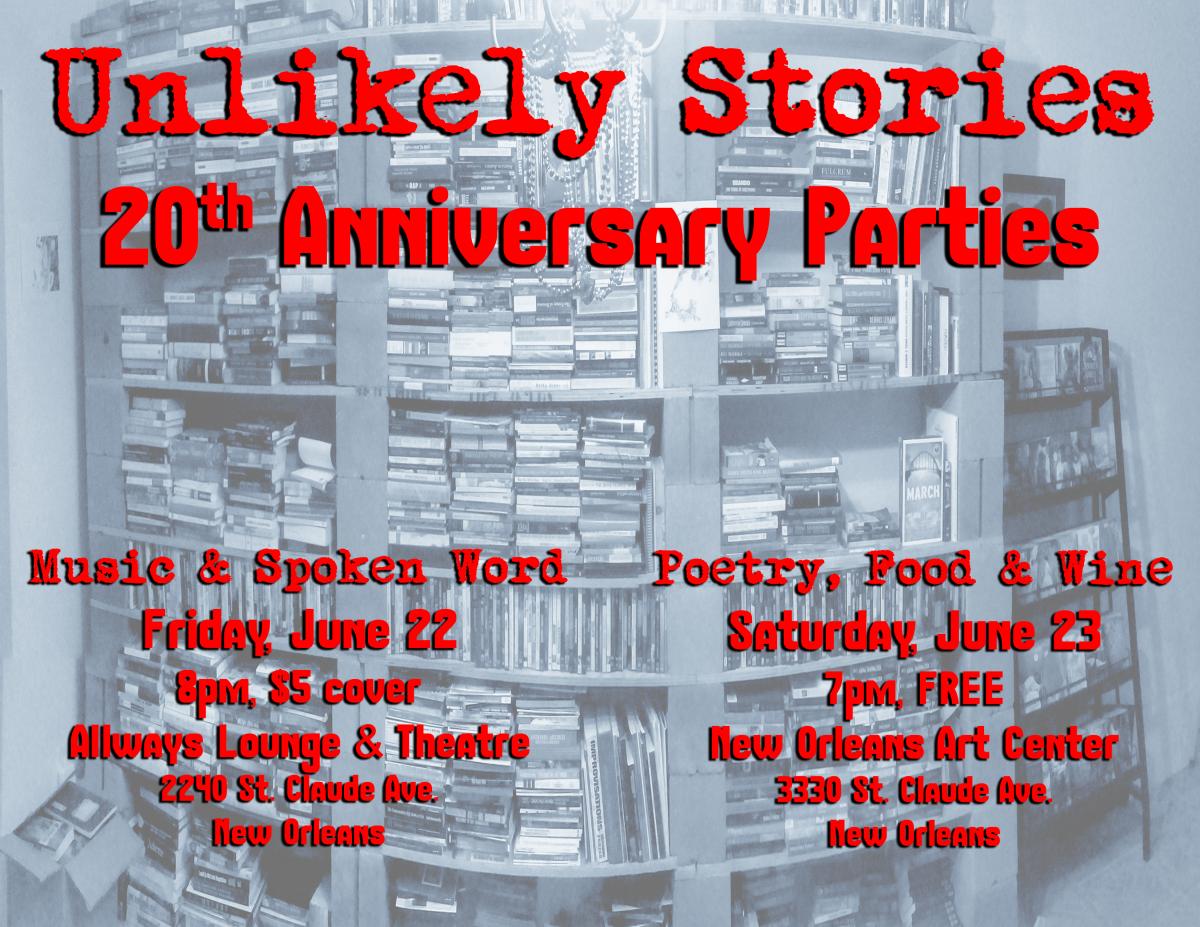 Friday, June 22, 8pm:
We'll have a music and spoken word set at
Allways Lounge and Theatre
2240 Saint Claude Ave., New Orleans
$5 cover
This show will feature an Unlikely Jam Band: Willis Gordon on guitar, Lizz Hough on upright bass, and Christopher Shipman on drums, collaborating with the spoken word of James "Traverse" Blanchard, Jessica Bordelon, Alex "PoeticSoul" Johnson, and Frank XTeele. Allways serves cheap, strong drinks in a big, beautiful space somewhere between a theatre and a bar.
Saturday, June 23, 7pm:
We'll have a party, poetry reading, and poetry open mic at
New Orleans Art Center
3300 Saint Claude Ave., New Orleans
free wine and yakamein
We'll be releasing our three new books: Left-Hand Dharma: New and Selected by Belinda Subraman, Pachuco Skull with Sombrero: Los Angeles, 1970 by Lawrence Welsh, and Apocalyptics by Derick Varn. Belinda will be here from El Paso, and Derick will be here from Salt Lake City. Our other scheduled out-of-towners are Kenning JP García, Jemshed Khan, and one Gabriel Ricard. We'll also have readers from south Louisiana: Rodger Kamenetz, Dylan Kreiger, Bill Lavender, and Shaina Monet. An open mic will follow!
The Annual Conference of the American Library Association will be in New Orleans June 21st through June 26th, and is a destination in its own right. Myself, I'm going to pay $75 for a bookfair pass and get tons of swag. More information is at http://www.ala.org/conferencesevents/annual-conference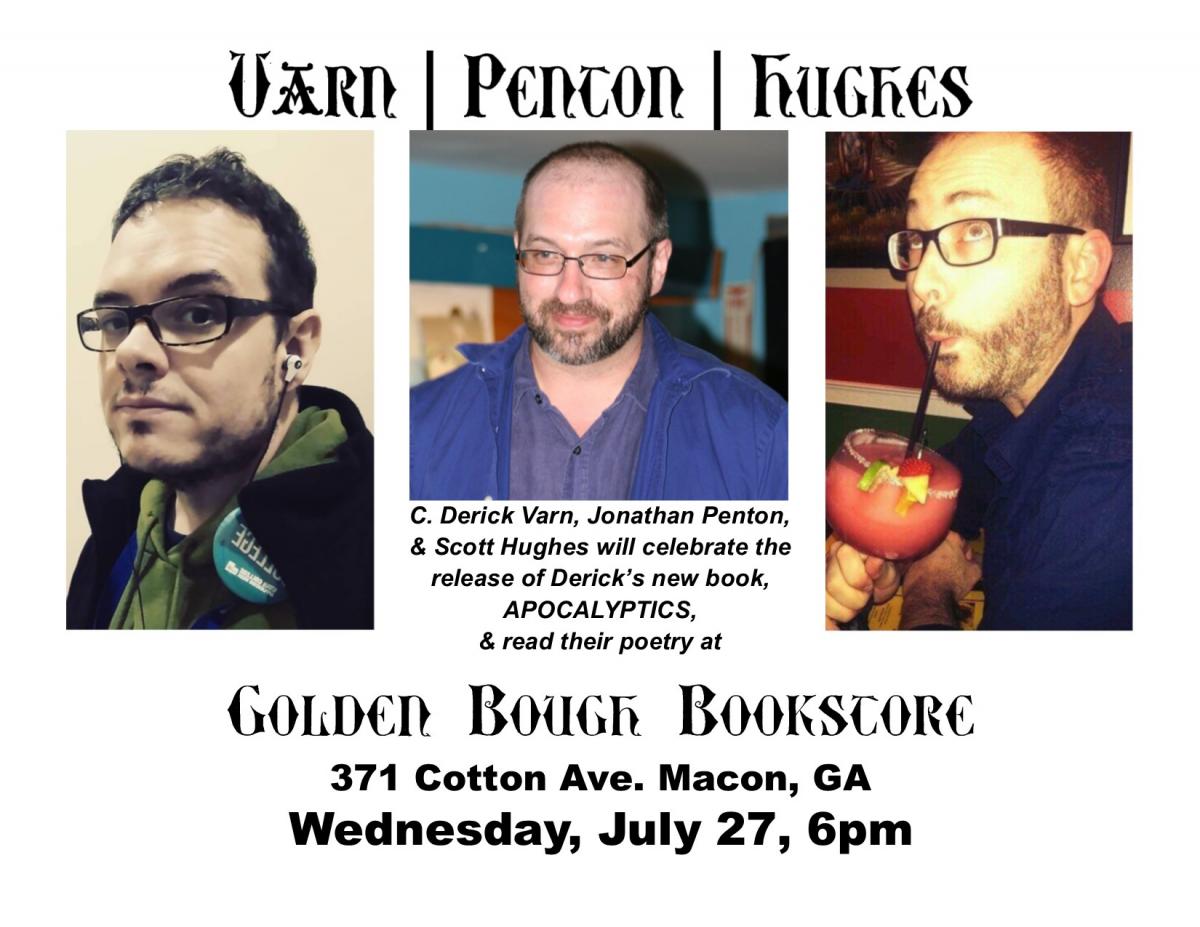 and in Macon, Georgia, June 27
Jonathan Penton, C. Derick Varn and Scott Hughes will celebrate the release of Derick's new book,
Apocalyptics, with a reading at:
Golden Bough Bookstore
371 Cotton Ave.
Macon, GA 31201
Wednesday, June 27, 6pm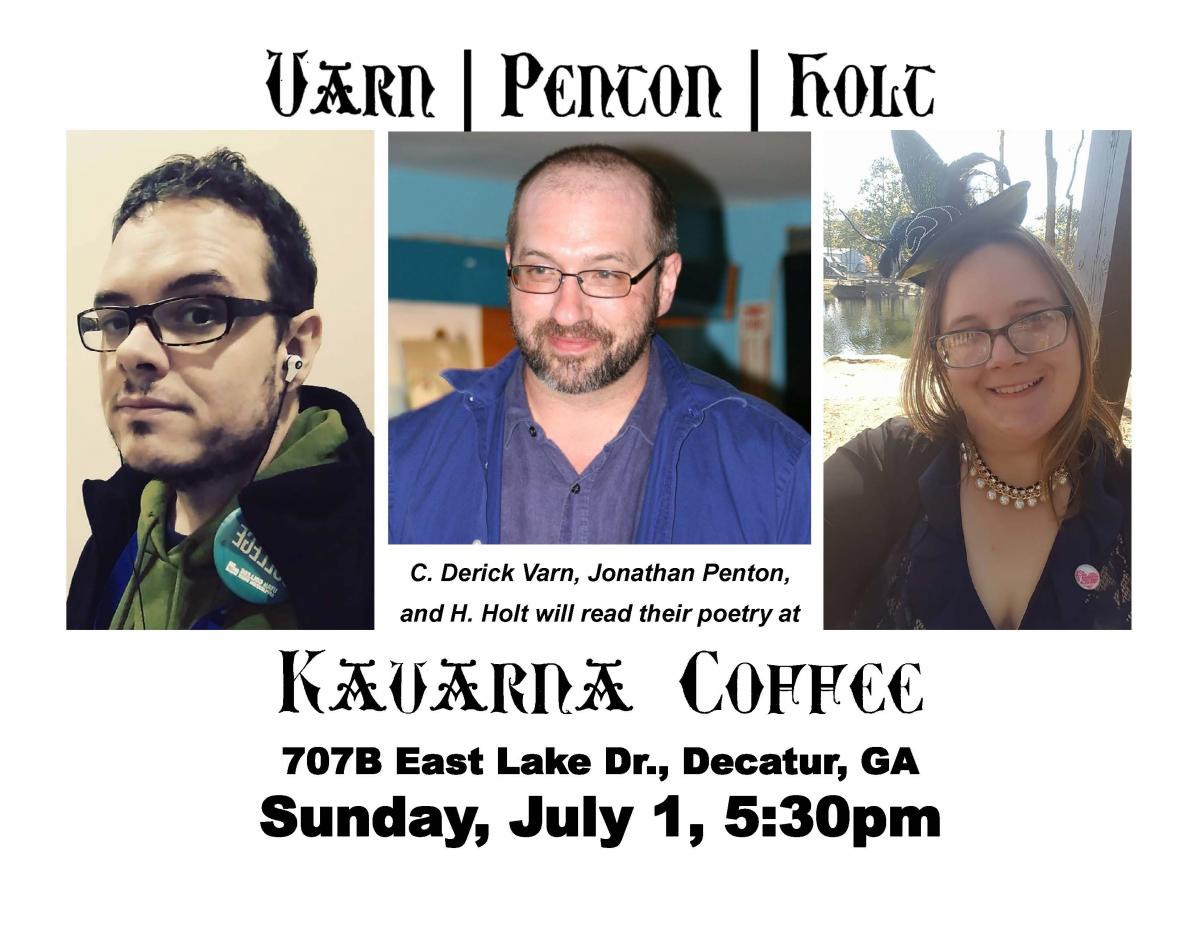 then in Atlanta, July 1
Jonathan Penton, C. Derick Varn and H. Holt will be reading at:
Kavarna Coffee
707B East Lake Dr.
Decatur, GA 30030
Sunday, July 1, 5:30pm
If you have any questions about any of these events, please do drop me a line at jonathan@unlikelystories.org