Refugees from OneNote Planet
– Beginning of Message from the Karmic Committee of Planet 3 of the Solar System to the Inter-Planetary Council  –
As decreed, by you, we are willing to beam up the amount of 222444 kilos of gold, as we think it fair punishment for our inhabitants for falling for the mind traps of the former pirates.
However, according to our Space Beaming Up Committee Report, there is a 52% probability that the gold will fail to rematerialize after the beaming up process, due to its malleable quality, which could render the bonds of its molecules to dissipate in the light gravity of Zaaturu.
In case of this event happening, we cannot be held accountable for it, or be held liable to resend the gold.
– End of Message from the Karmic Committee of Planet 3 of the Solar System to the Inter-Planetary Council  –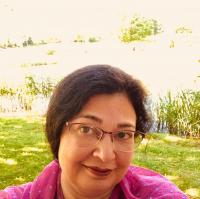 Sultana Raza's poems have appeared in numerous journals, including Columbia Journal, and The New Verse News, London Grip, Classical Poetry Society, spillwords, Poetry24, Dissident Voice, and The Peacock Journal. Her fiction has received an Honorable Mention in Glimmer Train Review (USA), and has been published in Coldnoon Journal, Szirine, apertura, Entropy, and ensemble (in French). She has read her fiction/poems in India, Switzerland, France, Luxembourg, England, Ireland, and the US. Sultana recommends MSF.